3150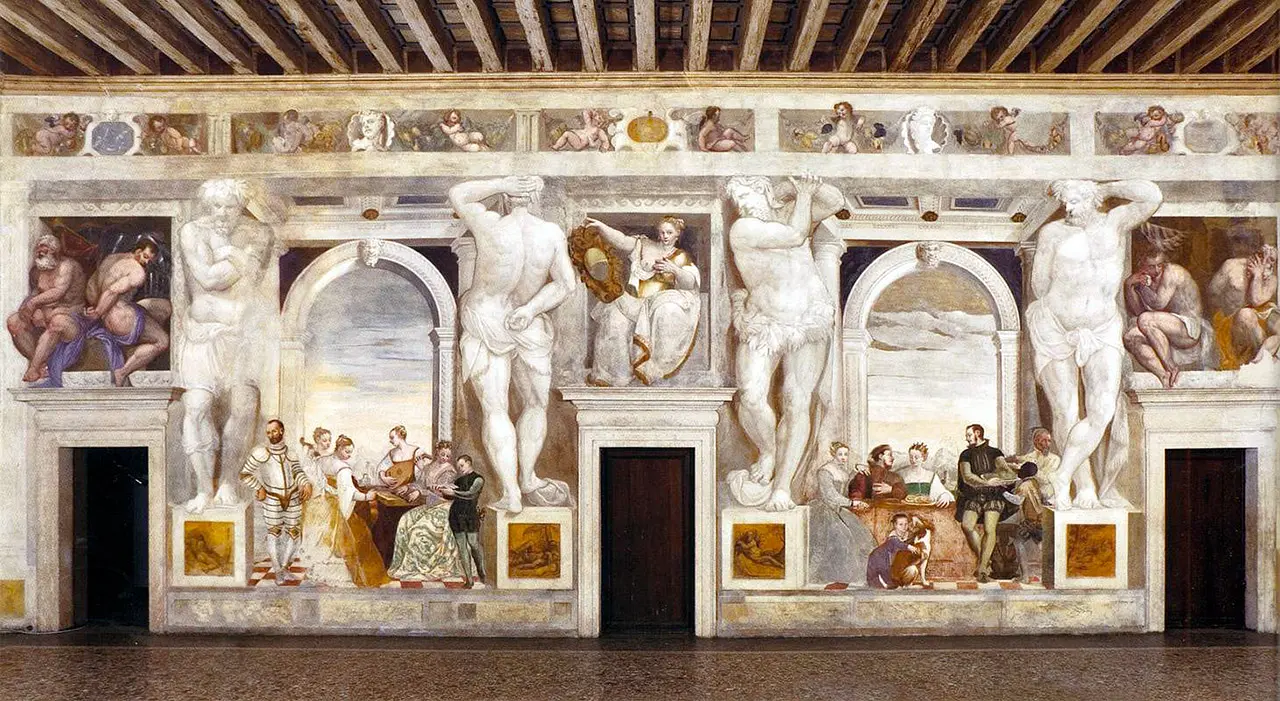 Villa Caldogno
An incredible journey into the fashion of the 1500s


Automatically translated page.
What it is and where it is
An elegant villa attributed to Andrea Palladio opens in the center of Caldogno, perfectly restored in recent years both on the main floor and in the basement. It greets us at the end of the driveway with its snow-white facade, enlivened by three large arches framed by rusticated ashlar. It is precisely these three large openings placed at the end of the access staircase that foreshadow the wonders to be found inside the villa. We cannot do otherwise: let us pass through them and venture into the magical world they wish to offer us.
Why it is special
Already from the loggia we understand what awaits us: a sensational journey through images into what life in the villa was like in the 1500s. The Caldogno villa, in fact, is characterized by valuable frescoes, rich in mythological images and virtuosities in trompe l'oeil, of course, but also scenes of the daily life of the rich lords who lived here. And so we fill our eyes with scenes of banquets, entertainment, music and horseback riding. The frescoes in the Central Hall are practically an illustrated book of 16th-century fashion: the ladies with pearls and with gags, the men in breeches...
Not to be missed
It wasn't just the nobles who lived in the villas, however: to keep daily life running smoothly, there were many servants and many service rooms. Here, the basement shows how Palladio had devised a system to bring water to the kitchens and let it out the other side-a sort of 16th-century dishwasher, we might say! As well as a system to collect the wine that in the cellar could come out of the barrels... of the series: "nothing is thrown away"!
A bit of history
The villa was presumably designed by Andrea Palladio, a friend of the Caldogno Counts, who commissioned the work. We know that by 1570 the villa was finished and inhabited, remaining the property of the same family for more than three centuries. In 1944 it was requisitioned by the German army. In 1987 the Municipality of Caldogno became the owner and began to restore the wonders of the villa. The last major restoration works date back to 2016 and have returned the ancient beauty to the entire complex. Since 1996, Villa Caldogno has been a UNESCO World Heritage Site.
Trivia
Behind the barchesse you will notice an artificial hillock. If you are thinking of the typical icehouse, you are off the mark. What lies below has much more recent origins: it is a bunker built by the German military, equipped to house wounded and also to be able to perform urgent surgeries. Today it houses the permanent exhibition "From World War I to 1945" and promises a journey of discovery into an eerie past.
To make travel arrangements
The Map thanks: