8760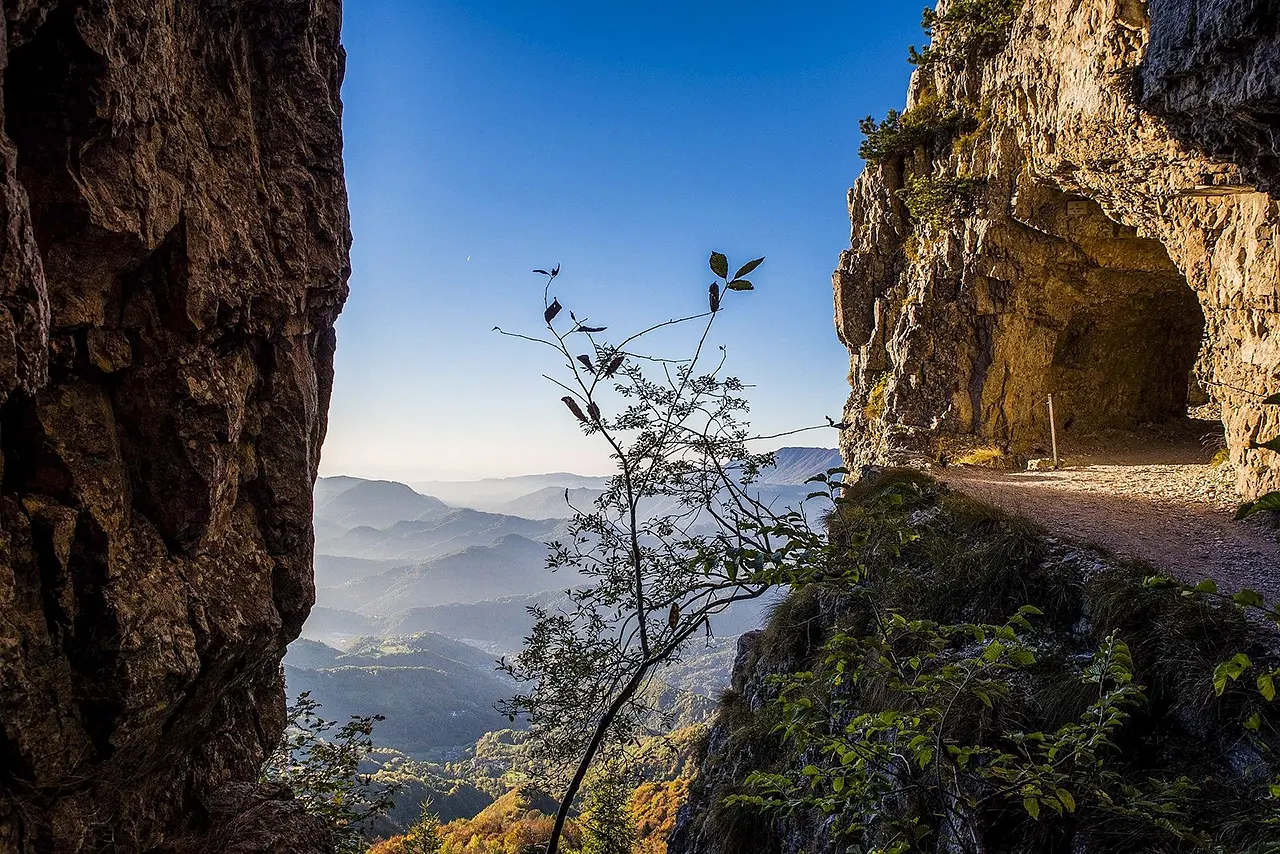 52 Galleries Road Monte Pasubio
Along the First Army Road



Automatically translated page.
On Pasubio to rediscover the military engineering of the Great War
The 52 Tunnels Road (or First Army Road) is a route of extraordinary historical and environmental interest, a military mule track built during the Great War. It is one of those hikes that must be done once at least in a lifetime. The beauty of the landscape enchants us and motivates us to continue the ascent. The boldness of the mule track that climbs inside the spires and pinnacles of the Grattanuvole area on the south face of the Pasubio Massif, on the other hand, questions us about the magnitude and difficulty of the war effort put in place to stop the enemy at the gates.
The primary purpose of the construction of the "Road of the 52 Tunnels" was to allow the transit of men and charters (i.e., the baggage of a military company, including provisions, ammunition, equipment, wagons, and anything else that might be needed) in any season and in any weather, covered from the view and offense of the enemy, as opposed to the Scarubbi rolling road, which could also be traveled by trucks, but only in the summer season and at night despite the masking, being exposed to the view of Austrian artillery observers stationed on M. Majo, M. Toraro, M. Seluggio and M. Cimone.
52 tunnels: when to go, where to start, difficulty of the route
Its route begins at Bocchetta Campiglia (1,216 m above sea level) and ends at Porte del Pasubio (1,928 m), climbing the southern slope of Mt. among bold spires, deep ravines and steep rock walls. Because of its gradient, length and the presence of some exposed sections, or where landslides could occur, the First Army Road is classified as a route of medium difficulty. Therefore, before tackling it, it is good to have informed yourself properly, or made arrangements to be accompanied by a guide. It helps a lot to choose the appropriate time for the hike: spring, estrate and autumn are ideal times.
Some numbers
The total length of the road is about 6,300 m, of which 2,300 m represent the development of the 52 tunnels, and the remainder, for about 4 kilometers, were dug halfway up the living rock. The minimum width of the road, planned by the planners at 2.20 m, is normally 2.50 m, with a minimum outer radius of the bends of 3 m to make it possible for the charcoalers to travel it with both center and side loads. The tunnels were illuminated both electrically and by open windows in the wall: the latter and the mid-slope sections were protected by an iron rod guard rail and supported by "T" posts, also made of iron. The average slope of the road is 12 percent. Only in some places does it reach a maximum slope of 22%.
Itinerary
1
Departure from Bocchetta Campiglia
3
Porte del Pasubio: the end of the journey
To make travel arrangements
Collections
Discover places and related research
The Map thanks:
Collections
Discover places and related research