88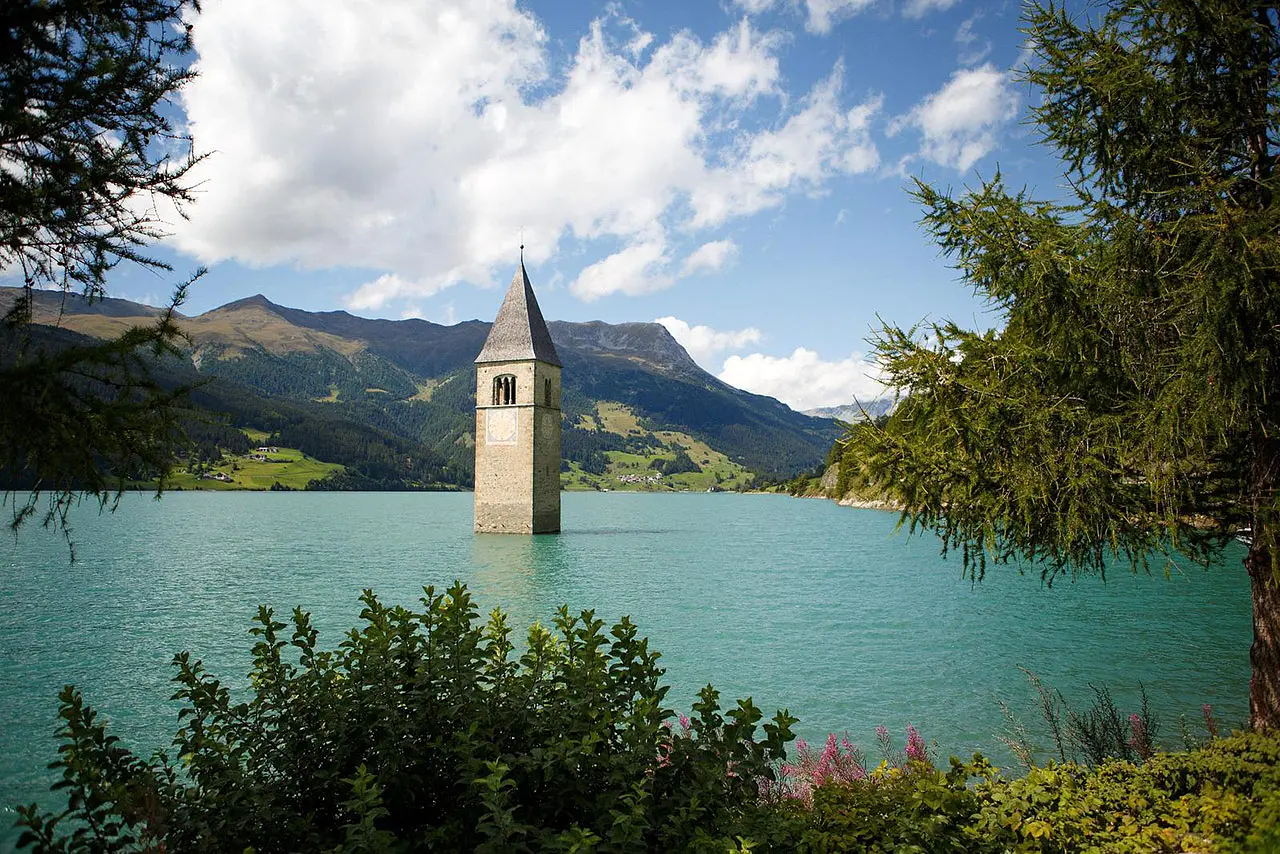 Lake Reschen (Reschensee)
And out of the blue water sprouts a steeple


Automatically translated page.
What it is and where it is
On the borders with Austria and Switzerland, along the Vinschgau state highway, a few kilometers from Reschen Pass, a magnificent alpine lake opens up, surrounded by magnificent peaks. From the water, unexpectedly, rises a lonely bell tower.... Welcome to Lake Resia.
Why it's special
The 14th-century bell tower that, emerging from the water, makes this Alpine lake unique, is actually the silent witness to the great tragedy experienced by the people of Curon: in 1950, when work on the dam was completed and the artificial lake was created, the people of the village were forced to abandon their homes, lands and memories, and saw them disappear forever under the water of the lake.
Not to be missed
The lake is an ideal destination for families and sportsmen. In winter, the lake is frozen over and you can walk up to the bell tower; snowkiting, ice skating, and ice sailing are practiced, surrounded by snow-capped peaks. In warm weather, one can take comfortable boat trips or more challenging kayak trips. For those who enjoy fishing, the lake is rich in trout. Finally, you can enjoy the scenery by biking all the way around the lake on a 15.4-kilometer bike path. Nearby, a little further south, there is also another small natural lake of unspoiled beauty: San Valentino alla Muta.
A bit of history
Lake Resia is an artificial lake designed as early as the 1930s for hydroelectric power generation. Work on the dam, interrupted at the outbreak of World War II, was completed in 1950. The dam unified two smaller lakes, Lake Resia and Lake Curon, and submerged the village of Curon Venosta and part of the village of Resia: 163 houses and acres of farmland were destroyed.
Trivia
The bells of the bell tower were removed shortly before the lake was created, but legend has it that on certain winter days their call can still be heard today.
To make travel arrangements
Collections
Discover places and related research
The Map thanks:
Collections
Discover places and related research