997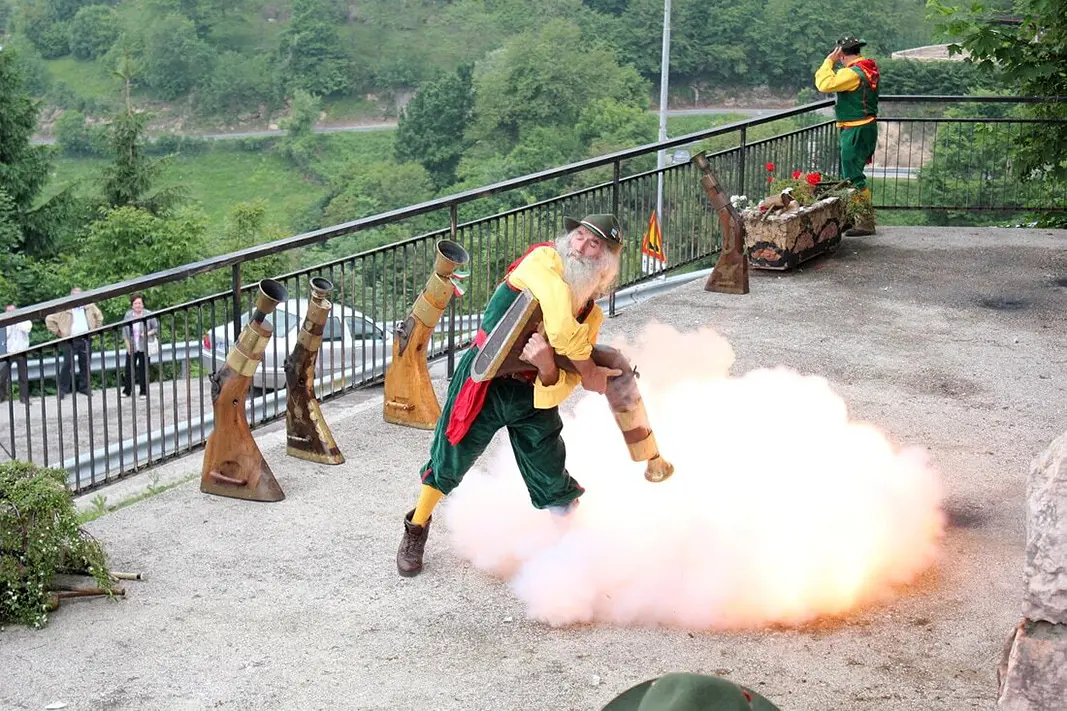 The Trombini of San Bortolo and their Museum
The strength of fire, the sweetness of memory

Automatically translated page.
What it is and where it is
San Bartolomeo delle Montagne is a small hamlet of Montagna in the municipality of Selva di Progno. From time to time in its streets one can hear echoing gunshots that have nothing to do with hunting. This community of just over 300 souls, in fact, is strongly linked to the Cimbrian culture of Lessinia and shouts it jubilantly to the world through the Trombini, non-offensive weapons that are daughters of Cimbrian traditions and still used in festivals and celebrated with a museum entirely dedicated to them.
Why it's special
At the Trombini Museum it will be possible to observe a number of Trombino specimens, learn about their production process, understand their ancient and current uses, and their presence in local culture and folklore. One will then see their mighty stock, made from the strong local wood in which the barrel and trigger are embedded. One will be able to see the carvings, the workmanship, and get an idea of the Trumpet's weight and the force it can unleash by firing. There is also a video that allows you to see them in action, but the live show is something else entirely.
Not to be missed
Every year the Trombonieri of San Bortolo, celebrate the feast of the Holy Trinity (May-June) in the little church we find at the end of the village, dedicated to them. This is precisely the time to be crossed by the roar of the shot and try to catch a glimpse of the peculiar movements that accompany it. The muzzle pointed toward the ground generates such a recoil that the Tromboniere has to go along with it by rotating on himself as he ascends upward, so that he can receive it without damage on his shoulder. It almost looks like a dance between a man and what is now no longer a weapon but an instrument of celebration, merriment and beauty.
A bit of history
In the past, around 1611, some soldiers were tasked with defending some mountain passes through the use of fuse arquebuses and carabiners. Hence originated the Trombini, also called "s-ciopi" or "pistons." They were thus weapons, which were mainly used to instill terror. Over time, they were transformed into festive Trombini, used for folkloric purposes. In the past, in fact, in every district of Lessinia, teams of trumpeters cheered village events with their blank discharges.
Trivia
For more than 40 years, in this village, a host of trombonieri (i.e., the shooters of this inoffensive weapon) have united in a folk association that is unique in Europe. The trombonieri carry on the ancient customs of their ancestors and cheer the festivities of their own town, towns in the province of Verona, and other cities in the Veneto region with their snaps.
To make travel arrangements
Collections
Discover places and related research
The Map thanks:
Collections
Discover places and related research