1535

Casonsèi alla bergamasca: treasure chests of history and taste
The curious case of a bittersweet mixture borne of avarice that later became a masterpiece.

Automatically translated page.
Casoncelli, in dialect Casonsèi, is a typical dish of traditional Bergamo and Brescia cuisine. A delicacy that is prepared with fresh pasta and a meat filling, all seasoned with melted butter, pancetta, grana cheese and sage. Already the first taste warms the heart and soul as the flavors of the territory melt in the mouth.
A surprise filling
The peculiarity of Casonsèi, which is also what most distinguishes them from other types of pasta, is the filling. In addition to ground beef and pork, it involves the use of Grana Padano cheese, eggs, breadcrumbs, macaroons, raisins, pears and spices such as cinnamon and nutmeg, all mixed together and inserted into the egg puffs of puff pastry. The latter ingredients are precisely what most characterizes the unmistakable taste of Casonsèi, which are then seasoned with plenty of melted butter, bacon and sage.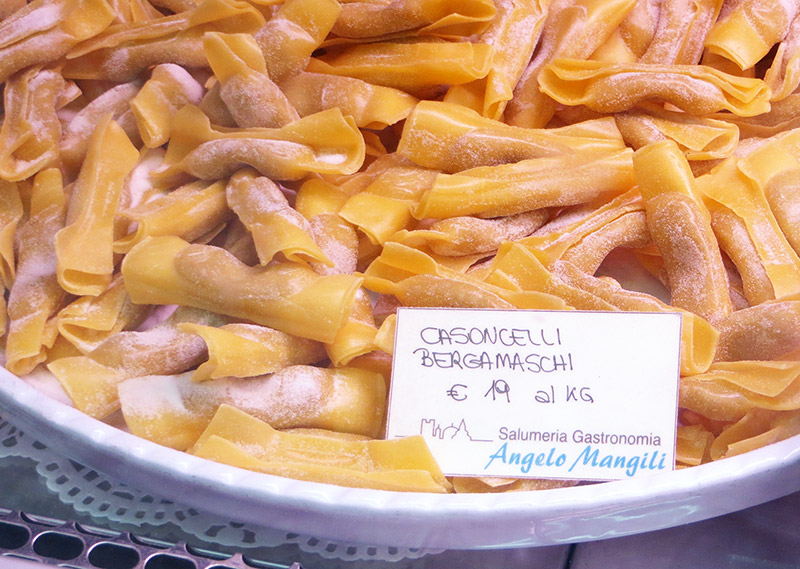 Casoncelli alla bergamasca
One recipe, many interpretations
It is forbidden to leave Bergamo without trying Casonsèi! This dish, which besides polenta is the one that most characterizes Bergamo cuisine, encapsulates all the flavors and traditions of the area. Every restaurant offers its own version; each Casonsèi dish is, in fact, different from the other... Try it to believe! Every year, then, in May, there is "De Casoncello," three days of events in Città Alta dedicated to Casoncelli, as well as other stuffed pastas from eastern Lombardy.
The origins, between history and legend
The origins of Casonsel are very ancient: in fact, they date back to the 1300s. As a notarial deed attests, on May 13, 1386 in Città Alta, a party was held for two thousand people in which "cutting boards filled with artibotuli, otherwise known as Casoncelli," were offered. This "poor" dish was born out of the need to reuse leftover beef and pork. Over the years, then, starting in the 1800s, the filling was enriched with macaroons, raisins and lemon zest, while the addition of spices such as nutmeg, cinnamon and other herbs dates back to more recent times.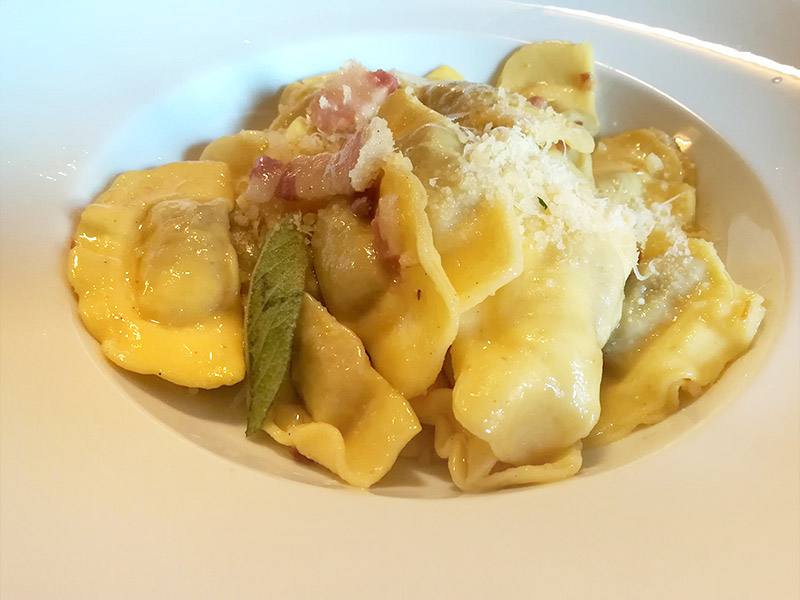 Casonsèi
Ancient roots and rural histories
One legend states that the special sweet and sour filling of Casonsel is due to the will of a miserly man who, to sanctify the holidays, wanted to create a single dish that combined both savory and sweet. In fact, what characterizes the taste of Casonsei is the particular contrast between the sweetness of the pears and raisins with the bitterness of the macaroons.
Collections
Discover places and related research
The Map thanks:
Collections
Discover places and related research