1147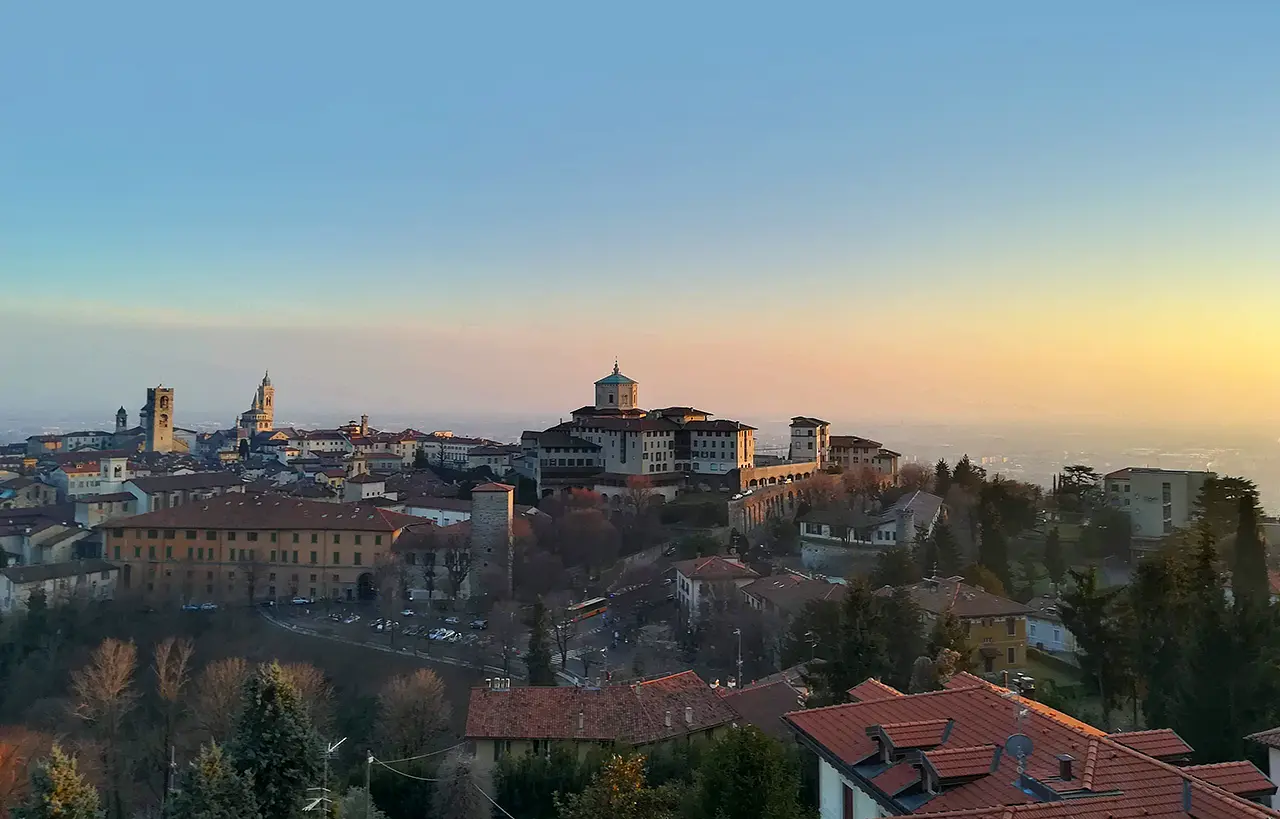 From Upper Town, enchanting views and panoramas
And then the sunsets, when sky and city merge into a magical light show.



Automatically translated page.
What it is and where it is
Perched on a hill and surrounded by greenery, Città Alta is the medieval heart of Bergamo, which, just minutes from the lower part of the city, welcomes us into a fascinating atmosphere of slowness, art and history. From its privileged "high" position, the suburb transforms into a belvedere from which one can enjoy spectacular views.
Why it is special
As you raise your head from the lower part of town, your gaze rests on the distinctive skyline of Città Alta with its towers, bell towers and buildings, all enclosed in the ancient walls. The desire to climb to the top becomes too strong to resist. Once you get up there, spectacular views open up, and your gaze basks in the lower part of the city and the surrounding hills, and almost embraces them, surprised and grateful. To get lost among its alleys is to come across glimpses of magical views.
Not to be missed
From CIttà Alta, every vantage point opens up stupendous scenery. It is imperative then to seize every opportunity, starting with an ascent. You can decide to go up on foot, enjoying the view along the ancient Venetian walls, or take the historic funicular that stops at the Shoe Market Square. Once up, from the Rocca Park, the view opens up to 360 degrees. You can go up again, to the Campanone, and then on foot or by funicular, to San Vigilio Castle. Among the most striking views without a doubt is that of Porta San Giacomo.
A bit of history
Città Alta has ancient origins dating back to the Celtic settlement on Fara Hill in 2000 BC. The Gauls then founded the first nucleus of the city in 300 BC. Via Gombito and Via Colleoni still remind us of the grid of the Romans, who colonized the area in 200 BC. In 1500 AD. Bergamo was assigned to the Republic of Venice, and in 1600 the so-called "Venetian" walls were built around Città Alta. On July 9, 2017, the walls were declared a UNESCO World Heritage Site.
Trivia
When you arrive at Colle Aperto, stop at one of the benches and enjoy the scenery on the hills maybe eating a good ice cream. Not many people know that Stracciatella-flavored ice cream was invented right in Bergamo, and specifically in Città Alta! In 1961 Enrico Panattoni, after various experiments, made this ice cream that he decided to name after one of the most popular dishes in the restaurant "La Marianna" in Colle Aperto: stracciatella alla romana. Thus was born one of the most beloved flavors in the world.
To make travel arrangements
Collections
Discover places and related research
The Map thanks:
Collections
Discover places and related research