157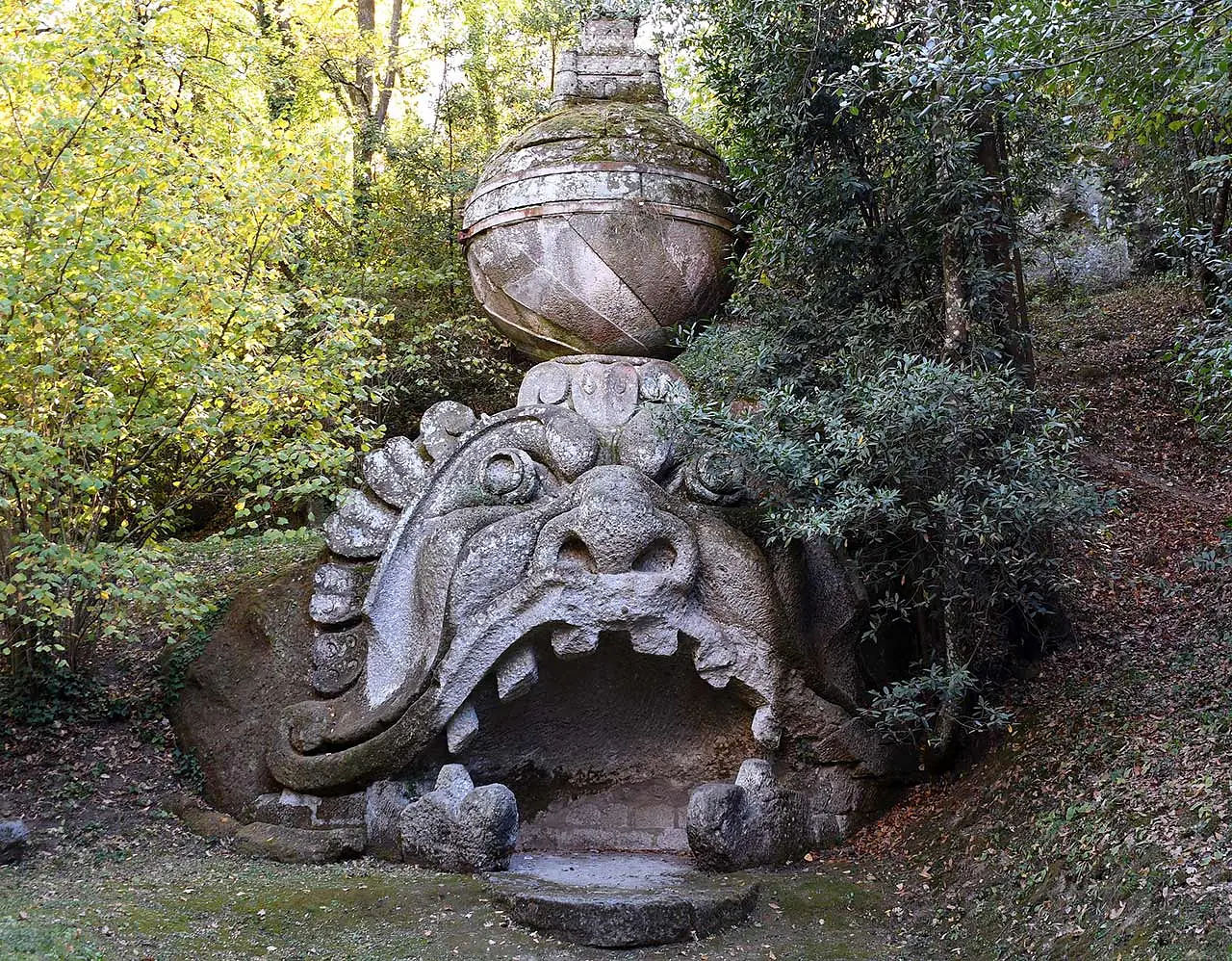 In Bomarzo, the park of monsters
The Sacred Wood, a Renaissance garden populated by fantastic creatures


Automatically translated page.
What it is and where it is
"Voi che pel mondo gite errando, vaghi di vedere meraviglie alte e stupende, venite qua dove son faccie horrende, elefanti, leoni, orchi e draghi," so reads an inscription introducing the "Sacro Bosco," commissioned by Vicino Orsini, a singular figure of a man of arms and letters who lived in the 16th century. Three hectares in size, unique in its kind, it consists of a series of terraces covered with tree vegetation that conceals gigantic figures carved directly into the boulders emerging from the ground.
Why it is special
The Monster Park, as it is commonly referred to, is an extraordinary expression of that taste for the horrid, that is, the frightening that fascinates, cyclically manifested in the history of art. In this case we are talking about frightening or fantastic creatures (the elephant, the dragon, the ogre...), mythological figures (Hercules and Cacus fighting, the Sleeping Nymph, Echidna with the double tail...), aberrant situations (the leaning house, the giant vase...) that follow one another along the tour route.
Not to be missed
The most famous of the Park's creatures is undoubtedly the Orc, of which only the face with its gaping mouth seems to emerge from the ground. The effect was achieved by working a large porphyry boulder with a chisel as much on the surface, outlining the frightening features of the face, as in depth, until a cavity was created inside which benches and a table were even carved. And accentuating the impression is the reverberation of voices, as if imprisoned in those jaws.
A bit of history
The park was commissioned by Orsini from a singular figure of archaeological architect, Ligorio Pirro (1513-1583), who put all his knowledge of ancient civilizations and mythology to good use in creating the fantastic sculptural display that populates it. After the death of its creator, the place was abandoned, and only Wolfgang Goethe, thanks to his Roman knowledge, seems to have reached it in 1787. Almost two centuries would pass before its rediscovery in the latter 20th century.
Curiosities
The Monster Park has had many enthusiastic visitors, but none as attuned to its former creators as Salvador Dali (1904-1989), the Spanish Surrealist painter, who in 1948 not only agreed to be photographed in poses worthy of his character, but also lent himself to an Istituto Luce documentary: images, which went around the world and are said to have been instrumental in the rediscovery of the place.
To make travel arrangements
Collections
Discover places and related research
The Map thanks:
Collections
Discover places and related research