1569

Automatically translated page.
What it is and where it is
San Quirico di Sorano is a small town in the Grosseto Maremma. Immersed in the dense and lush forest that surrounds it, you can discover ancient and fascinating treasures. Starting from San Quirico, in fact, you arrive at Vitozza, an archaeological area rich in caves and medieval defense structures. Some very interesting Etruscan columbarium tombs are present. To get there you have to follow paths that skirt and meet the river and its waterfalls.
Why it is special
There are still hidden paths in this magnificent area, unrelated to the marked trails. They are definitely wilder paths, sometimes skirting the river fording it a few times barefoot or jumping over stones, and giving unheard of thrills with their lush vegetation, waterfalls and beautiful ruins. Beware, however, all that glitters is not gold: these are routes that few people know and travel, so it is highly recommended to be accompanied by experienced guides to experience the adventure safely.
Not to be missed
Perhaps the most striking environments amid so much beauty and so many mysteries of the past are the ancient settling tanks of the abandoned aqueduct. After crossing the arches of the surface structure of the aqueduct, it will be unforgettable to go underground in these places of great interest and mystery.
A bit of history
Vitozza was founded as an area of Etruscan necropolis and there are some very interesting tombs. It then became a fortified rock settlement under the powerful family of the Counts Aldobrandeschi. As evidence of these eras there are many caves on several floors and interesting and spectacular ruins of fortifications.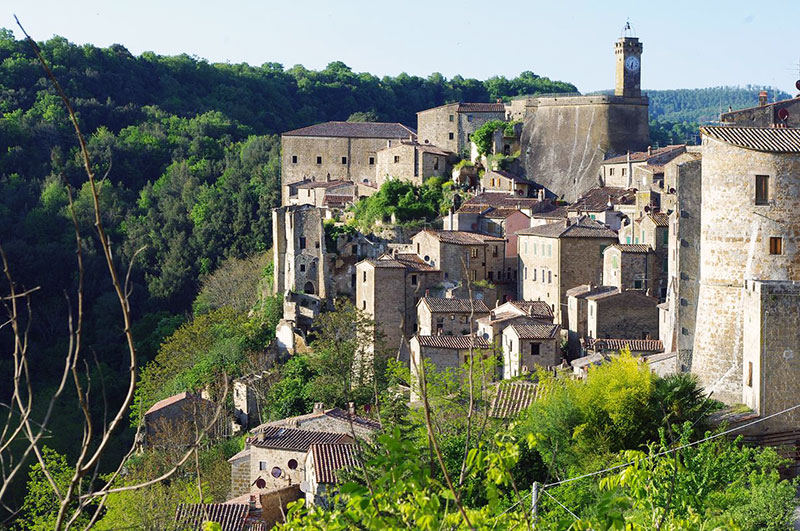 Sorano
To make travel arrangements
Collections
Discover places and related research
The Map thanks:
Collections
Discover places and related research