2469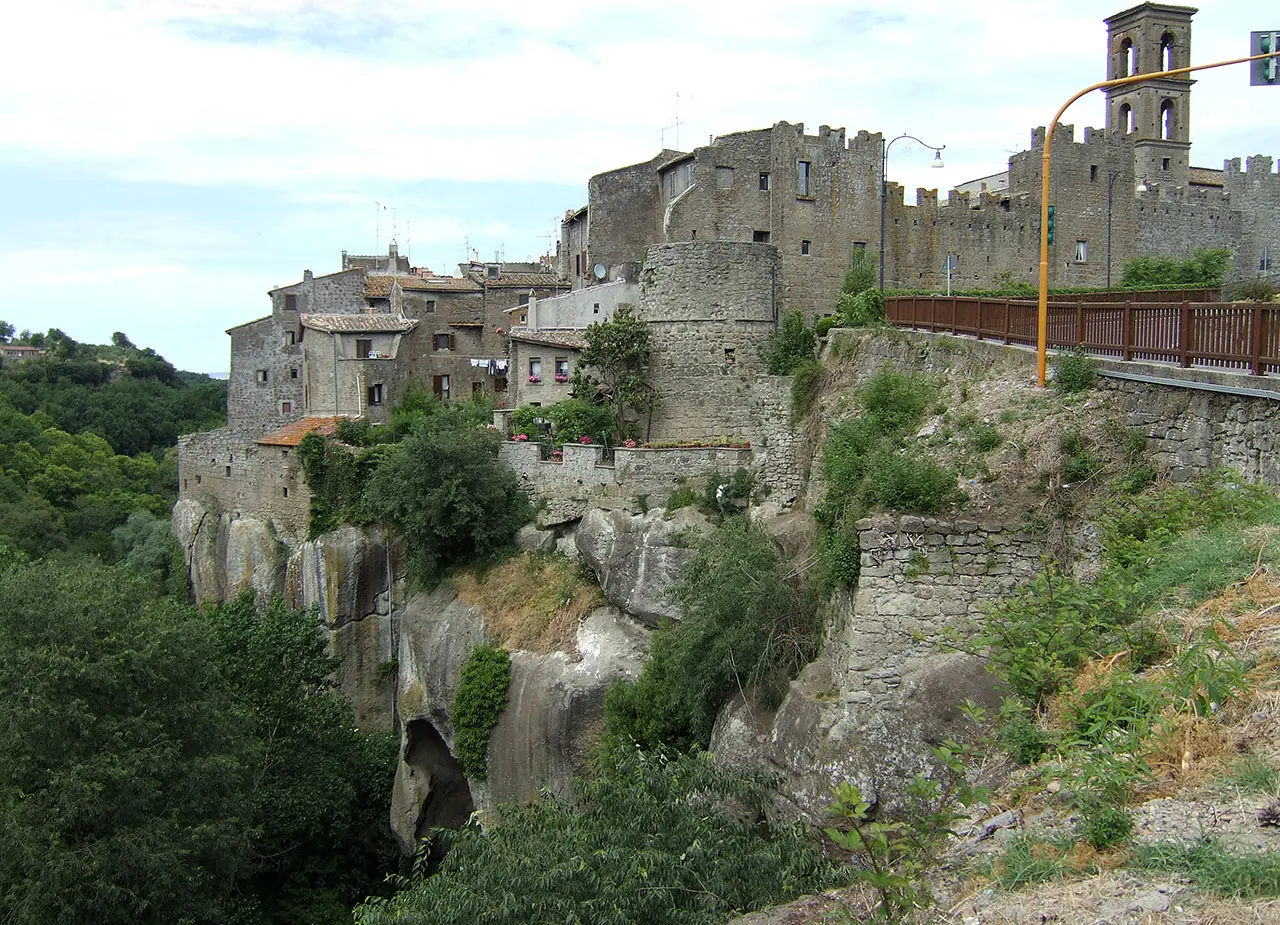 Vitorchiano, the village loyal to Urbe
A peperino rock in the Vezza Valley
Automatically translated page.
What it is and where it is
Deep valleys and steep ravines, olive groves, hazelnut orchards, centuries-old oak forests, leafy chestnut trees and prosperous vineyards surround the picturesque medieval village of Vitorchiano, which with its crenellated walls and fortified towers stands on a steep spur of peperino just a few kilometers away from the Latium capital of Viterbo.
Why it is special
Walking among its solid gray stone buildings, one notices an element that curiously recurs quite often: the mottos and inscriptions that can be read on the facades of public and private buildings, and the recurring S.P.Q.R. shield. The fact is that historically Vitorchiano has developed an ancient and strong bond with Rome, so much so that it obtained an official recognition of allegiance to the Urbe in the 13th century. It is by virtue of this bond that the village was allowed to use the famous frieze.
Not to be missed
Visiting villages means encountering scents, flavors and traditions. In Vitorchiano, for example, there is "Cavatello," a long noodle that is served seasoned with tomato sauce, garlic, oil, chili pepper and fragrant wild fennel. Another typical local product is "Ciambella di San Michele," made with water, flour, oil, salt and aniseed. It has a long preparation with double baking, first boiled and then baked so that the doughnut remains crispy outside and soft inside. Prepared for the feast of the patron saint, St. Michael the Archangel, it is traditionally eaten on May 8.
A bit of history
The birth of this urban settlement has its roots in the Etruscan Epoch when shepherds and farmers settled here. Legend has it that, in the Roman Epoch, a boy named Martius ran to Rome to warn the inhabitants of the Urbe of an impending Etruscan attack on the city. During the Middle Ages the town of Vitorchiano still gave proof of loyalty to Rome by siding with it in the long-standing wars and conflicts that pitted the Urbe against the city of Viterbo. For this reason Vitorchiano can boast the title of "Loyal of Rome" and display the S.P.Q.R. coat of arms.
Curiosity
On the Teverina provincial road just outside Vitorchiano stands a Moai, a statue typical of the distant Easter Island in the Pacific Ocean. This reproduction is the only one in the world to have been made and placed outside the small South Pacific island and was carved, according to the traditional techniques of that remote land, using axes and stones, by a Maori family in a peperino quarry near Vitorchiano in 1990.
To make travel arrangements
Collections
Discover places and related research
The Map thanks:
Collections
Discover places and related research