2460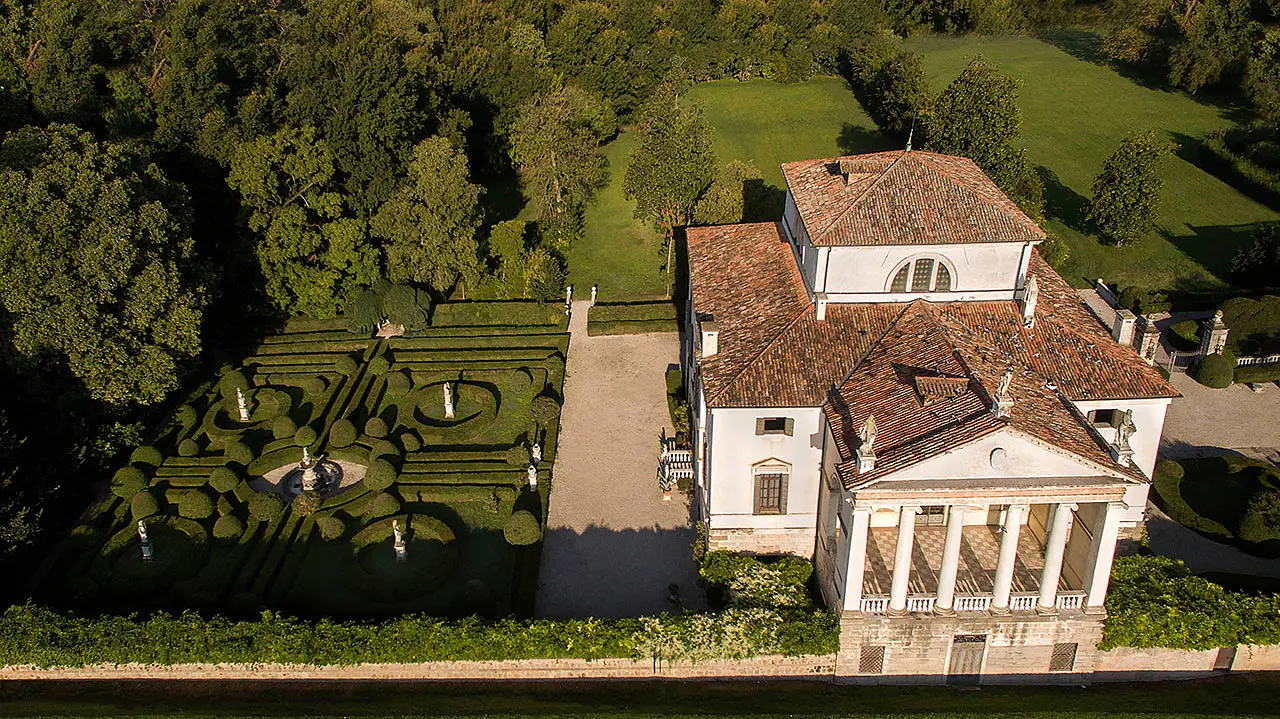 Automatically translated page.
What it is and where it is
Compact, perfect and majestic. These are just three of the many adjectives that can be used to describe this splendid Venetian villa, built on the outskirts of Padua. Born as a stately home for messer Molin and his bride, its façade still dominates that canal that in the past was a communication route between Padua and the Euganean Hills. Keeping her company is the Italianate garden, meticulously cared for in every detail, a small oasis of peace.
Why it is special
Among the thousands of reasons certainly being able to get to know more closely the architect Vincenzo Scamozzi, heir to Renaissance architecture in the Veneto after the "Palladio phenomenon." To get an idea of his talent, take a quick look at the exterior of Villa Molin: its central body is a perfect cube. Its volume expands upward, with an elevation placed in the center of the structure, and forward, with a pronaos worthy of an ancient temple, but softened by the balustrade that snatches it away from prayer and delivers it to lazy afternoons sipping tea or reading a good book.
Not to be missed
At any time of day, the perspective, the perfectly calculated volumes and shapes, and the harmonious, fragrant garden sound to the ears of passersby like the sweet song of sirens. However, it is at sunset that their charm becomes irresistible, with the Euganean Hills in the background. But this is also the moment when a silent battle reaches its climax: believe me, it will be really hard to decide whether you prefer the warm, enveloping colors of the sunset, or those expertly distributed inside the villa, forming surprising new spaces and telling legendary stories.
A bit of history
Villa Molin boasts illustrious origins: it was commissioned by the Molin family, one of the most prominent in Venice. The designer chosen could not be outdone, which is why the work was entrusted to Vincenzo Scamozzi. The building thus fits into the number of country villas of the Venetian nobility that adorn the Venetian hinterland. For the elegance of its geometries it soon became famous, so much so that it was mentioned in the writings and works of European architects and scholars as early as the 1600s. Over time the villa continued to be inhabited by important families: the Capodilista, the Conti and the Dondi dall'Orologio, keeping its aura of magnificence intact.
Trivia
In 1748 a future pope also passed through the halls of Villa Molin: he was Carlo Rezzonico, then bishop of Padua who ascended to the papal throne with the name Clement XIII.
To make travel arrangements
Collections
Discover places and related research
The Map thanks:
Collections
Discover places and related research