2549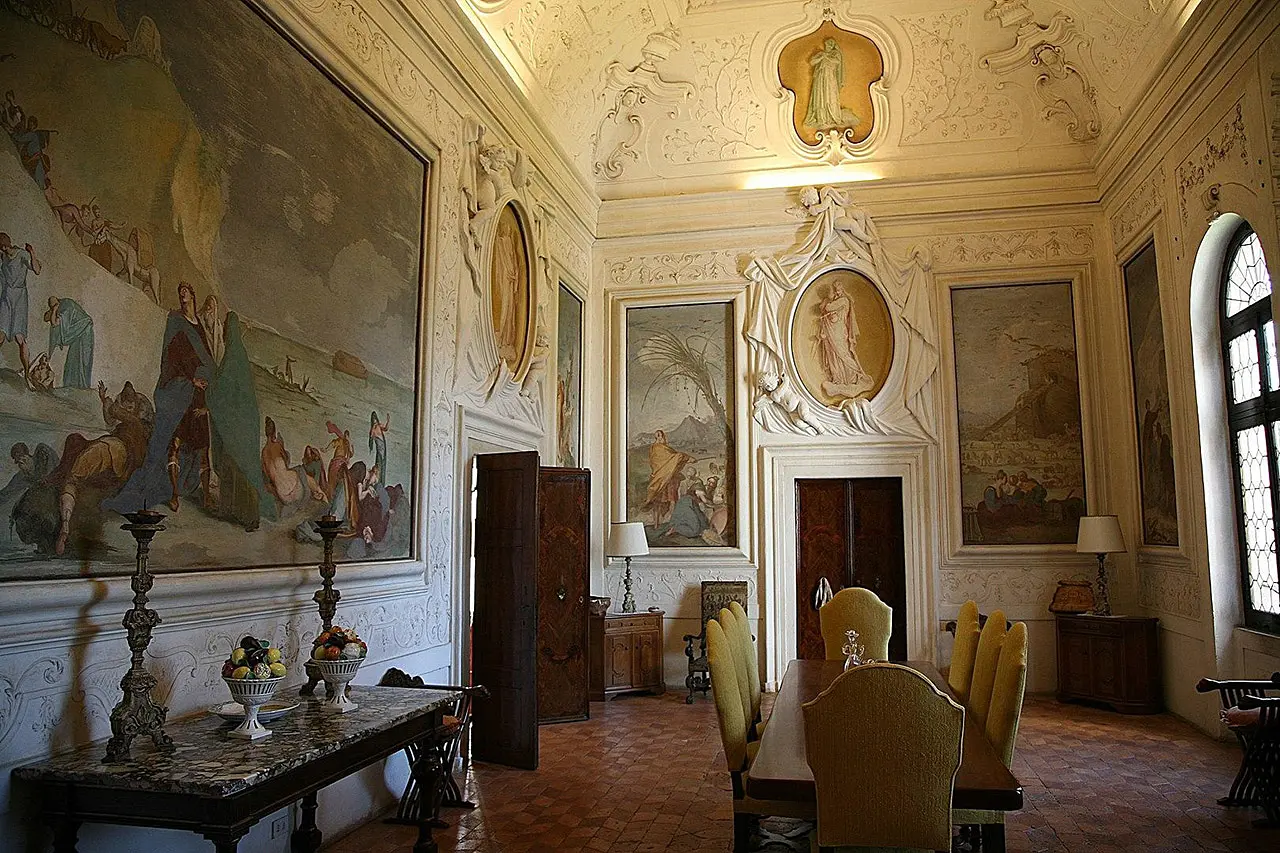 Villa Cornaro, the Palladian pearl of Piombino Dese
The right opportunity to experience the sweet life of yesteryear

Automatically translated page.
What it is and where it is
Walking along the main street of Piombino Dese, one suddenly comes across this candid example of Palladian architecture: beyond a iron gate, framed by a lovely garden, a series of columns on a double order testifies to the passage of the famous Paduan architect, Palladio. Created to accommodate Giorgio Cornaro's family during the sowing and harvesting period, it has the characteristics of both a country residence, with rooms dedicated to agricultural work, and a villa, with its cycle of frescoes, consisting of 104 scenes, and its sculpture gallery.
Why it is special
The back of the villa holds another small treasure: the recently restored 17th-century brolo and fishpond, a body of water about 180 meters long and 30 meters wide, and crossed by no less than 3 bridges, including one with seven arches. To access this hidden oasis, it is necessary to follow the tree-lined walkway that connects the main street of the town with the side street Via Pozzetto; suddenly the city noise disappears and the quiet of nature and the timeless beauty of history and art take over.
Not to be missed
The most exciting experience is to get lost in your own thoughts and imagine the life of the nobles spent inside this piece of history: we, just like them, at dawn or dusk still have the chance to admire the play of light and colors reflecting in the white stone chosen by Palladio. A truly exciting natural spectacle that, for a moment, transports you to a timeless dimension.
A bit of history
The villa, designed for the Cornaro family between 1551 and 1554, was finished, perhaps under Scamozzi's direction, in 1596. There were 3 campaigns instrumental in the realization of this marvel: the first building site, already in operation in early 1553, led to the construction of the central body; the two wings and the loggias were instead built and completed in 1569 and 1588. For centuries owned by the Cornaro family, the villa was bought by the Gable family in 1989 but, a few years ago, was sold to an American university couple for about $45 million.
Trivia
Perhaps not everyone knows that many years ago the villa was used as a kindergarten! Children of past generations had the opportunity to play and explore every single corner of this marvel. In addition, there are rumors about a ghost with female features: it is said that, on the darkest nights, Giorgio Cornaro's wife still looks out of one of the villa's windows.
To make travel arrangements
Collections
Discover places and related research
The Map thanks:
Collections
Discover places and related research