3023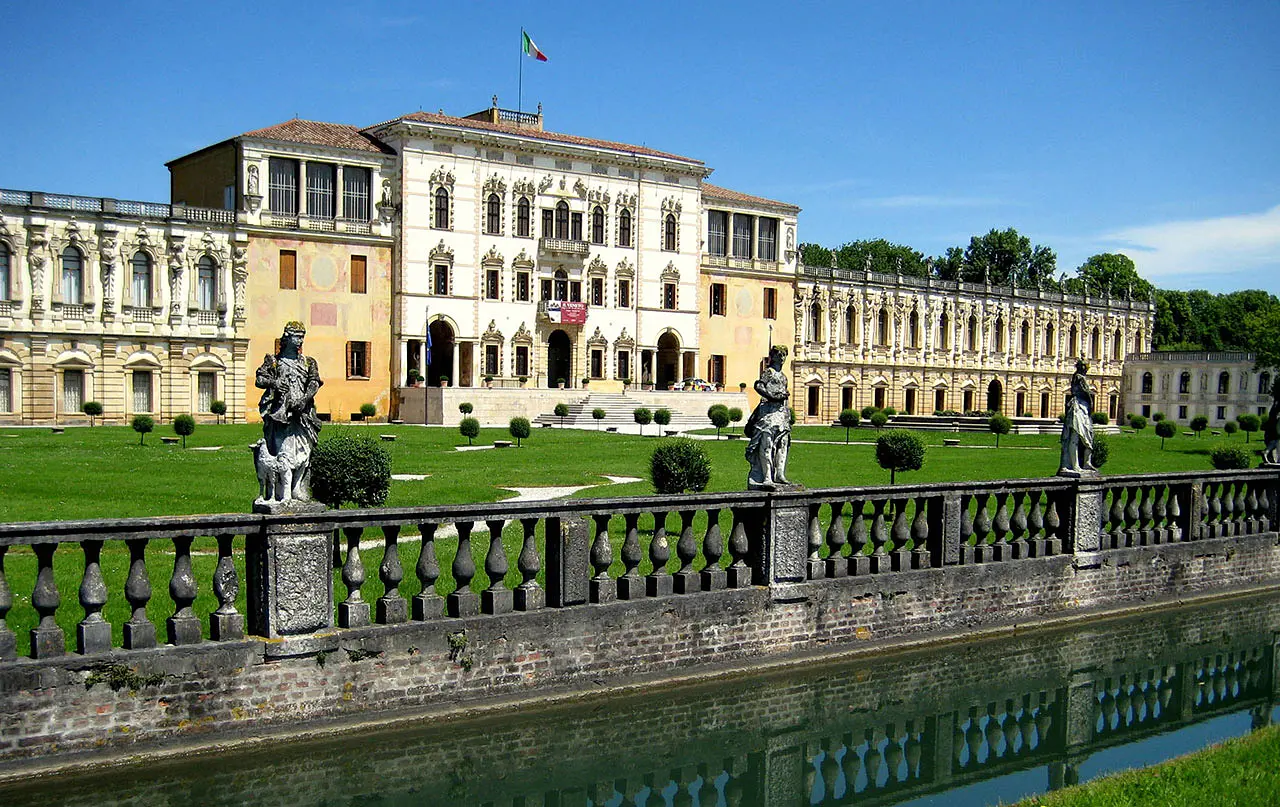 Villa Contarini - G.E. Ghirardi Foundation
The Reggia Serenissima


Automatically translated page.
What it is and where it is
It dominates the square of Piazzola sul Brenta with its snow-white, richly decorated central body and two immense side wings that make it one of the largest villas in the Veneto, so much so that you happen to hear it called "the little Versaille." Like a true queen, however, it does not directly overlook the square: a moat adorned with statues, a gate and a very elegant parterre send an unmistakable message: everyday life and normality are not part of this place; this is another world of luxury, pageantry and beauty, one of the most precious testimonies of Baroque art.
Why it is special
Such a grand villa, a full 180 meters long plus a 45-hectare park, was certainly not easy to maintain. That is why it went through periods of decline and changed hands. In the course of these vicissitudes it was affected by several restorations that had the merit of bringing it back to its original splendor, but with a different nuance, witnessing the new tastes in vogue at the time. Nevertheless, the balance and bewitching beauty of the villa harmonized the most varied elements with each other, creating an unimaginable compendium of art and style. Would you ever have thought, for example, to find Art Nouveau hints in an exquisitely Baroque hall?
Not to be missed
Known as the Villa of Music, it encloses in its central body the highly original Auditorium, which, with the music room above also known as the "inverted guitar," should be considered a true sound theater with unique acoustic characteristics. The acoustics of this place are perfect to the point that it happens to be chosen to make musical recordings.
A bit of history
Villa Contarini - G.E. Ghirardi Foundation stands on the remains of an ancient castle built around the year 1000. At the time of the Contarini family it was a rural residence. The central nucleus built in 1546 by Palladio, was expanded by Marco Contarini in the mid-1700s, making it a "theatrical place." After a period of decline it was bought by the Camerini family, who restored it to its former glory by acting in the taste of 19th-century eclecticism. After a new abandonment, in the middle of the last century it passed to Prof. G.E. Ghirardi and then to the Foundation named after him. Since 2005 the Villa has been owned by the Veneto Region.
Curiosities
Inside there is a unique room, the Gallery of Shells. Its decorations are formed by reliefs and frames of shells that reproduce a repertoire of shapes taken in part from the marine world (crabs, seahorses, anchors). It seems as if one of the most powerful Venetian families could not give up the sea even in its inland estates.
To make travel arrangements
Collections
Discover places and related research
The Map thanks:
Collections
Discover places and related research