1126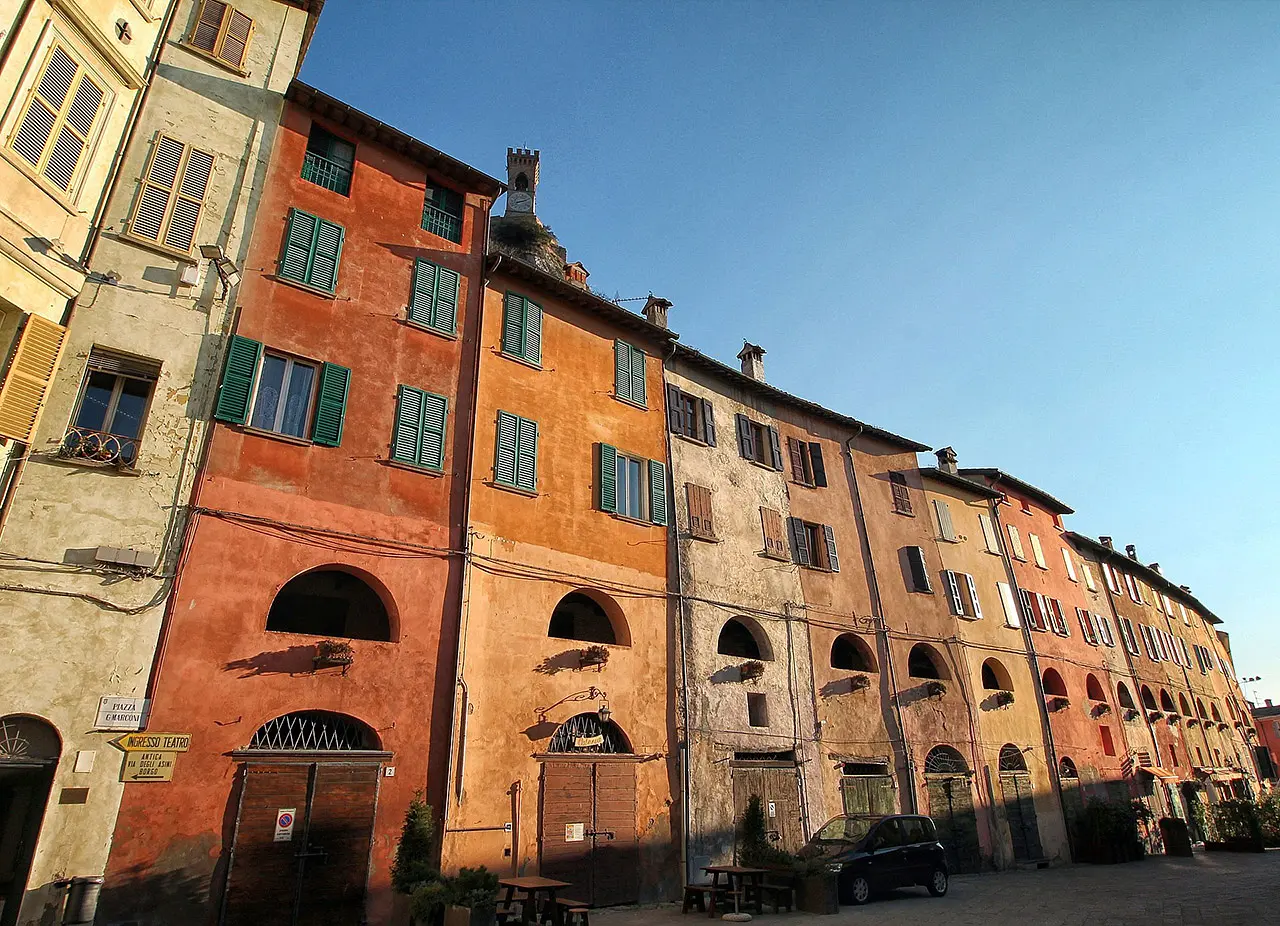 Donkey Street
Those open lunettes on the square that fascinate and rewind time

Automatically translated page.
What it is and where it is
At the heart of the village of Brisighella is a long, narrow square. Looking northwest, one can enjoy a glimpse of the Town Hall building, a beautiful Palladian-style building, while the other sides of the square are close together and made up of tenements. Keeping City Hall behind, the buildings on the left present an oddity: they are all quite uniform, colors aside. The only possible explanation is that there is some element that unites them together, making them something special.
Why it is special
To say that these buildings are quite uniform is perhaps reductive. In fact, all the facades have five openings that can be divided into 3 levels. Starting at street level, we find the door of a store, or tavern, or garage and a small latticed window immediately above. The second level is characterized by semicircular openings of different widths. The third tier consists of two rows of windows typical of habitable rooms. At the very corner that connects these buildings with the municipal building is a small arched doorway indicated by an arrow sign that reads: Antica via Degli Asini (Old Donkey Street).
Not to be missed
You cannot fully understand a street without walking along it, and this is even more true in the case of Via degli Asini, or Antica Via del Borgo. One must see it to understand its spirit. Climbing a stone staircase one finds oneself in a kind of raised portico. The walls facing the square in some sections expose their brick structure to view, while the interior wall is well plastered and each exterior archway is matched by a small door. The flooring appears to be terracotta, and the ceiling is warmed by exposed beams. The effect is rustic, elegant, striking, but why call it Donkey Street at all?
A bit of history
At one time the surface we are treading on was the patrol walkway of Brisighella's walls. When the walls were no longer needed, dwellings were built that covered the walkway and various rooms were dug into the rock. Those who used this new structure were the birocciai, who brought chalk from the quarries to the village. In particular, the former walkway became the way for donkeys to pass, and also their home, since stables were dug for them right here. Unthinkable then, not to name it precisely in honor of its friendly inhabitants!
Trivia
The Street of the Donkeys was not a stand-alone structure. All levels of these buildings were connected to each other: at street level the carts were left, on the upper floor lived the donkeys, and above them, the donkey drivers and their families. A small microcosm within the village.
The Map thanks: