230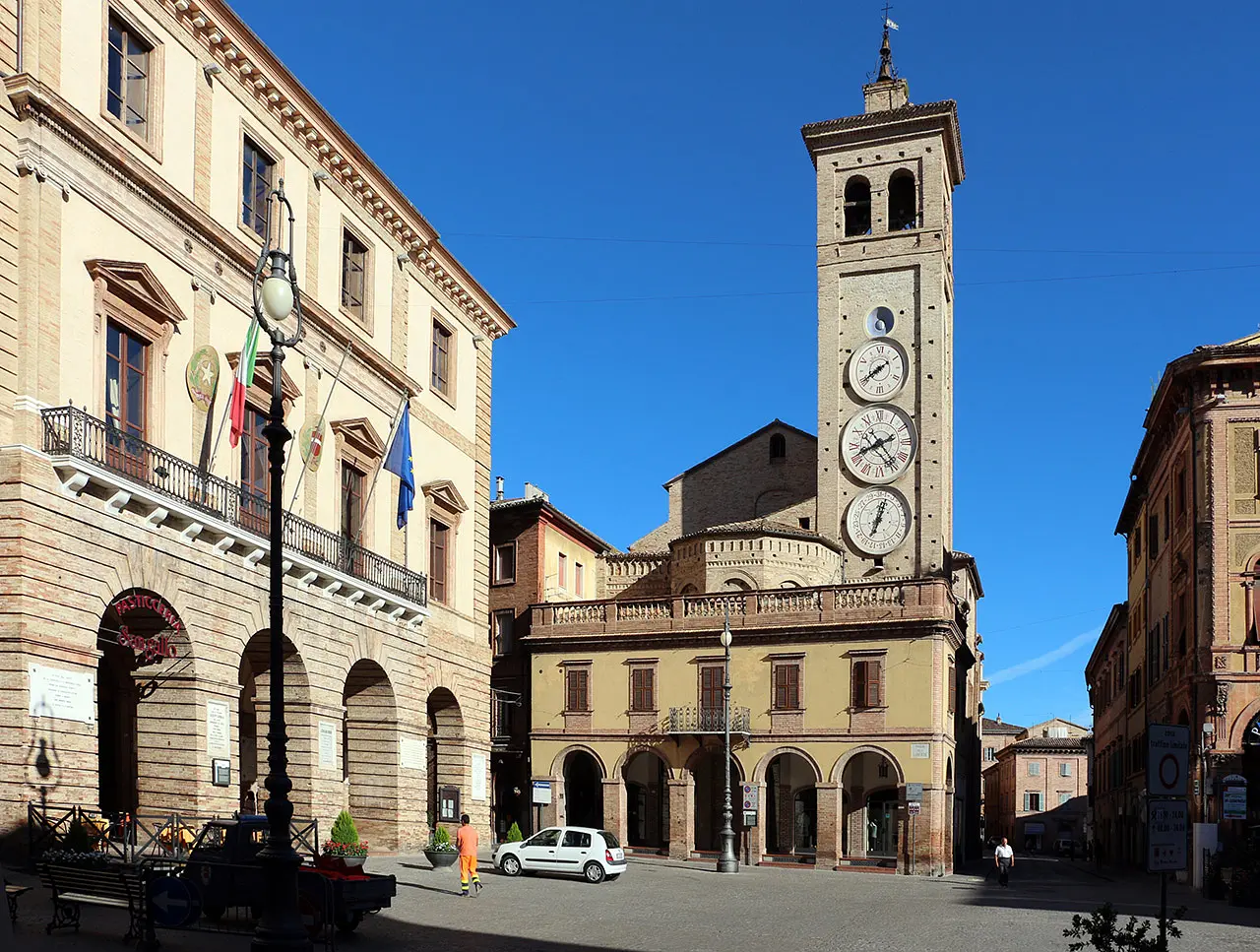 Tolentino
From the Clock Tower, no less than three dials mark the times and the many lives of this village
Automatically translated page.
What it is and where it is
Leaving Civitanova Marche, we enter the inland areas of the province of Macerata on a road that, straight as a spindle, wedges between the ever-higher, layered hills. Suddenly we get a view of a town set on high ground: the historic center huddled on the hill and embraced by medieval walls, with in the central square an unusual Clock Tower with many dials, the symbol of the town. We have arrived in Tolentino.
Why it is special
Tolentino is prized for its cultural ferment, ranging from poetry to sculpture, architecture to visual art, and excelling in music and theater. There are two performing arts hubs: the highly prestigious Nicola Vaccaj Theater (named after the 19th-century Tolentino musician and composer), where the Compagnia della Rancia is based, and the Politeama multipurpose center. Don't miss the International Museum of Humor in Art (MIUMOR), with its Biennial.
Not to be missed
Every two years since 2008, "Tolentino Expo," a major showcase of local manufacturing activities, has been held in October. After the earthquake events of 2016, the event takes on a deeper meaning: the revival of the economy of a community that does not give up and wants to rise again.
A bit of history
In 1166, under the Marca d'Ancona, the city experienced its first great development, so much so that it became a municipal body capable of absorbing nearby castles and villages, such as Urbisaglia and Belforte del Chienti. After the troubled period and domination of the Da Varano family, with the killing in 1434 of the captain of the papal troops, an even darker period opened, made up of intrigues and power struggles that lasted until 1585. Pope Sixtus V personally intervened in the infamous events of Tolentino and elevated it to a city and diocese.
Trivia
Tolentino was the birthplace of a great figure of 15th-century literary humanism, Francesco Filelfo. Here the writer, who was appreciated by the leading lordships and universities of the time, spent his youth, and the city remembers him by naming streets and public places after him, such as the beautiful early 19th-century Biblioteca Filelfica. In a small alley, an old wooden door surmounted by a small stone arch marks the entrance to what may have been Filelfo's home.
To make travel arrangements
Collections
Discover places and related research
The Map thanks:
Collections
Discover places and related research