156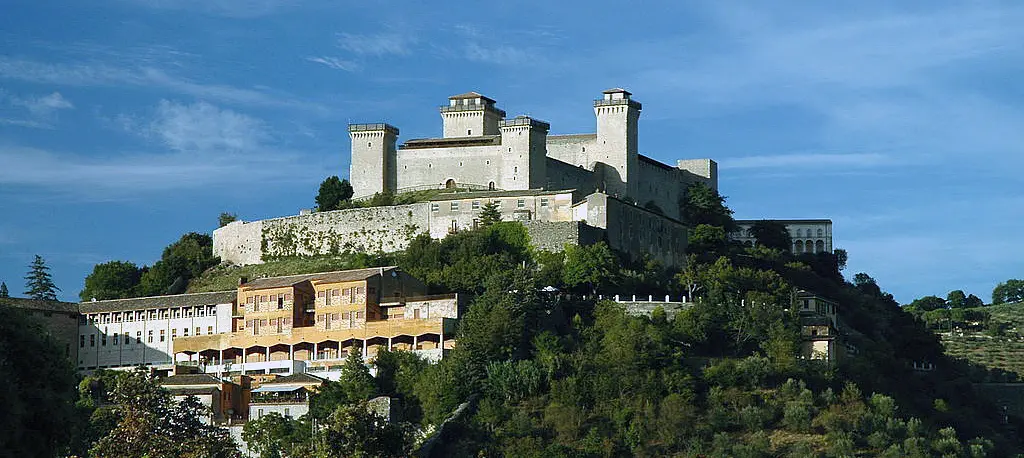 Spoleto and its towers
"Spoleto is just a vacation of the soul" (Gian Carlo Menotti).



Automatically translated page.
What it is and where it is
Upon arriving at Piazza Garibaldi, the eye is drawn to the majesty of the historic city, which wraps around Mount Sant'Elia, dominated by the Albornoz Fortress. Tall towers of civil and religious buildings stand out. Going up, the noises of the suburbs give way to the silent heart of the city. Climbing further, one arrives at Porta Fuga, where stands the Torre dell'Olio, the tallest tower in the city.
Why it is special
Every alley, every tree-lined or stepped avenue will lead you higher and higher. The higher you go the more you will delve into the history of the city and its architectural wonders, including the Duomo, with its façade adorned with a large golden mosaic, "Christ Enthroned between the Madonna and St. John the Evangelist" from 1207, and, higher still, the Albornozian Fortress, dating back to the 14th century. From the Belvedere you will enjoy a breathtaking view, with a beautiful glimpse of the Duomo and its white bell tower silhouetted against the blue sky, and a splendid view of the entire city and the Umbrian Valley.
Don't miss
Since 1958, every summer, Music, Opera, Dance and Theater meet in the large Piazza del Duomo, which is transformed into an international stage with the "Festival dei Due Mondi," a creature of composer Gian Carlo Menotti.
A bit of history
The flow of history has left magnificent traces in this city, from the earliest times: just to whet your appetite, we mention the Roman Theater and the bold Roman Bridge, or the Lombard Basilica of San Salvatore, now a UNESCO World Heritage Site, but the list is still long: you just have to discover it!
Curiosities
The 45.5-meter Oil Tower is the tallest in the city and was probably one of the Hundred Towers in Barbarossa's time. Inside today is a venue with a traditional flavor, which allows you-literally-to step into history and touch it with your own hands.
To make travel arrangements
Collections
Discover places and related research
The Map thanks:
Collections
Discover places and related research