3279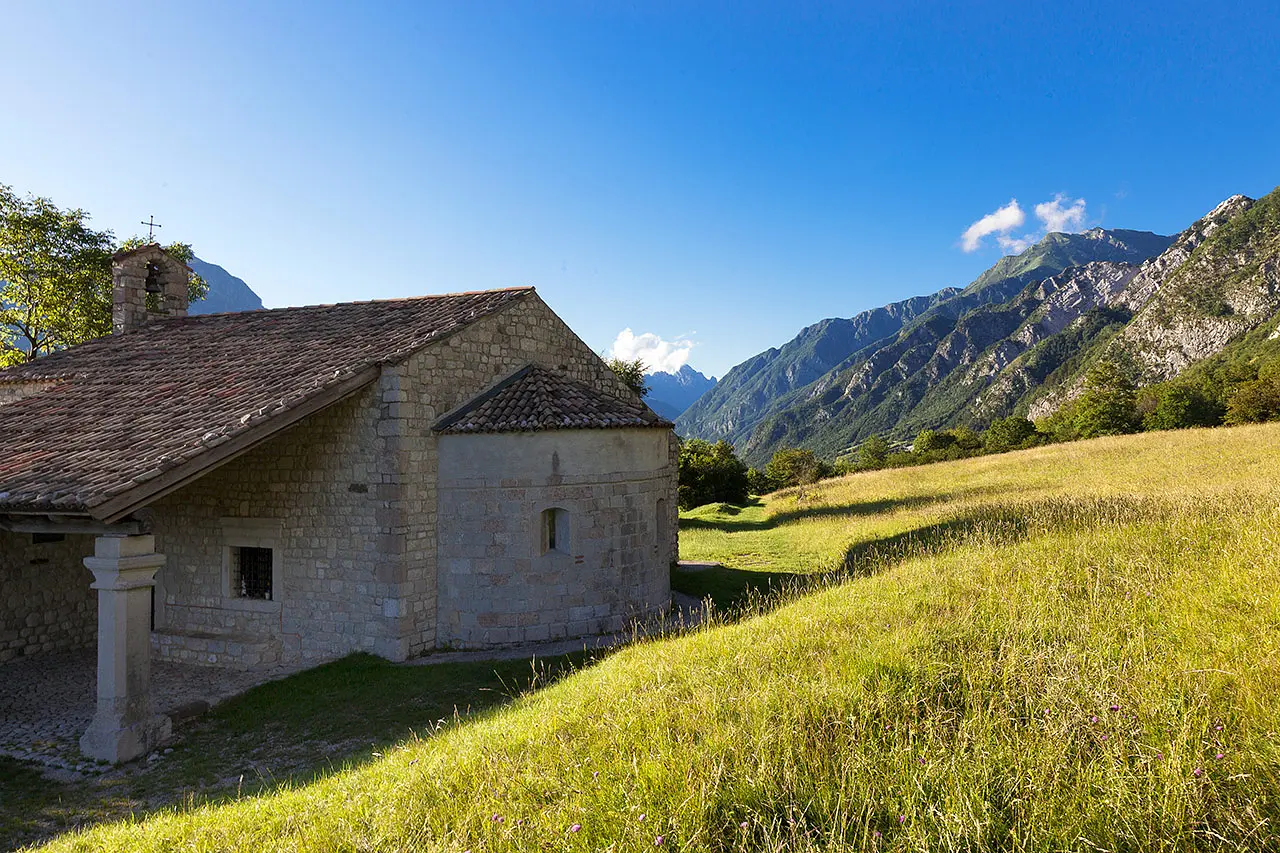 Saddle St. Agnes
A corner of paradise nestled in the mountains


Automatically translated page.
What it is and where it is
Sella Sant'Agnese is a handkerchief of paradise nestled in the mountains a short distance from Gemona del Friuli. A patch of meadow shines like an emerald in the midst of the forests that hold sway here. All around, the Deneal and Cumieli mountains frame and guard the saddle, and create the impression of being outside the world. And it is right here, in this riot of green and sky that a few small stone houses keep company with a small church: little church of St. Agnes, to be exact.
Why it is special
A gabled stone facade, few frills, but a beautiful porch on the right side: three different columns, an arched portal leading into the church, and the interior space blending with the exterior, creating a unicum of spirituality and nature, a complete beauty. This little church is a survivor: after centuries of decline and war, it has survived even the earthquake, too fond of its territory to let adversity bring it down. And it is with this thought in mind that one realizes how such a beautiful and serene place is nothing but a gift to anyone who wants to reach it.
Not to be missed
Numerous paths and mule tracks converge on Sella Sant'Agnese. Easily reached on foot from the hamlet of Ospedaletto, it gives the opportunity to explore the wonderful surroundings, and there really is something for everyone: you can encounter evidence of World War I, such as Fort of Mount Hercules, or you can still climb to the top of Mount Cumieli. Here, in addition to the superlative view of the Tagliamento Valley, you will have the chance to have a legendary encounter: griffon vultures fly here! Of course, they are birds, certainly not the magical creatures of legends, but the suggestion will be intense nonetheless!
A bit of history
It seems that already in pre-Roman times this was a place of passage, consolidated after the arrival of the Romans, only to be abandoned in favor of a road further downstream. The small church, with the monastery of which some traces remain, also boasts a long life. Around the middle of the 14th century a period of crisis and decline began, leading to the abandonment and ruin of the place. After the destruction of the 1976 Friuli earthquake, renovation work was based on historical sources, trying to reuse the original materials. The result is a journey through time, a beauty that survives despite everything.
Curiosity
It is hard to imagine that a place of peace and beauty like this would be desecrated by war, but the fighting came here too. If, although you have never been there, you seem to recognize some glimpses, you have probably seen Mario Monicelli's "The Great War": some scenes of the film were shot right here in Sella Sant'Agnese in 1959.
The Map thanks: