3932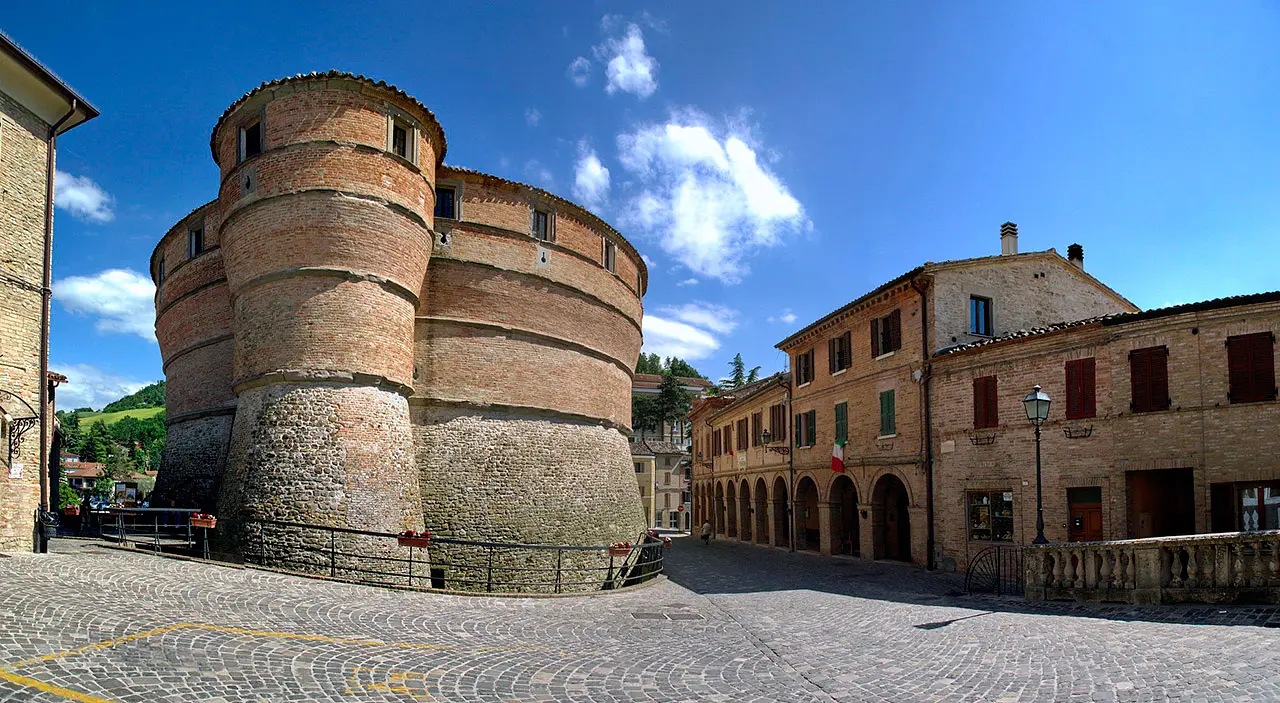 Sassocorvaro: the lovers' walk
Where St. Valentine rests

Automatically translated page.
What it is and where it is
Sassocorvaro is undoubtedly a romantic village: narrow streets and old houses gathered around a marvelous Renaissance fortress, which, seen from above, looks like a turtle; three ancient gateways - La Portaccia, the Voltone and the Porta delle Coste - a square with a soaring clock tower and a panorama to fall in love with: the green landscapes of the Foglia valley and the placid waters of the small Mercatale lake, artificial yes, but undoubtedly romantic.
Why it is special
It is not because of this romantic aura, however, that Sassocorvaro boasts the title of Lovers' Town. Follow us down the long, narrow staircase that descends from the Rocca Ubaldinesca to the village and you will discover why. Stop in front of that sober brick facade that almost hides along the way. It is the 18th-century Oratory of the Holy Trinity. Step inside and here's why: this is where the relics of the Patron Saint of all Lovers, St. Valentine, are kept.
Not to be missed
This village could not miss the Lovers' Walk, with the Lovers' Staircase leading to the Church of St. Valentine, with the Via degli Incontri, the Fountain of Love and romantic views. A walk to be taken at sunset, when the sun goes down slowly behind the hills and is reflected in the waters of the lake. Nor could it miss a big party on February 14, when the village welcomes lovers for a blessing in the Oratory of the Holy Trinity and to celebrate love with performances and candlelight dinners.
A bit of history
Sassocorvaro has long contended with Terni for the title of lovers' village. In fact, the relics of a Saint Valentine are also enshrined in Terni. Sassocorvaro, however, has evidence that seems irrefutable: a notarized inventory from 1727, kept in the bishop's curia in Urbania, documents the dowry of relics in the possession of the Oratory and specifically mentions the skull and other bones of Saint Valentine the martyr kept in a sealed urn, with authentication from 1696 by the Augustinian bishop Ledrou.
Trivia
The history of Rocca Ubaldinesca, Francesco di Giorgio Marini's "mistaken stronghold," and its pivotal role in the rescue of 10,000 works of art during World War II are all worth discovering!
To make travel arrangements
Collections
Discover places and related research
The Map thanks:
Collections
Discover places and related research