2004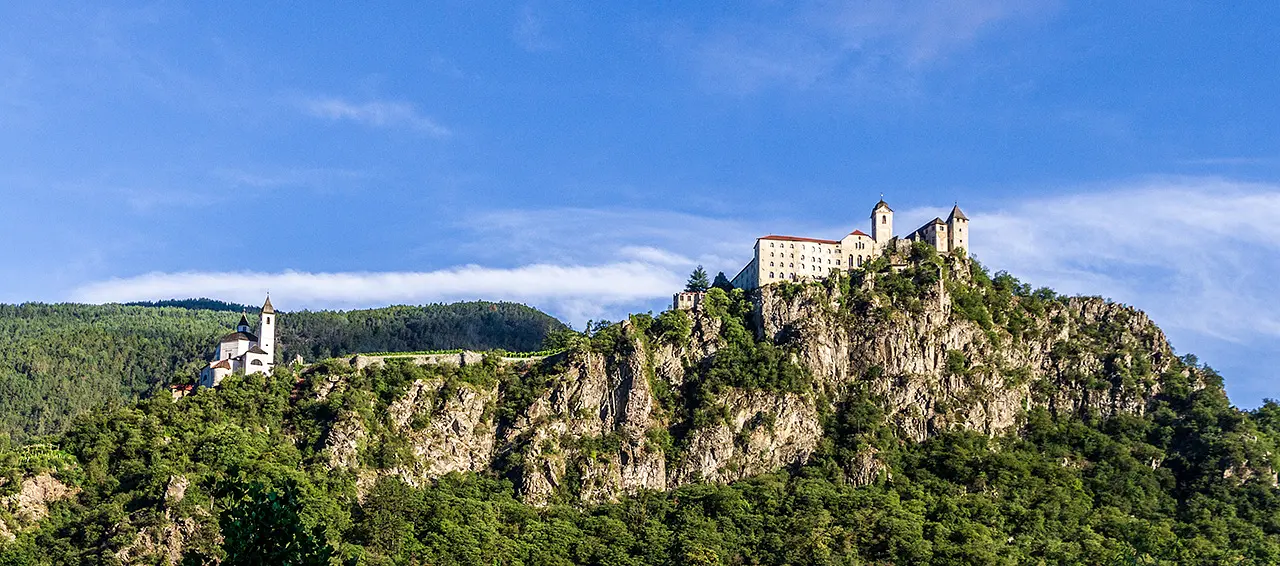 Sabiona/Saeben: the acropolis of the Tyrol
A hidden treasure on the eagle's nest



Automatically translated page.
What it is and where it is
Sabiona/Saeben is a place full of atmosphere: located within an exciting mid-mountain landscape among vineyards and coniferous forests, it is characterized by being a complex of several sacred and civil monuments dating from the 4th to the 17th century AD.
Why it is special
Certainly put like that, as beautiful and interesting as it is, it seems to have many elements in common with other monasteries scattered throughout Italy. What we have not yet told is that the complex is often called the Acropolis of Tyrol. The acropolis in Greek cities was an elevated part that was the seat of the most important buildings, with religious and civil functions. And just like the ancient temples, Sabiona stands on the eagle's nest set high above the Eisack valley below.
Don't miss
Each of the buildings gathered here radiates a special charm. Exciting is the encounter with the 4th-century early Christian baptistery inside the Church of Our Lady, but equally striking are the abbey church and, above all, the church on the acrochorus, the former cathedral of the bishops of Sabiona and shrine of the Holy Cross. Magnificent inside are the 15th-century crucifix from the school of Leonardo da Bressanone and Baroque frescoes with scenes from the Passion of Christ.
A bit of history
Sabiona's history is long and varied. In particular, a small Rhaetian settlement developed between the 3rd and 4th centuries AD in the middle area of the cliff where the Church of Our Lady stands today. The early Christian sacellum and the buried baptistery of the early Christian community are from that period. Toward the end of the 6th century AD, the first bishops of Sabiona, retreated to the top of the hill and built today's Church of the Holy Cross. Having fallen into ruin during the 16th century, the complex was reborn in the 17th century when the dean of Klausen, Matthias von Jenner, had the present Benedictine women's monastery built on the foundations of the medieval castle.
Curiosities
Numerous legends surround the Sabiona cliff. Undoubtedly the best known is that of the mythical Rhaetian king Arostage who, 200 years before Christ, is said to have valiantly resisted the Roman invasion, dying together with his beautiful daughter in the clash with the invaders. King Arostage's astonishing treasures were never found by the Romans and, to this day, are hidden in the mysterious recesses of the Sabiona cliff and the Tinne stream valley, guarded by a dragon and the blonde daughter of the haughty king of the Rhaetians. Too bad that historically the Romans came only 2 centuries later!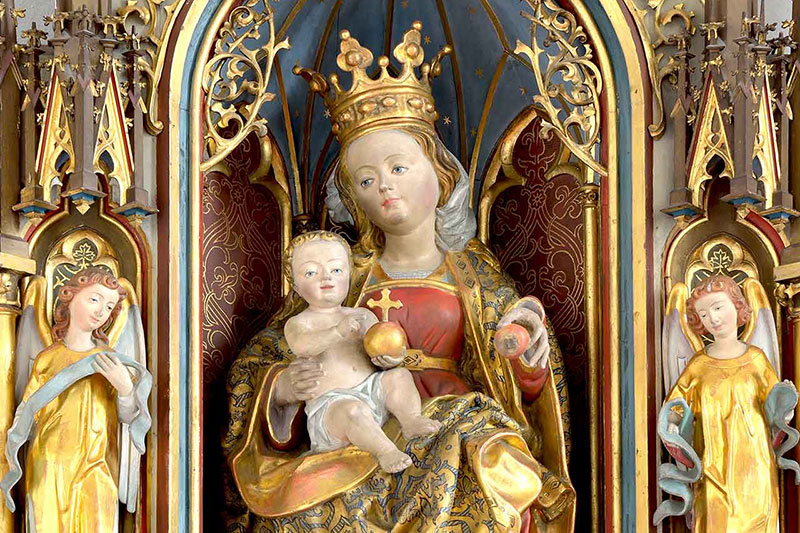 Madonna and Child, detail of the Altar in the chapel of the Church of Our Lady (Liebfrauenkirche) - Ph: Wolfgang Moroder Source
To make travel arrangements
Collections
Discover places and related research
The Map thanks:
Collections
Discover places and related research