127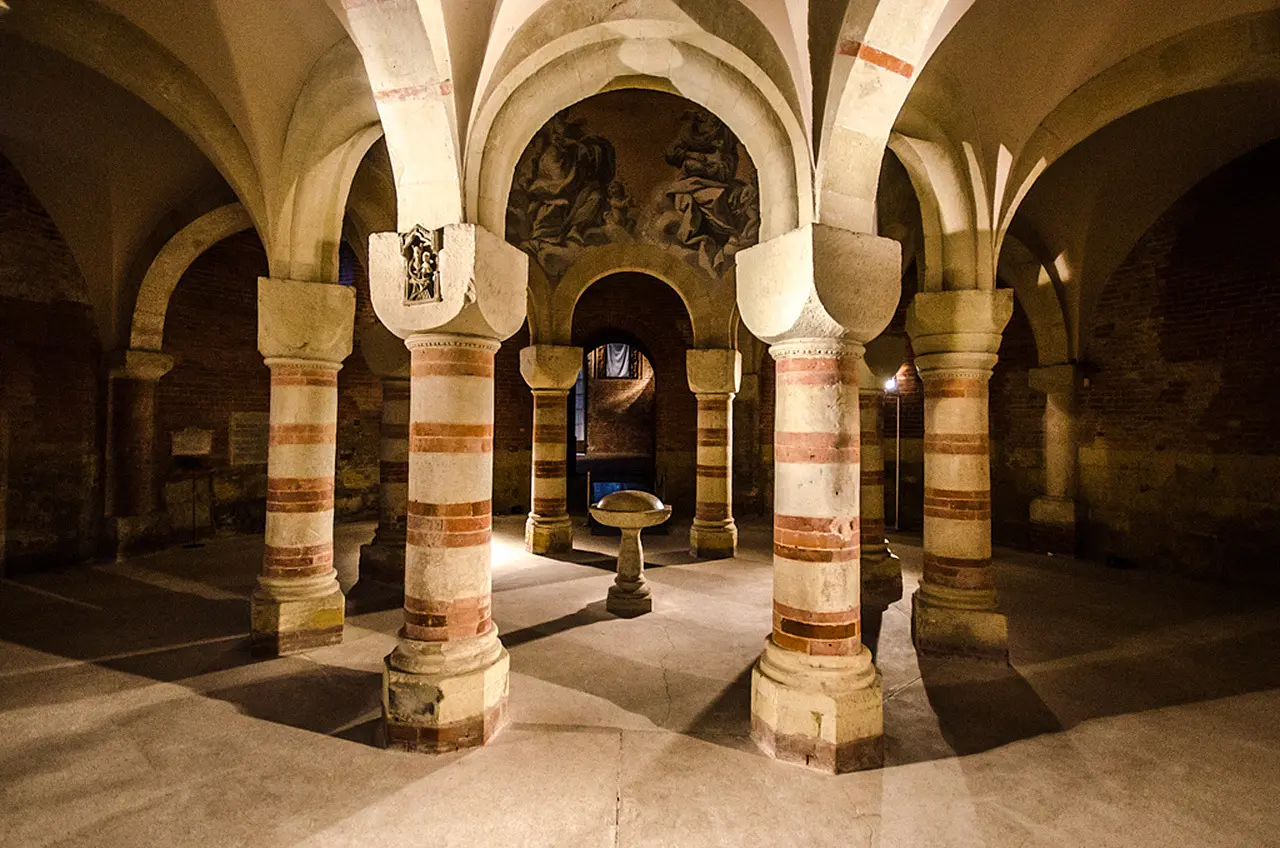 Rotunda of San Pietro in Consavia
A striking church that harks back to the time of the Knights of Malta


Automatically translated page.
What it is and where it is
Asti, mentioned in ancient chronicles as the "city of a hundred towers," still retains an intense medieval atmosphere. The ancient Contrada Grande, today Corso Alfieri, first crosses the Recinto dei Nobili, the oldest, compact and monumental core, and then divides the Recinto dei Borghigiani, which represents its expansion. Thus, having reached the edge of the historic center, one crosses the threshold of the religious complex of San Pietro in Consavia, custodian of memories that call upon the Knights of Malta.
Why it is special
The oldest core of the St. Peter's complex, originally a priory of the Knights of Malta, is the so-called Rotunda, consecrated in the 12th century as the Church of the Holy Sepulchre and only later used as a baptistery. It is a low building with an octagonal plan and a striking inner round of columns, following the example of the basilica erected in Jerusalem over the supposed burial of Jesus Christ. Adjacent to the Rotunda is the cloister, the centerpiece of the former pilgrim hostel governed by the order of knights.
Not to be missed
Asti has an ancient commercial tradition and still there is always a good opportunity to shop. Local products can be found every day in both the covered market in Piazza Libertà and the stalls in Piazza Catena. Then, every Wednesday and Saturday comes the time for the picturesque market that ranges from Alfieri Square to the Palio field. Among other events, the last Sunday of the month stands out for the Antiques Market that invades the center with more than 150 exhibitors.
A bit of history
Under the sign of the eight-pointed cross, the Knights of Malta entered history around the middle of the 11th century under the name Knights of the Order of the Hospital of St. John of Jerusalem. Beginning with the First Crusade, they would set themselves as an institutional duty the protection of pilgrims on their journey to the Holy Land, establishing 'hospedales' along their routes , to be understood as places of protected rest, from which over the centuries would derive hospitals in the current sense of the term.
Curiosities
In the Middle Ages, pilgrims crossing the Alps at Montgenèvre descended the Susa Valley on their way to Turin, stopping at Asti before continuing on to Emilia and then on to Rome. This circumstance not only justifies the presence of the Knights of Malta in the city, but also offers an explanation for the toponym Consavia, which is associated with the St. Peter's complex: it would in fact be on the "conza-via, " the 'accononcia,' right and safe road.
To make travel arrangements
Collections
Discover places and related research
The Map thanks:
Collections
Discover places and related research