3054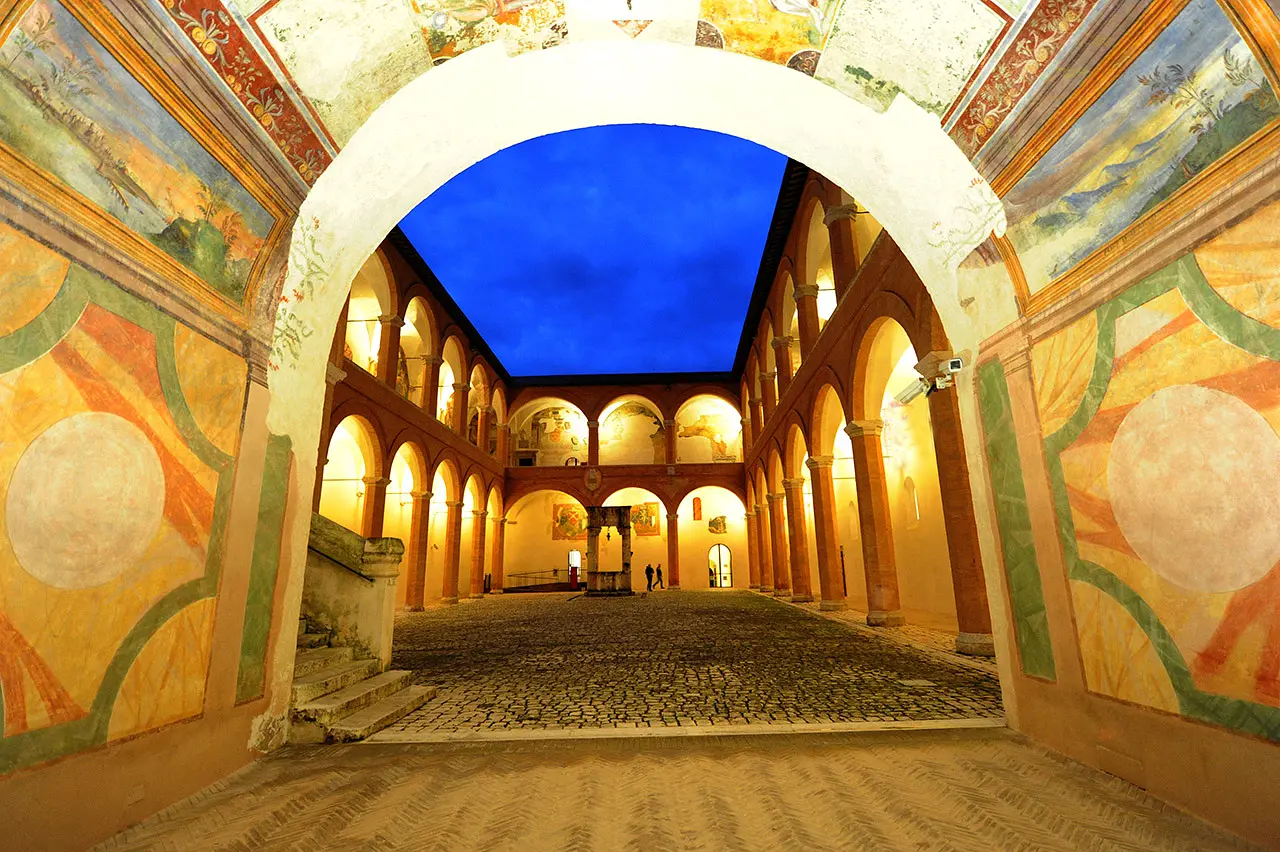 Automatically translated page.
What it is and where it is
The Albornoz Fortress of Spoleto is located on top of the Sant'Elia hill, in a position from which it easily dominates the entire surrounding valley. Precisely for this reason, it is unimaginable to see the panorama of Spoleto devoid of the unmistakable profile of its gigantic guardian: the architectural layout presents a rectangular plan defended by six imposing towers, the largest and most central of which is called the "Spiritata Tower."
Why it is special
Unlike many of its "colleagues," the legacy of Cardinal Albornoz, the fortress of Spoleto has not lost an iota of its grandeur. If the overall impact does not convince you, approach the main entrance, an archway that opens onto a smooth wall, very high and framed by two menacing towers... Definitely, it seems not a day has passed since the tumultuous period that required its construction, and in fact between the 1800s and 1900s its solidity made it suitable to house a prison, now decommissioned.
Not to be missed
Having passed the penitentiary interlude, and after careful restoration, we can enter with a light heart and enjoy the beauty of the interior. We are greeted by the austere Court of Arms, where it is not hard to imagine sentries preparing for guard duty. The second courtyard, however, belongs to another world: elegant, frescoed, with an octagonal well in the middle and a double loggia: it is the Courtyard of Honor. It is now clear how art replaced war, so much so that in the inner rooms of the building, in addition to the remains of the original frescoes, there are also collections that make up the National Museum of the Duchy of Spoleto.
A bit of history
The Albornoz Fortress, also known as the Castle of Spoleto, was erected starting in 1359 on top of the Sant'Elia hill, commissioned by Pope Alexander VI, along with several other similar fortresses. It was the powerful Spanish Cardinal Albornoz who commissioned Matteo di Giovannello da Gubbio, known as "Gattapone," to direct the work, which was completed in 1370. From 1817 until 1983 the fortress became a prison and lost many of the works of art kept inside. Only after the closure of the prison was it subjected to careful restoration and enhancement work that led to the opening of the National Museum of the Duchy in 2007.
Curiosities
There were many papal legates who stayed here. According to tradition, among them was Lucrezia Borgia, daughter of Alexander VI, who appointed her regent of the Duchy of Spoleto when she was only 19 years old, who stayed at the Rocca twice: in 1499 for three months and in 1502 for a brief stopover along the itinerary that took her to Ferrara. Some say that the name of the tower "della Spiantata" is related to her.
To make travel arrangements
Collections
Discover places and related research
The Map thanks:
Collections
Discover places and related research