59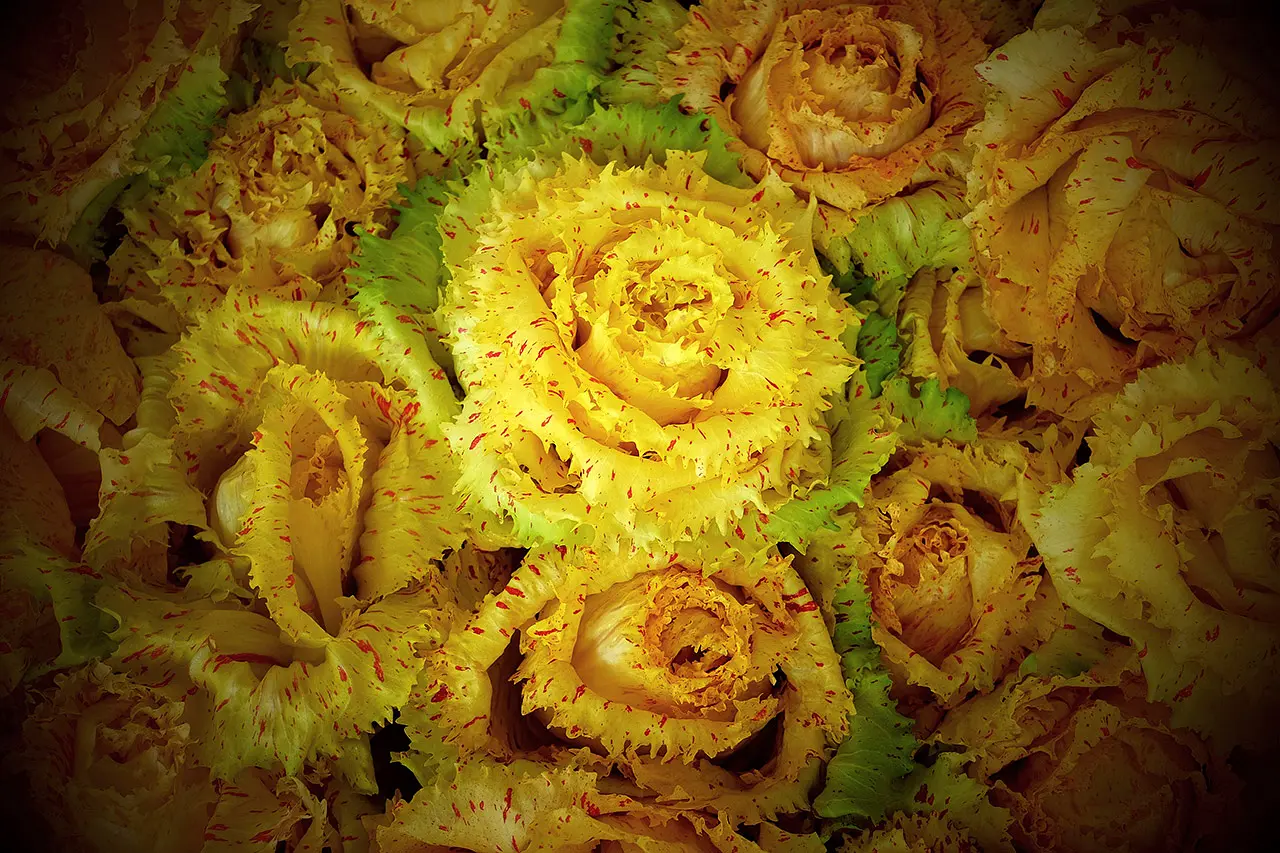 Radicchio Variegato di Castelfranco Veneto PGI.
A delicious flower to eat

Automatically translated page.
Flower or salad?
Contrary to popular belief, Radicchio Variegato di Castelfranco Veneto is not a salad but a chicory, obtained around the 18th century from a cross (spontaneous or guided, we don't know) between Rosso di Treviso and escarole. Because of its distinctive shape, it has earned nicknames over time such as orchid salad or winter rose. In 1996, Radicchio Variegato castellano was branded I.G.P. (Protected Geographical Indication).
The huge roses of Castelfranco
When the lush summer bloom comes to an end in the heart of autumn, the countryside around Castelfranco Veneto is covered with giant roses, initially green then creamy-white, with veins that turn from ruby red to light purple. A treat for the eyes and palate. A sweet and delicate flavor with a certain almond aftertaste characterizes this food and makes it very popular in cooking.
The Radicchio Festival
Every year, in December, The Pro Loco of Castelfranco Veneto organizes the Radicchio Festival, a day entirely dedicated to the flower that is eaten and that characterizes the city of Giorgione. The event takes place in venues around the center: inside the walls there is the usual display of stands followed by the awarding of prizes to the best producers, while restaurants offer delicious tastings of dishes based on Radicchio castellano. Among the offerings: cooking workshops and cooking shows.
Better than an orchid
A legend, alas not well known, tells the story of a young noblewoman from Castelfranco who, on her way to Milan for a premiere at La Scala, took the train and left, carrying with her a beautiful orchid and a basket of humble local radicchio. Unfortunately, along the journey the flower wilted. The lady then leveraged feminine ingenuity and, with a bit of hair and makeup, transformed the heads into an original bouquet. When she reached the theater, to the fascinated women who asked for information, the proud young woman replied, "It's the flower you eat!"
To make travel arrangements
Collections
Discover places and related research
The Map thanks:
Collections
Discover places and related research