1451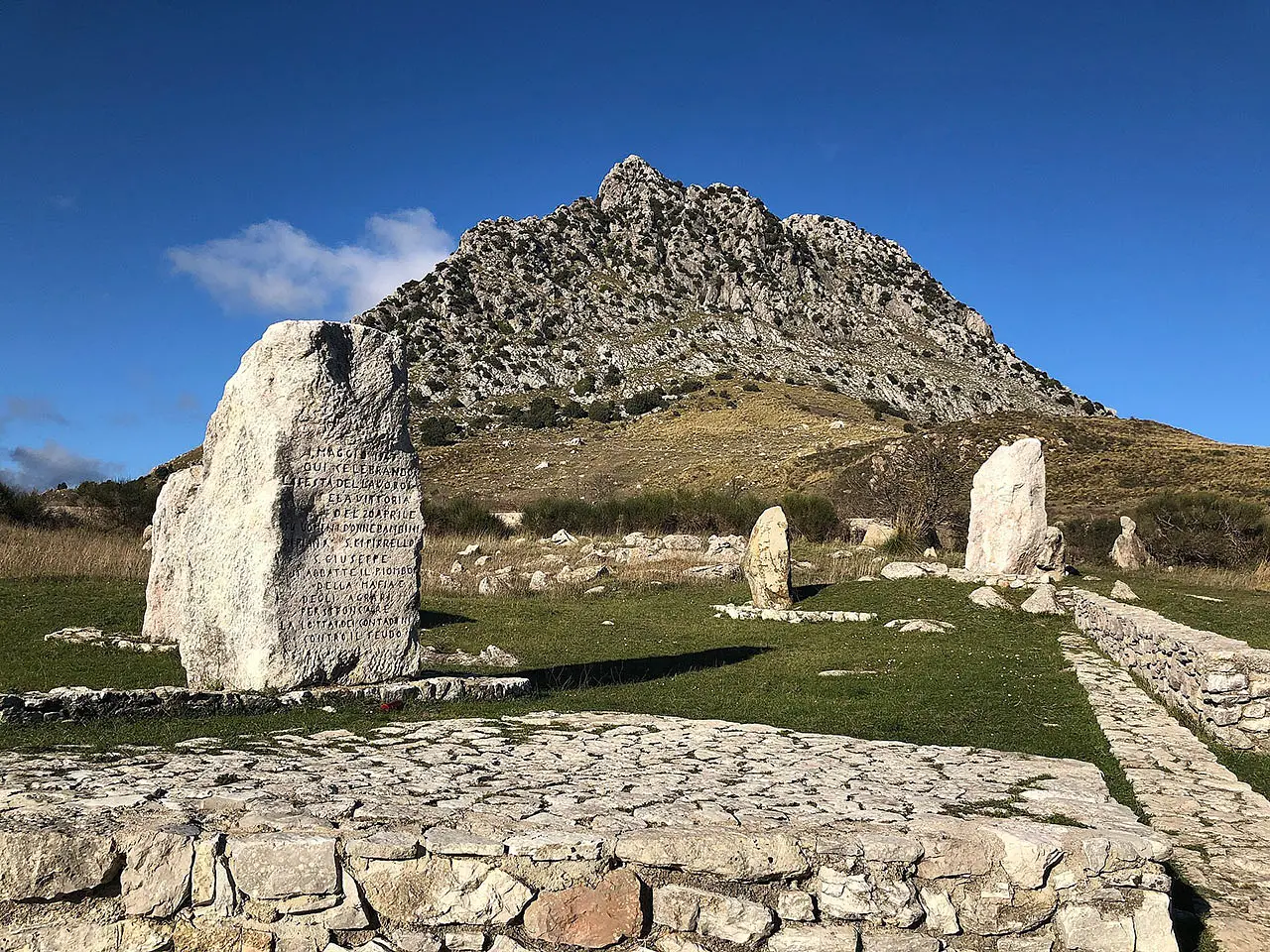 Portella della Ginestra
Memories of a tragic May Day in the heart of Sicily


Automatically translated page.
What it is and where it is
A green clearing, one of many in this rural area. This can catch the eye of the distracted passerby because of the dry stone walls, the white stones scattered here and there, and Mount Pevalet in the background. It looks like just another spot in the Piana degli Albanesi countryside, but if this passerby would concentrate for a moment, he would notice a strange detail. The low walls, complete with a small wooden gate, lead nowhere. There are no paths that set off to explore the mountain, no farmsteads with their inhabitants. Low grass, white stones, silence. Silence.
Why it is special
It is precisely this silence that begins to make its way inside you, pounding your eardrums and your heart. It looks like just scattered stones, but there is more, there must be more, and you finally find the explanation, etched on a stone. Here, on May 1, 1947, peasants, women and children were treacherously wounded and killed. Here, in memory of simple and earthbound people, an equally simple and earthy work has risen, blending into the landscape. Surrounded by nature, it frees itself from all political ideology and remains only the memory of those from this meadow who never returned home.
Not to be missed
The Portella della Ginestra memorial is evocative in itself, but if you have the chance to visit it after talking to someone local, perhaps even a survivor, you will feel like you are watching the stones make men and women run and run in search of a shelter that was not there. True, it can be a powerful experience, but it is an opportunity to learn more about that part of our history that is not told in books.
A bit of history
It was the year of the victory of the leftist parties in the regional elections, the year when, after fascism, people returned to celebrating May Day. They were peasants with their families who had arrived from the three towns Piana degli Albanesi, San Giuseppe Jato and San Cipirello. The first shots sounded like festive firecrackers, but the blood and dust made it clear what was happening. An attack, bandits were firing into the crowd. Eleven people died that day, 27 were wounded. The investigation focused on the gang led by Salvatore Giuliano, but the principals were never revealed.
Trivia
Beyond the sad event it commemorates, the Portella della Ginestra memorial also enjoys a record. Made between 1979 and 1980 by sculptor-painter Ettore de Conciliis in collaboration with architect Giorgio Stockel and painter Rocco Falciano, it is the first example of land art created in Italy.
To make travel arrangements
Collections
Discover places and related research
The Map thanks:
Collections
Discover places and related research