1904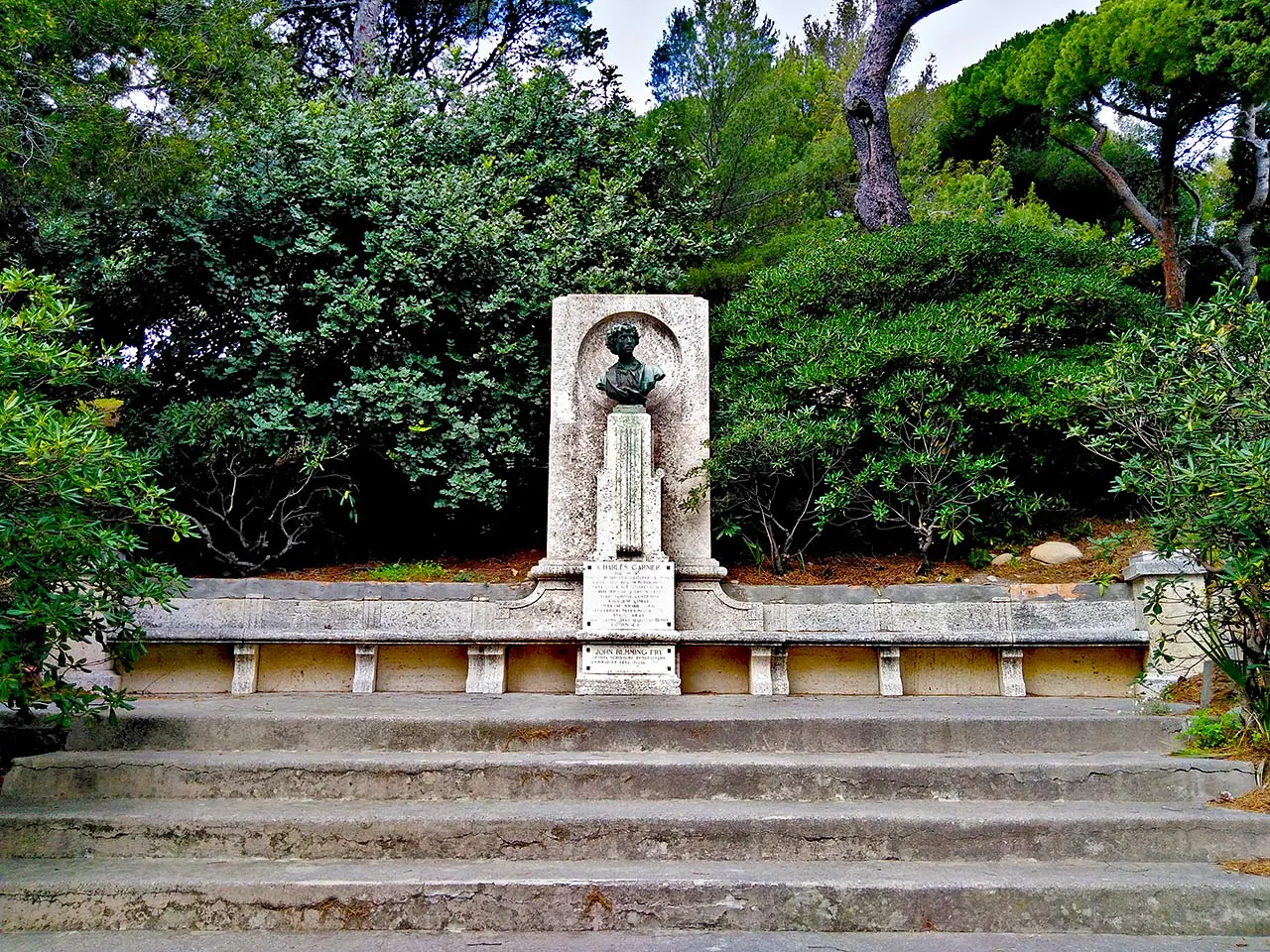 Pineta Magiargè and the famous people of Bordighera
The fronds tell

Automatically translated page.
What it is and where it is
Stretching for hundreds of meters, between the Aurelia Street facing the sea and the Francesco Rossi Avenue leading to the old city, is a very rich green patch of mostly centuries-old maritime pines. The peculiarity of these trees is that, although similar, they each grow and develop in their own way, like olive trees: each has its own form, its own character, its own expression. Just like the characters who, embraced by the foliage of these mighty plants, emerge from the dense vegetation to tell us about their relationship with this magnificent city.
Why it is special
So, it is no longer just a simple pine forest, but it is developed as a real historical trail under the open sky and by the sea. Among the sturdy knotted trunks and evergreen foliage you can admire the golden reflections on the ripples of the sea; from here you also have a privileged view of the town's charming little harbor. In the stone fountain, which is always working, birds water, and although you are in the center of town, you will feel like you are far away from it, immersed in the coolness, among the voices of the monuments that tell you a piece of the history of the Riviera dei Fiori.
A bit of history
The first character we meet along the way is Pompeo Mariani, considered the greatest painter of "seascapes" in the world, attracted from the start by the sea, the fishermen of the Arziglia, the olive trees and the town's plants, so much so that he settled here until his death. After that, at the foot of the pine forest, we pay our respects to the famous French architect Charles Garnier, who lived in the well-known residence that, even today, bears his name. Finally, we cannot forget Queen Marguerite of Savoy at the entrance to the town; a royal who loved Bordighera and was much loved by the Bordigottos.
Trivia
But why is the pine forest named after Magiargé? Who is this mysterious character? There is no monument depicting her within the dense vegetation. According to legend she was a Spanish slave girl loved by the Saracen pirate Boabil, who set out for the Riviera di Ponente. During a siege of the city the girl fell ill and he entrusted her to the care of the inhabitants. Well-liked and loved by a hospitable population, she died, regretted by all. She was buried right here on the Cape Esplanade. Today, the statue representing her stands near the town hall in the old city.
To make travel arrangements
Collections
Discover places and related research
The Map thanks:
Collections
Discover places and related research