450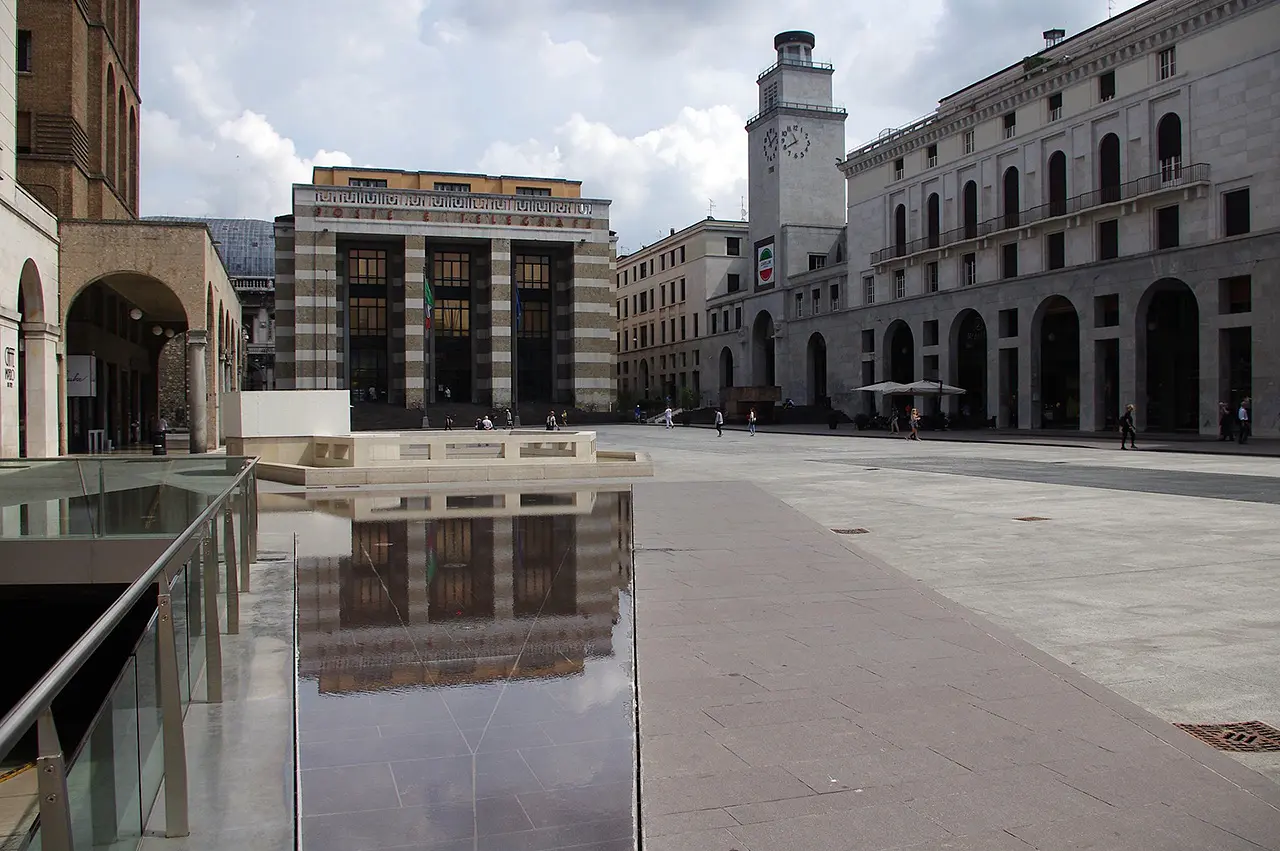 Victory Square, where the Mille Miglia begins
In Brescia, a square and a legendary race come alive in the film "Rosso Mille Miglia"


Automatically translated page.
What it is and where it is
Designed in the 1920s by architect Marcello Piacentini (1881-1960) and inaugurated by Benito Mussolini in 1932, Piazza della Vittoria is an expression of monumental neoclassicism, in happy balance with the idea of rigor and balance of the urban architecture of the "Ventennio." The square is dominated to the west by the INA Tower, the first skyscraper built in Italy, 15 stories and 57.25 meters high. To the north stands the white and ochre travertine Palazzo delle Poste, and to the northeast the Quadriportico, topped by the Revolution Tower with its famous clock. Being a place of gatherings, the square has an Arengario, a stage intended for fascist rallies, decorated with bas-reliefs by Maraini.
Why it is special
Piazza Vittoria is one of the symbolic places of the famous "Mille Miglia" vintage car race along with Viale Venezia, where cars depart and arrive. In 2014 the square was the set of the film "Rosso Mille Miglia," the first work entirely dedicated to the famous race, signed by Brescia director Claudio Uberti.
Don't miss
The large square is the scene of the "punching" of the vintage cars before the start of the Mille Miglia: a control that, in the new edition of the race, includes a "sporting phase for the crews (licenses, certificates, license) and an analysis (...) of the identification aspects of the car (...) with the affixing of a lead seal to seal the control and therefore the correspondence of the car to the race documents" (Il Giornale di Brescia). All this happens every May, as recounted in the film "Rosso Mille Miglia"" with images of beautiful historic cars and their drivers.
A bit of history
During the fascist era many Italian cities changed their faces, following new urban plans under the banner of modernization and rationalization that expressed a very specific political message. In Brescia, the ancient medieval quarter was razed to redevelop the city center, losing the fishmongers and important Roman and Lombard remains.
Trivia
After World War II, many fascist symbols were removed from the square, including a giant statue depicting a naked young man ("The Fascist Era"), familiarly called "Il Bigio."
To make travel arrangements
Collections
Discover places and related research
The Map thanks:
Collections
Discover places and related research