1858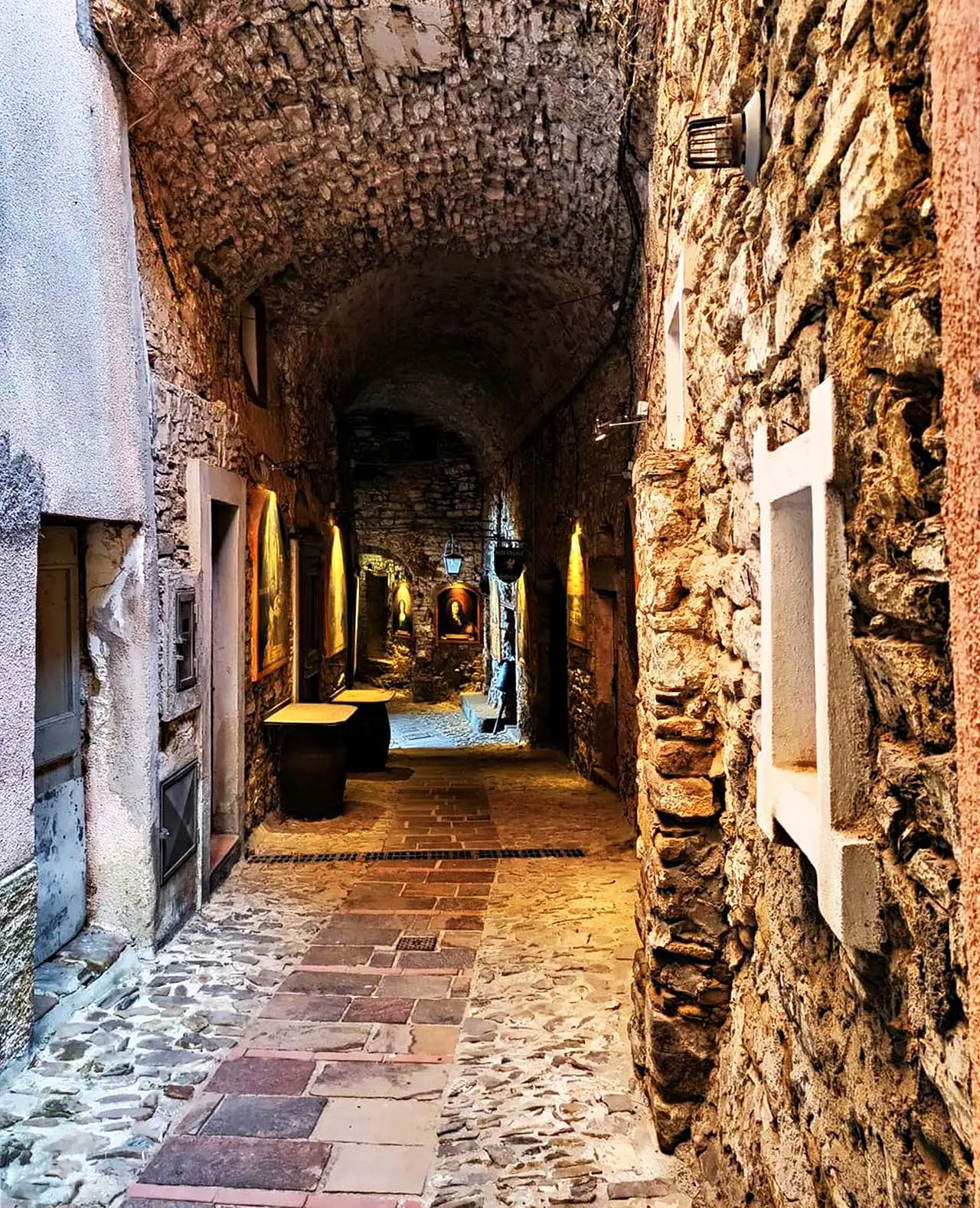 Perinaldo, the Poggio delle Stelle
Destiny written in the stars

Automatically translated page.
What it is and where it is
The "Poggio delle Stelle," as they call it in these parts. It appears like the wake of a comet that furrows the hills of the immediate hinterland of Imperia from east to west. Its luster comes from its immense historical-artistic and cultural heritage and its privileged position along the slender hill ridge straddling the valleys of the Verbone and Merdanzo streams. From the church square, looking south, we can distinctly make out the sea on the horizon line.
Why it is special
The sun reflects the myriad colors of the houses, medieval buildings and stones of the narrow carruggi, and today the town is fully included in the circle of the "Most Beautiful Villages in Italy." But it is nice to discover that the fame of this place is also to be found in something much more remote: the observation of the vault of heaven. We realize this as we walk along one of the most evocative views, through the stone arches that house the alley dedicated to the astronomer Gian Domenico Cassini, who accompanies us in the discovery of a world that is new and unexplored to our eyes.
Not to be missed
To the east of the village, far from the lights of the historic center, stands the architectural complex that houses the Gian Domenico Cassini Observatory in Monsignor Antonio Rossi Square, inside the town hall. Numerous events are scheduled: on Feb. 14 for a Valentine's Day under the stars, on Halloween for an unusual night of witches, and many more unmissable encounters, face to face with space. The planets and stars will never have seemed so close to you from this privileged knoll.
A bit of history
Gian Domenico Cassini (1625-1712) was born here, in Perinaldo, at the height of the Modern Era, when science was slowly but surely breaking free from religion, however much the resistance was, if possible, even more violent than in earlier periods. And yet nothing could stop the will to know, to go further, in a spirit of full confidence in scientific progress. The village of Perinaldo, thanks to its Astronomer, was undoubtedly an undisputed protagonist of this cultural temperament of which we are today the children.
Curiosity
In truth, within the village we discover in a commemorative plaque the presence of at least two other astronomers, the first a contemporary of Gian Domenico Cassini: Giacomo Filippo Maraldi (1665-1729) and Gian Domenico Maraldi(1709-1788). In short, a village predestined for careful observation of the heavens, contemplation of the stars, scientific-technological progress, and those discoveries that would change the world, forever.
To make travel arrangements
The Map thanks: