387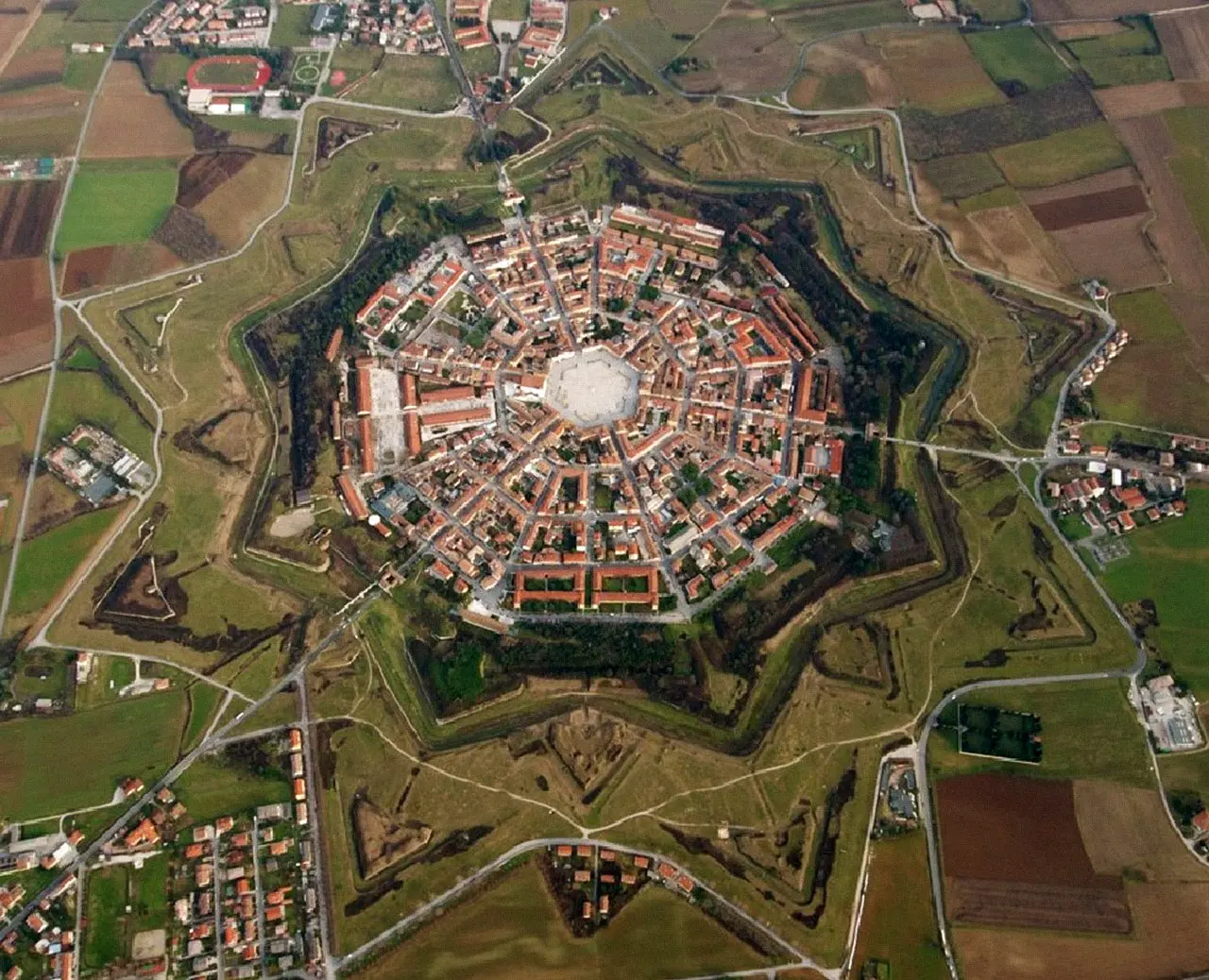 Historic Bastion Park in Palmanova
Have you ever walked around a star?


Automatically translated page.
What it is and where it is
Seen from above, Palmanova is a perfect nine-pointed star. This fortress city, commissioned by the Serenissima to defend its borders with the Habsburg Empire, is now a national monument and UNESCO heritage site. All around the city, the majestic ramparts included between the city walls and the moat, now oblivious to the ancient battles, form an oasis of greenery and peace: we are in the Historical Park of the Bastions, a splendid destination for walks and bike rides face to face with history.
Why it's special
The Historical Park of the Bastions offers a privileged vantage point for "alternative" visitors, fascinated by thears fortificatoria and its evolution over time: counter-ports, small bridges, ramparts, ravelins, Napoleonic lunettes, esplanades and falsebrags will let you discover the defensive strategies that from the Renaissance to the Napoleonic era led to the construction of no less than 3 walls around the city, making it impregnable. But only by delving into the maze of 17th-century tunnels (open on weekends) will you fully grasp the idea of an inaccessible fortress.
Not to be missed
Every year, on the first weekend of September, one of Italy's largest historical reenactments takes place in Palmanova, with more than a thousand reenactors from all over Europe: "AD 1615 Palma alle Armi." It is a plunge into the Renaissance that involves the entire citizenry, including military maneuvers, jousts, parades, ancient crafts and ancient flavors. The episode re-enacted is the beginning of the Gradiscan Wars against the Habsburgs. From 2019, however, in odd-numbered years there is a change of century and uniform, and here Palmanova, in French hands, faces the Habsburg threat: "1809 The Siege."
A bit of history
Thefoundation stone of Palmanova was laid on October 7, 1593, to commemorate the Venetian victory at the Battle of Lepanto in 1571. The three circles of fortifications date from the founding period (1593-1620), the 17th century (1665-1683), and the Napoleonic period (1806-1809), respectively. And perhaps in this perfect layout there could be the hand of Leonardo, who-apparently-refused the commission of the project, but visited the city.
Curiosity
Superstition has it that Palmanova is founded around the number 3, having a 9-pointed star as its plan, 3 circles of walls, 3 gateways (facing Cividale, Aquileia and Udine), 18 radial streets of which 6 are the main ones, and a central hexagonal square.
To make travel arrangements
Collections
Discover places and related research
The Map thanks:
Collections
Discover places and related research