4211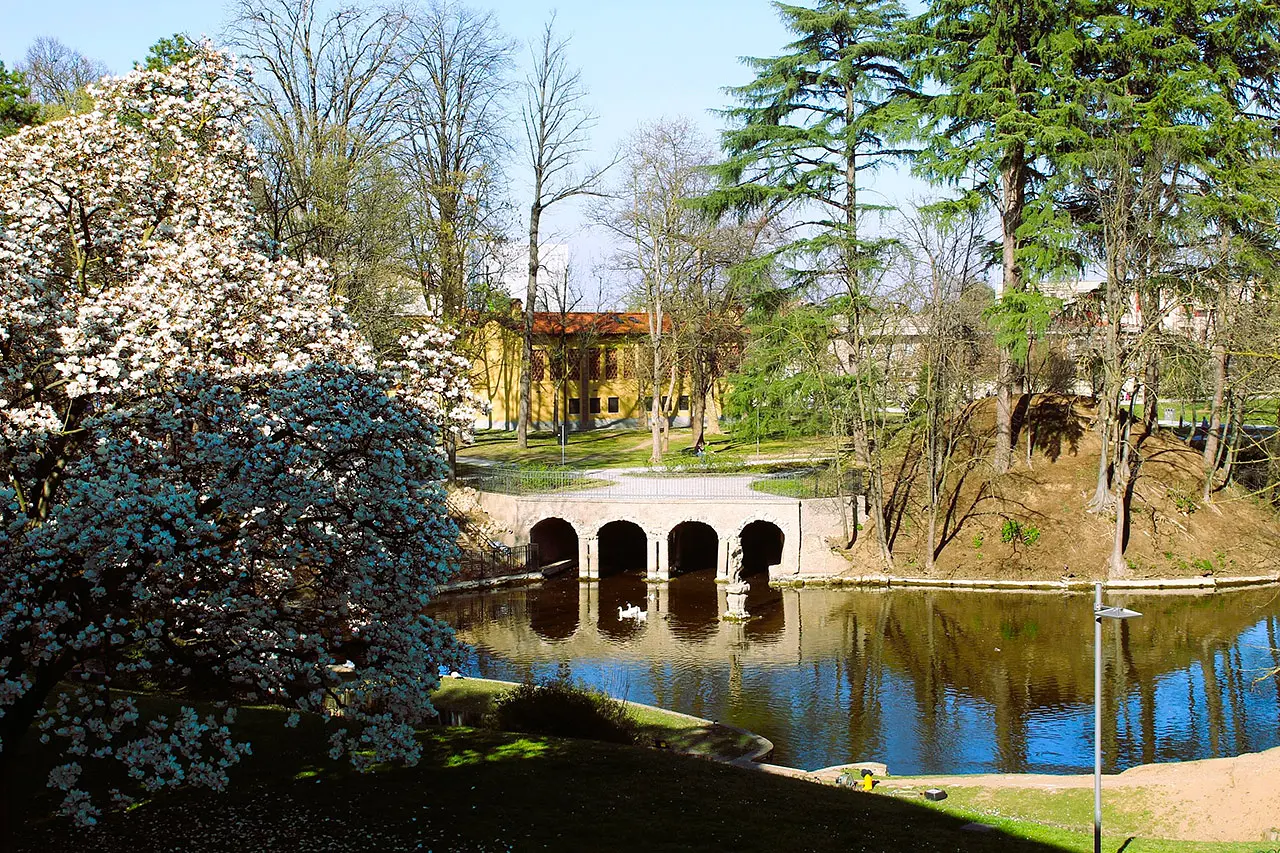 Park of Villa Frisiani Olivares Ferrario
A magnificent park in the heart of Corbetta



Automatically translated page.
What it is and where it is
I take you to a large park with a romantic flavor, in the center of the city of Corbetta, graced by an artificial pond in which ducks and white swans coexist and move elegantly over its surface. Strolling through the park's avenues activates all our senses: we see the thousands of shades of green, those of the lawn, the trees and the colors of the flowers; we hear the voices of those strolling by and that of the children playing merrily on the merry-go-rounds and the faint, imperceptible noise caused by the squirrels, the park's little inhabitants chasing each other, and finally the squawking of the ducks.
Why it is special
It is surprising how a park can combine beauty and well-being, but it is not by chance that this happens: after all, we are in what was a park designed to brighten the days of the owners of Villa Frisianis Olivares Ferrario, an exclusive place that has become everyone's heritage over time. In the morning, when you cross it, you breathe fresh air, enhanced by the many essences present: oaks, lindens, cedars ,hornbeams, celtis australis, magnolias, not to mention the poplars that adorn the central avenue. And in all this, the chirping of the birds acts as a soothing and light wake-up call.
Not to be missed
For the past year, it has been possible to sail on the pond thanks to "La Bettina," an all-transparent hull that allows a very close view of the inhabitants living underwater. We are joined by white swans and all the creatures that populate Corbetta Park, also because the pond's waters are full of different varieties of fish such as carp, sturgeon, vaironi and many more!
A bit of history
The park was created as a recreation area to serve the Villa Olivares, which was a villa delizia of Milanese nobles from the 1700s onward. In the early decades of the 1900s the excavation of the pond with its nymphaeum grotto was made and a romantic isletù created. Using topsoil, the mounds that are still visible today and with tree cover of cedars and other conifers were created, while in the large meadow area, in ancient times stood the galloping ground for training fine horses.
Trivia
The pond is also fed by the fresh spring waters of the Madonna fountain that originates under the current middle school courtyard and after passing through the park, the historic center, other villas of delight located further south, ends its course irrigating the countryside south of Corbetta.
To make travel arrangements
Collections
Discover places and related research
The Map thanks:
Collections
Discover places and related research