1577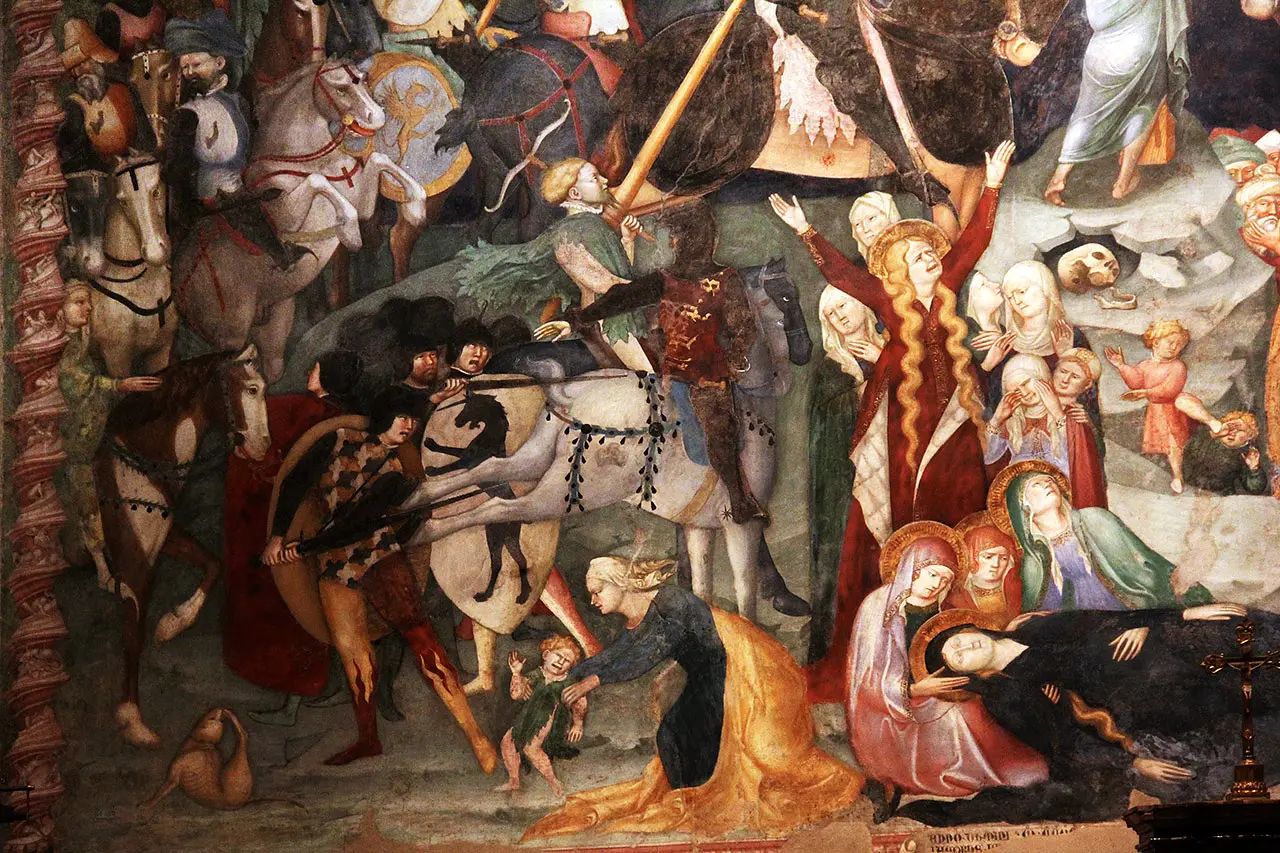 Automatically translated page.
What it is and where it is
The building, originally used as a hospital to receive the sick and pilgrims, appears to date back to 1365. The facade has been remodeled due to 20th-century restorations in the neo-Gothic style. Such a modern element hardly attracts attention, especially when set among the narrow streets of Urbino, a city rich in art and history. Yet those who enter its door discover a treasure that predates the splendors of Raphael and the court of the dukes of Urbino. Curious?
Why it is special
The interior is a rare testament to the Gothic style that flourished in Italy. The vivid colors, the minuteness of the details and the delicacy of execution of the frescoes cannot fail to leave visitors speechless. The first representation we see, the most majestic, is the Crucifixion, which occupies almost the entire wall behind the altar. Executed by the Salimbeni brothers, with the emphasized expressions of the characters, the richness and meticulousness in portraying every small detail or emotion, executed with a skillful elegance of interpretation, it captures and engages the viewer.
Not to be missed
Almost the entire cycle of frescoes telling the story of St. John the Baptist can be attributed to the Salimbeni. Less well known are their two votive Madonnas on the left wall of the oratory, which well demonstrate the stylistic differences between the two artists. The first, called the Madonna of Paradise, in its details, forms and colors, stays true to the tradition of the time, just like the rigorous Lorenzo. The second, between Saint Sebastian and the Baptist, is a mother intimately bound to her child. An attempt at introspective research is evident in her and the Saints, innovative just like Jacopo.
A bit of history
Urbino is known to all as the capital of the Renaissance and as the birthplace of Raphael Sanzio, but this small but fascinating oratory is also definitely worth a visit. Oratories played an important connective role in the social fabric thanks to the various supports they offered to the community such as assistance to the poor or the sick, as is the case with the Oratory of San Giovanni, whose role was also to welcome penitents, including Blessed Pietro Spagnoli, whose body is still displayed under the high altar.
Trivia
The Salimbeni brothers, authors of most of the frescoes in the oratory, are two artists whose language is extremely different: Lorenzo has a more conservative and graceful style, certainly closer to the interpretive precision typical of International Gothic, while Jacopo is more modern, innovative and realistic. It is precisely the fusion of two such heterogeneous languages that makes these frescoes unique and a masterpiece.
To make travel arrangements
Collections
Discover places and related research
The Map thanks:
Collections
Discover places and related research