618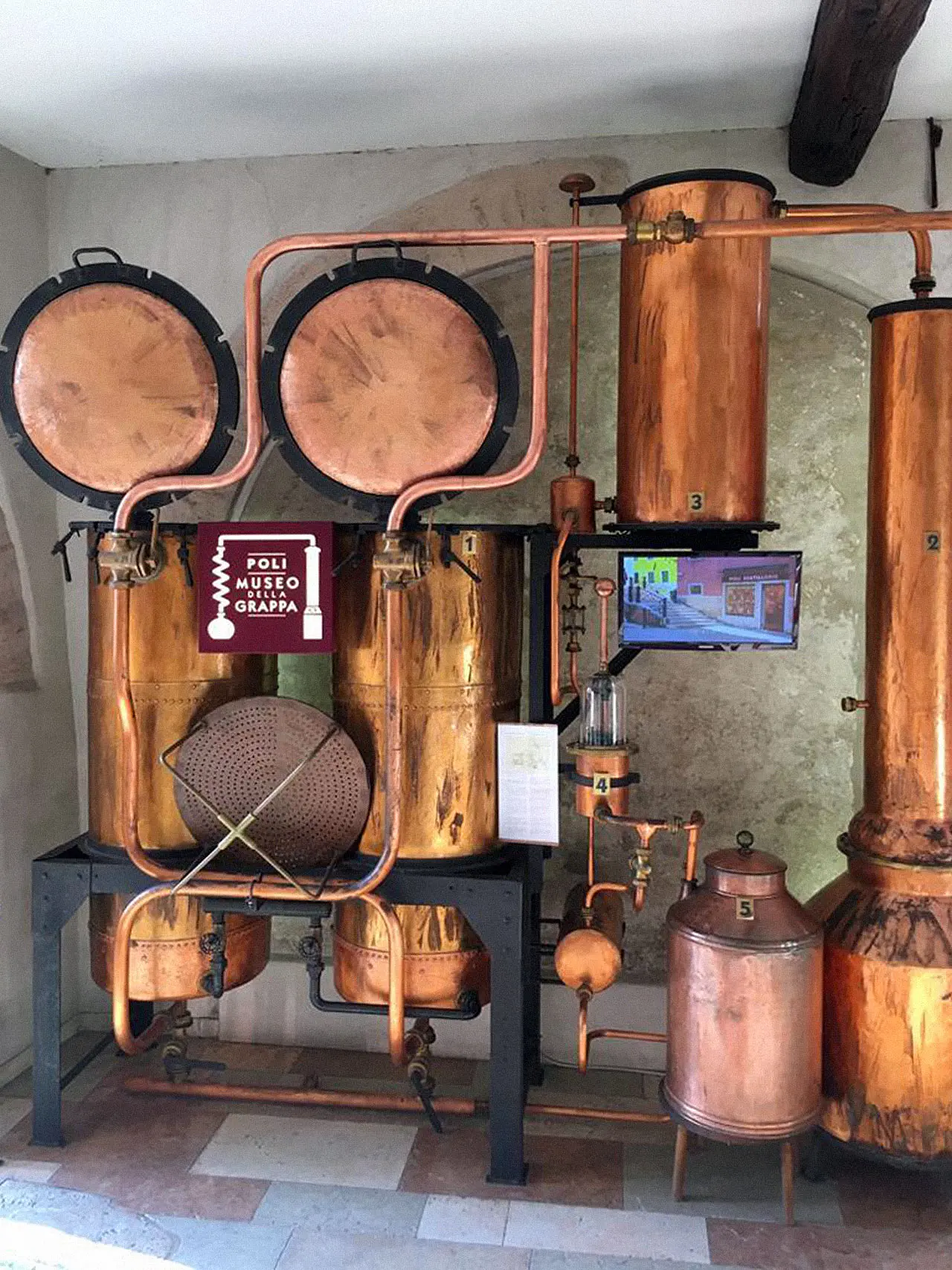 Poli Grappa Museum in Bassano (del Grappa)
Where grappa has a history: drinking to believe


Automatically translated page.
What it is and where it is
You can take a run-up from Palladio's bridge, to climb the few but steep steps to the Poli Grappa Museum, in Bassano. This family of ancient Venetians, distillers since 1898, has reserved for the culture of "the most Italian of spirits" a few well-appointed rooms at the foot of the mountain that by a curious coincidence bears the name of this fruit of its vineyards.
Why it is special
The inscription is prominently displayed above the door of the 15th-century building, framed by the twisted columns of a distillation still, as there are many inside the Museum, of various eras and forms. The tour is also guided by ancient illustrations and documents, and short videos that tell the story of grappa production. Of this, in the last room, Jacopo Poli has gathered the largest Italian collection of mignon bottles, along with olfactometers, which already envelop the visitor with the scents that might rise from the small glasses of the final tasting.
Not to be missed
In Schiavon, a few kilometers on the plain, next to the Distillery, the Poli family has set up a second museum space, even closer to the source of their grappa: namely, the ancient copper still, in whose veins steam has been flowing for more than a century. Its twelve cauldrons for "cooking" the pomace have been installed over time by various family members, and are now orchestrated by Jacopo Poli.
A bit of history
The family's roots can be distinguished as far back as the turn of the 14th century, when Gasparo settled in the Bassano area, in the hills below Grappa. The history of the names is tangled, but one can trace the one from the mountain to the pre-Latin krapp "rock," and the other from the Germanic krappa "hook" or the Lombard grapa "bunch." But it can't be a coincidence that this distillate, the only spirit made from the solid raw material of the marc (grape skins and pips), born perhaps at the Salerno School of Medicine around the year one thousand, flows here (drink to believe) like the waters of the Brenta.
Trivia
Some people swear that on bar shelves, when the shutters close at night, Poli's grappa bottles bicker with Nardini's, from Italy's oldest distillery, founded in Bassano in 1779. Maybe it's just the fumes of alcohol, but one thing is certain (and duty of record): still within sight of the Poli sign, Grapperia Nardini offers the historic aperitif "Mezzo e mezzo," to be drunk leaning against the parapet of the Ponte Vecchio. Be careful not to drop your glasses in the water (and not to tell which Museum you're from)!
To make travel arrangements
Collections
Discover places and related research
The Map thanks:
Collections
Discover places and related research