1423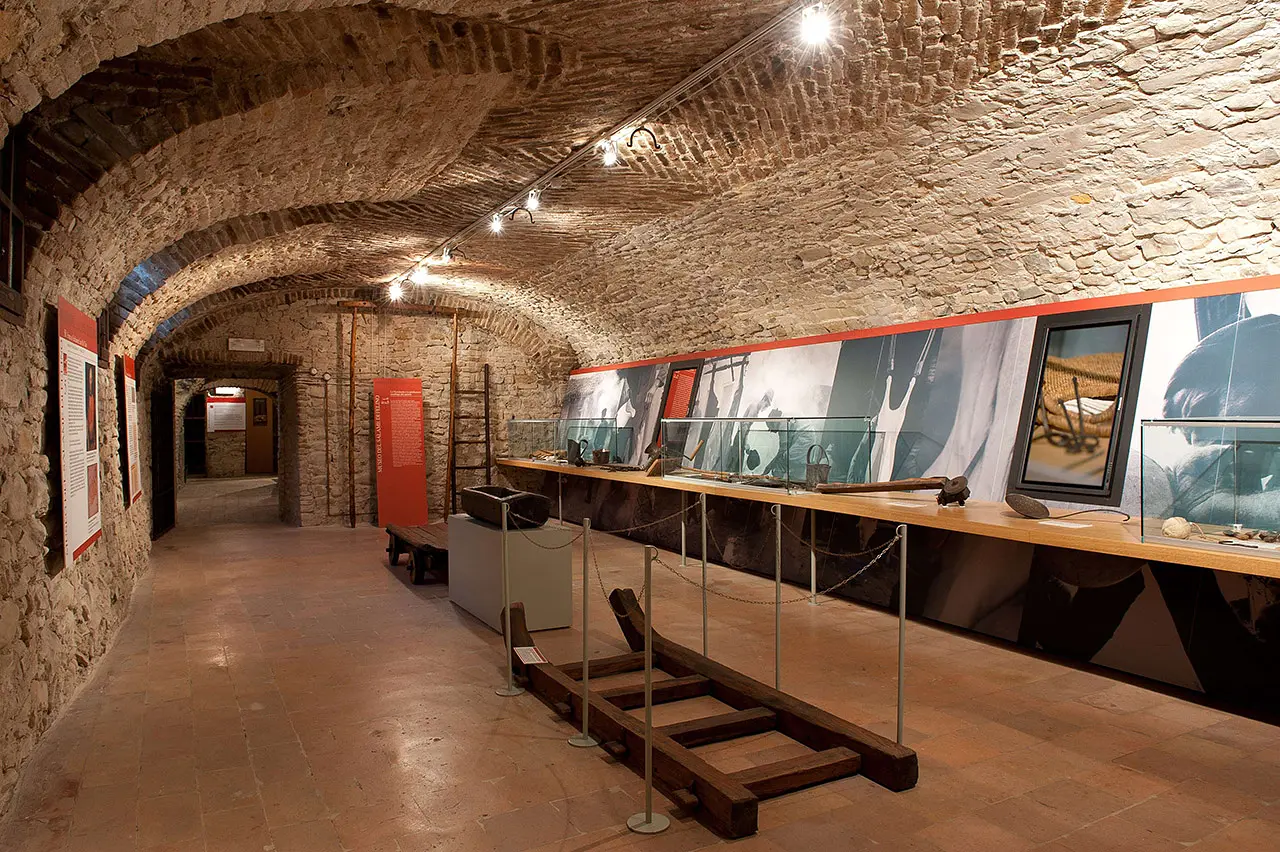 Felino Salami Museum
In the intimate atmosphere of a castle cellar, a small museum reveals the tale of a prince and his long history, from his humble beginnings to his victories


Automatically translated page.
What it is and where it is
Amid the rolling hillsides of Felino stands an imposing castle. Its thousand-year-old walls and mighty corner towers speak of ancient battles and feudal struggles, but its elegantly restored interior is a place of delight, and not only for the beauty and serene atmosphere of the rooms. Indeed, the evocative cellars house a museum dedicated to the true lord of the castle: the Felino salami.
Why it is special
The museum represents an opportunity to get to know and appreciate not only the essence of the prince of salami, but the territory and community of which it is an expression, starting with the quality of the raw materials and ending with the wisdom of the hands that continue to work it. Pork butchers of yesterday, but also home production of the sausage, with the exhibition of many objects that belonged to the pork butchers and farming families up to the technology behind production today.
Not to be missed
The objects related to salami processing are full of fascination, but the space the museum dedicates to documents is also very interesting, being witness to the privileged relationship established over time between the unique product we know and its territory of origin.
A bit of history
For Felino, the absolute symbiosis with the pig and its history dates back to the Bronze Age, as documented by bone fragments found among the artifacts from the terramaricolo village of Monte Leoni, located on the hills overlooking the town. The first document on salami traced to Parma dates back to 1436, when Niccolò Piccinino, in the pay of the Duke of Milan, ordered that he be provided with "porchos viginti a carnibus pro sallamine," or twenty pigs to make salami.
Curiosities
A visit to the museum begins with historical evidence of the relationship between Felino and its product-symbol. It boasts a section dedicated to gastronomy and located in the fascinating rooms of the castle's ancient kitchens, which presents the gastronomic use of salami in Parma, with a unique example of the integration of production and consumption on a 17th-century farm.
To make travel arrangements
Collections
Discover places and related research
The Map thanks:
Collections
Discover places and related research