680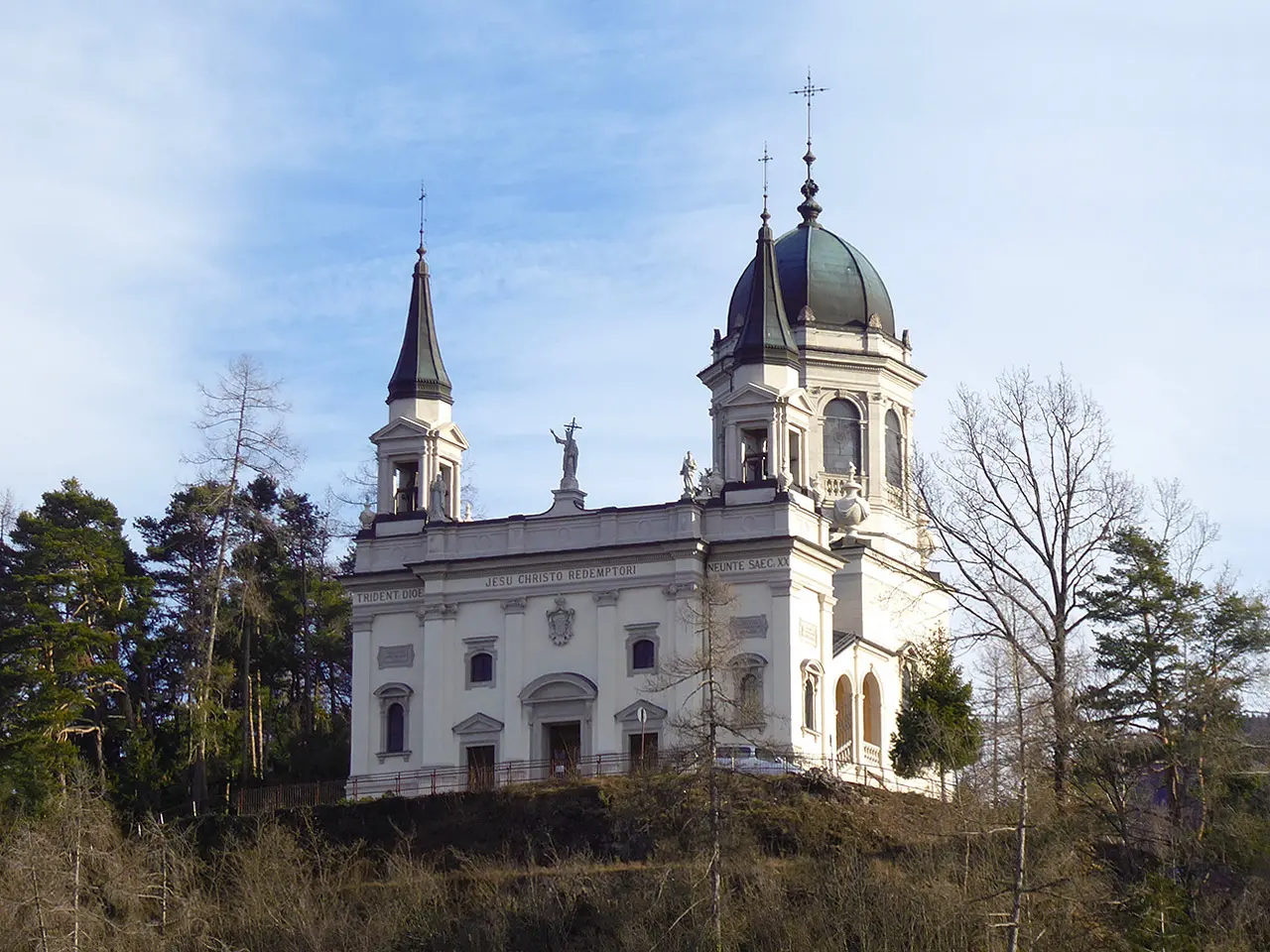 Monument to the Redeemer in the Conca della Comparsa
A place of peace and prayer
Automatically translated page.
What it is and where it is
From the Sanctuary of Sant'Anna, in the center of Montagnaga, I head toward the upper part of the village, following via Targa in a southerly direction. After a wide curve, on which rests the last residential structure of the mountain village, I find myself facing a steep slope. Arriving almost at the top, I see the spire of the left tower of a neo-Renaissance building sticking out among the branches of the trees. A few steps later the Monument appears in all its majestic grandeur, abutting the panoramic terrace overlooking the Conca della Comparsa.
Why it is special
While the early 20th-century Neo-Renaissance building is striking in its solemnity and beauty even from the outside, the greatest peculiarity is hidden within its walls. In fact, once you cross the threshold, you will find yourself at the foot of a steep Holy Staircase, resembling the one in St. John Lateran in Rome. Each of the 28 steps encloses a shrine containing earth from different holy places in Palestine.
Not to be missed
The Madonna di Piné Patronal Festival. On May 26 each year, a flood of people flood the streets of the Plateau in celebration. Each town empties of its inhabitants who, converging in procession, make their way to the meadow of the Comparsa, where in turn the mayors renew the triple civil vow during the celebration of the open-air Mass.
A bit of history
The Monument to the Redeemer was built with six years of work, from 1900 to 1906. It was strongly desired by Rector Fr. Giuseppe Zanotelli and consecrated by Prince-Bishop Celestino Endrici of Trent. And it was built on top of the hill where legend has it that the first actual apparition of Our Lady to the shepherdess Domenica Targa took place in May 1729.
Trivia
The myth of the apparition to the shepherdess Domenica Targa, which tradition places temporally at noon on May 14, 1729, is "witnessed" by a bronze monument in the Conca della Comparsa. In short, a mysterious and fascinating place, where supernatural peace seems to enhance the beauty of nature and the surrounding landscape.
To make travel arrangements
Collections
Discover places and related research
The Map thanks:
Collections
Discover places and related research