6758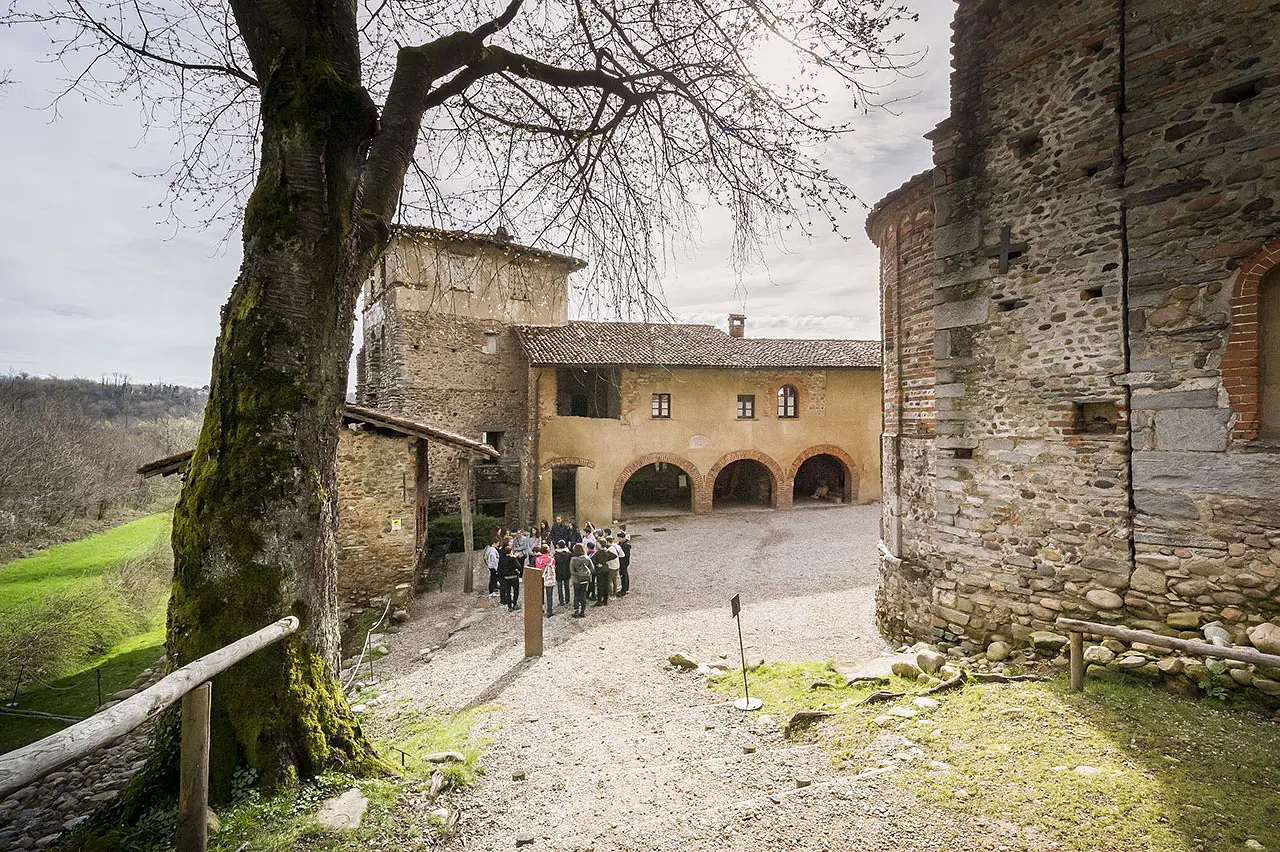 Monastery of Peat
An imposing tower, frescoed interiors and a UNESCO World Heritage archaeological park



Automatically translated page.
What it is and where it is
Different structures, many eras represented, and beauty declined in many different ways. To fully understand the Torba complex, it is necessary to address its thousand-year history. Its origins date back to the fifth century, when the Romans built a military camp, a castrum, near today's Castelseprio (ancient Sibrium) to stem the threat of the barbarians. To this fortification belong the tower and the remains of the walls. In the eighth century, in the Lombard era, the site is transformed into a monastery for Benedictine nuns who remain there until 1482. From this time begins a long agricultural phase that involves heavy changes to the structures and lasts until the twentieth century.
Why it is special
This simple and secluded place is immersed in tranquility and silence. An environment that jealously preserves and returns to the visitor the traces of its long and articulate past, made up of warriors, nuns and farmers.
Not to be missed
Perhaps the environment that more than the others summarizes the different phases of the life of this place is the late Norman tower. Initially part of a defensive structure, it was reused by the small monastic community as a chapel and mausoleum and then used for peasant purposes. The result is a solid stone shell that holds within it rare and ancient frescoes cloaked in charm and fascination.
A bit of history
After years of neglect and abandonment, the Monastery of Torba was purchased in 1977 by Giulia Maria Crespi who, with a donation, made it the first FAI Property. Giulia Maria Crespi bought it at the insistence of Franco Russoli (1923-1977), art historian, museologist, director of the Pinacoteca di Brera and co-founder of FAI. Russoli sensed the historical and architectural value of the monument and glimpsed, beneath the white plaster, the tower's frescoes. Another of FAI's co-founders, Milanese architect Renato Bazzoni (1922-1996), enthusiastically devoted himself to the study and restoration of the site: his ashes lie in the beloved church of Santa Maria di Torba. Open to the public since 1986, it has been a World Heritage Site since 2011.
Trivia
The Monastery of Torba is one of the stops on the Via Francisca del Lucomagno, an excellent starting point for moving to discover the Olona Valley and its beauties, on foot or by bicycle.
To make travel arrangements
Collections
Discover places and related research
The Map thanks:
Collections
Discover places and related research