739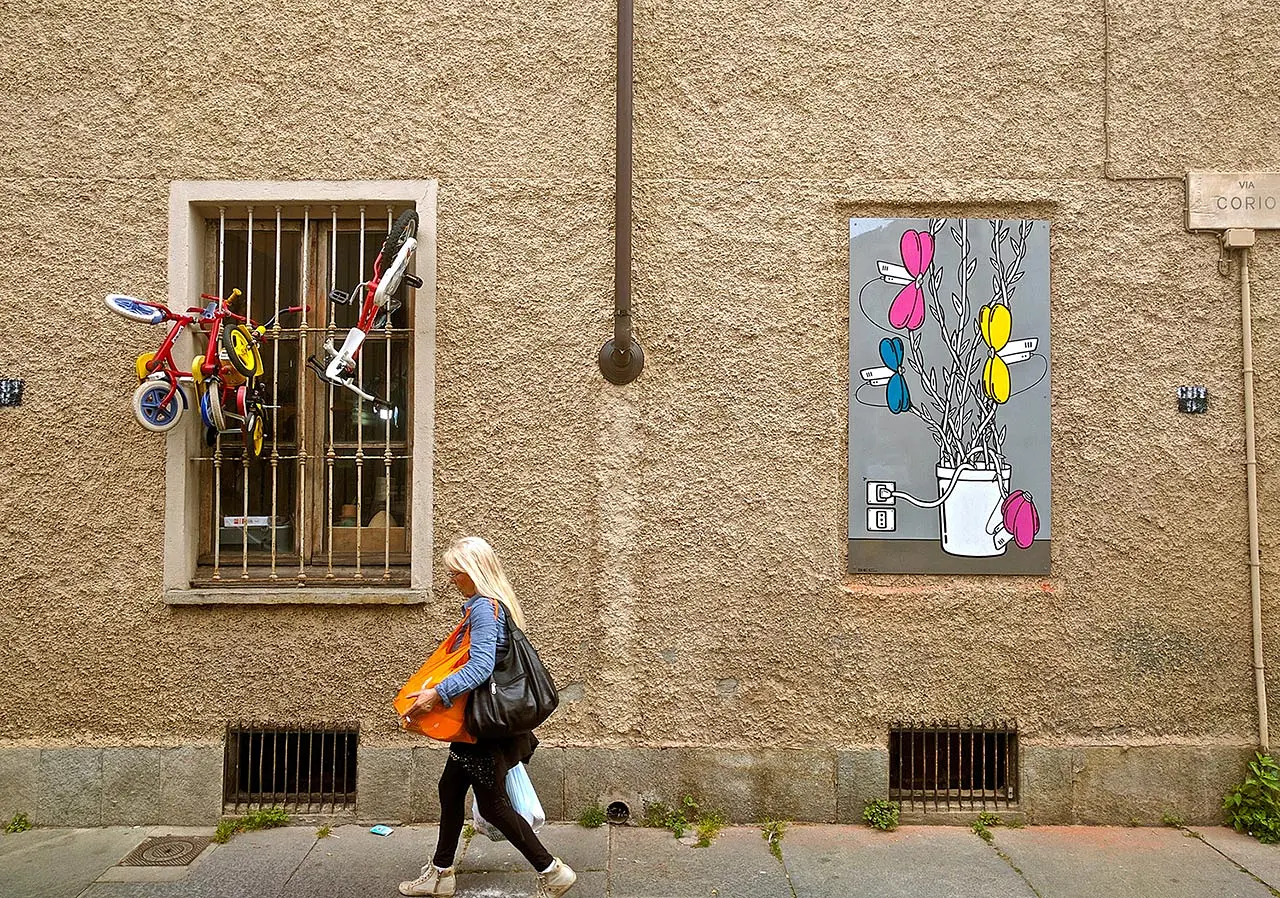 MAU - Museum of Urban Art in Turin
Street art becomes a museum

Automatically translated page.
What it is and where it is
You know you've arrived at the MAU when you look around and notice that the traffic has disappeared and in its place is a small working-class suburb of the late 19th century, with a village feel far removed from big-city life. So there are the low houses with wide inner courtyards, the narrow streets, the many craft and art stores, and a flourishing of small businesses and social activities. But where is the museum?
Because it is special
It is all around you! You walk nose up and there are windows and shutters that become paintings and gardens, large painted facades that open up sudden horizons to mountain or lunar landscapes, faces, clouds, and writing on the walls ("Looking Beyond," one of them reminds us)... All with the irony, expressive force, provocation, and poetry of contemporary art. There are 175 works in total, created by as many as 105 artists, and almost all placed on the exterior walls of private buildings.
Not to be missed
The "Author Benches" in Moncenisio Square are a project of Vito Navolio, artist and graphic designer. Each bench is a tribute to the protagonists of twentieth-century art, Keith Haring, Pollock, Picasso, Miró... And the square becomes a festival of colors and a journey into art within everyone's reach.
A bit of history
The original core of the MAU is located in the Borgo Vecchio Campidoglio, a working-class neighborhood of the late 1800s. This urban space, miraculously saved from the gutting carried out by the 1959 Master Plan, has kept its structure virtually intact. Since 1991, work has begun to reevaluate the social, urban and architectural peculiarities of the Borgo, and in 1995 the sphere of intervention was expanded to include art, involving citizens in the choices. Providing the trigger are some residents who joyfully make available the exterior walls of their homes for the creation of shared and permanent works of art.
Curiosity
Turin's MAU is the first project in the concrete phase of realization in Italy that aims to give life to a permanent outdoor art settlement, located within a large metropolitan center, with the added value of being an initiative that started not from above but from the grassroots, abetted by the consent and fundamental contribution of the inhabitants. The MAU's collection and its participatory art project since 2014 has transcended the boundaries of the Capitol Village, causing some 80 other works to appear in neighboring areas!
To make travel arrangements
Collections
Discover places and related research
The Map thanks:
Collections
Discover places and related research