116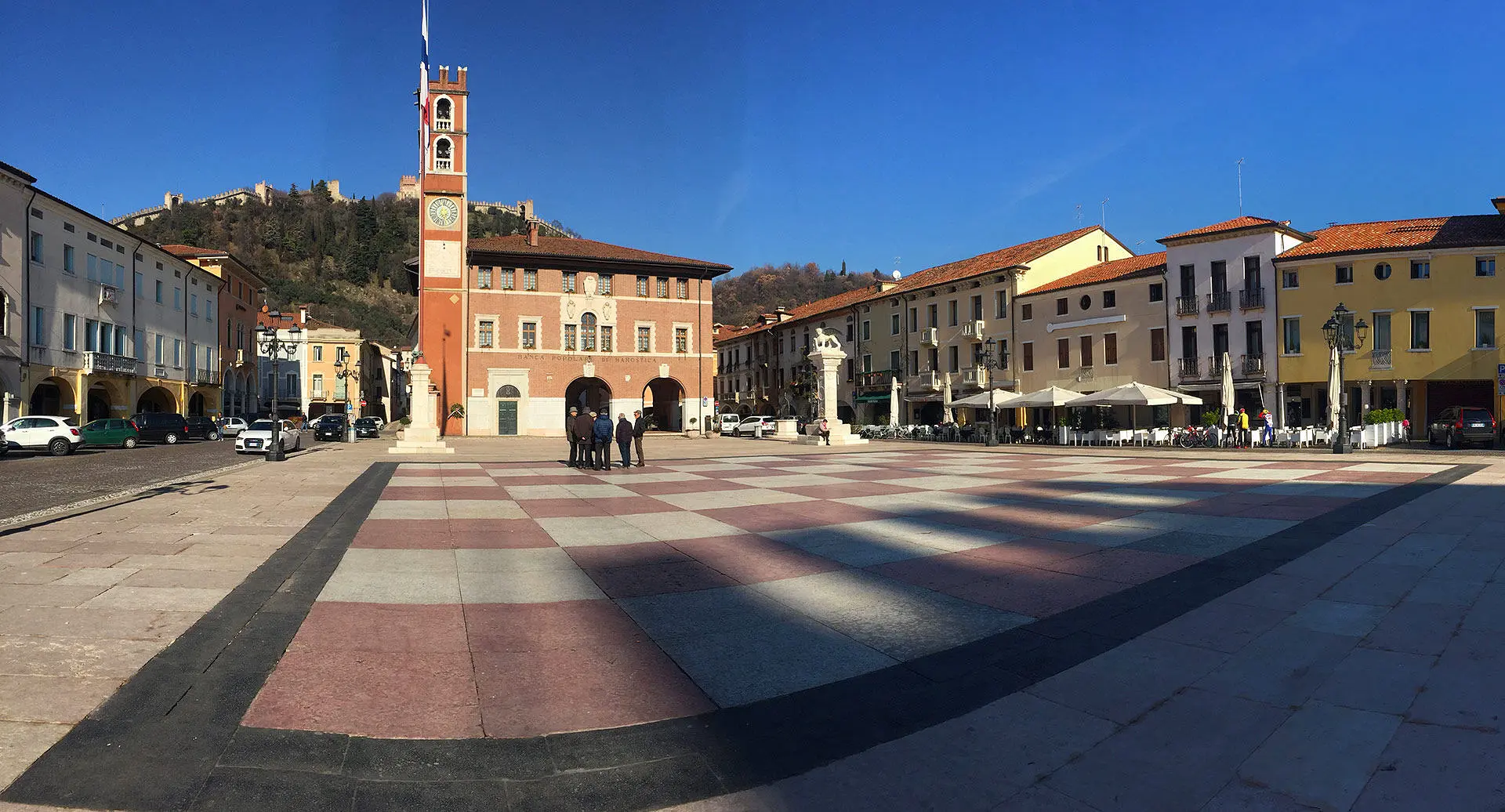 Marostica
The city of chess and cherries...


Automatically translated page.
What it is and where it is
Whether you're going there or just passing by, it's impossible not to notice it: a clear serpentine interrupted by a few larger, almost pearl-like points climbing up a hill. It almost looks like a crown. This is how the walls of Marostica appear to those who see them for the first time, somewhere between adornment and defense. Once there, one discovers a quaint medieval citadel at the foot of the Asiago Plateau of the Seven Municipalities, rich in ancient architectural elements, traditions and history, not to mention the typically piedmont landscape that embraces it and makes it all the more striking.
Why it is special
Marostica boasts no less than two castles, one Upper, perched on the hill, and one Lower, overlooking the square. The two castles identify and unite the two faces of Marostica: the village below, nature above. The Upper Castle, in fact, is located outside the town. To reach it, you can choose between a path to walk, or a road to take by car. However you get there, from the top you will be able to admire Marostica with the surrounding plain. The Piazza del Castello Inferiore, on the other hand, echoes the footsteps of entire generations: memories so vibrant that they take shape and make Marostica world-famous for the historic chess game with living characters that takes place on the second weekend of September in even-numbered years in the charming Piazza Castello.
Not to be missed
Round, red and firm, Marostica's PGI cherry is the town's other pride and joy and the undisputed star of the Cherry Festival, which celebrates its qualities in the period (varying each year) between May and June. This event attracts all local producers, and dinners, cherry tastings and, of course, a dedicated market exhibition are organized. The Marostica I.G.P. cherry was the first in Italy to receive this recognition. Its distinctive trademark is a red cherry with a green stalk superimposed on a medieval tower representing a chessboard piece.
A bit of history
Marostica arose in Roman times but had its greatest development in the early medieval period. It was dominated for a long time by the Ezzelini and later by the Vicentini, the Carraresi, the Scaligeri, and the Visconti and finally came under Venetian rule in 1404. The construction of the two castles, one on the hill and the other on the plain, was begun by the Scaliger Cangrande della Scala in 1312 and then completed by his successors. Today, on the Upper Castle it is possible to take the walk "on the bridles" along the entire perimeter of the walls. The municipality also organizes tours with harnesses and guides for the more enterprising.
To make travel arrangements
Collections
Discover places and related research
The Map thanks:
Collections
Discover places and related research