547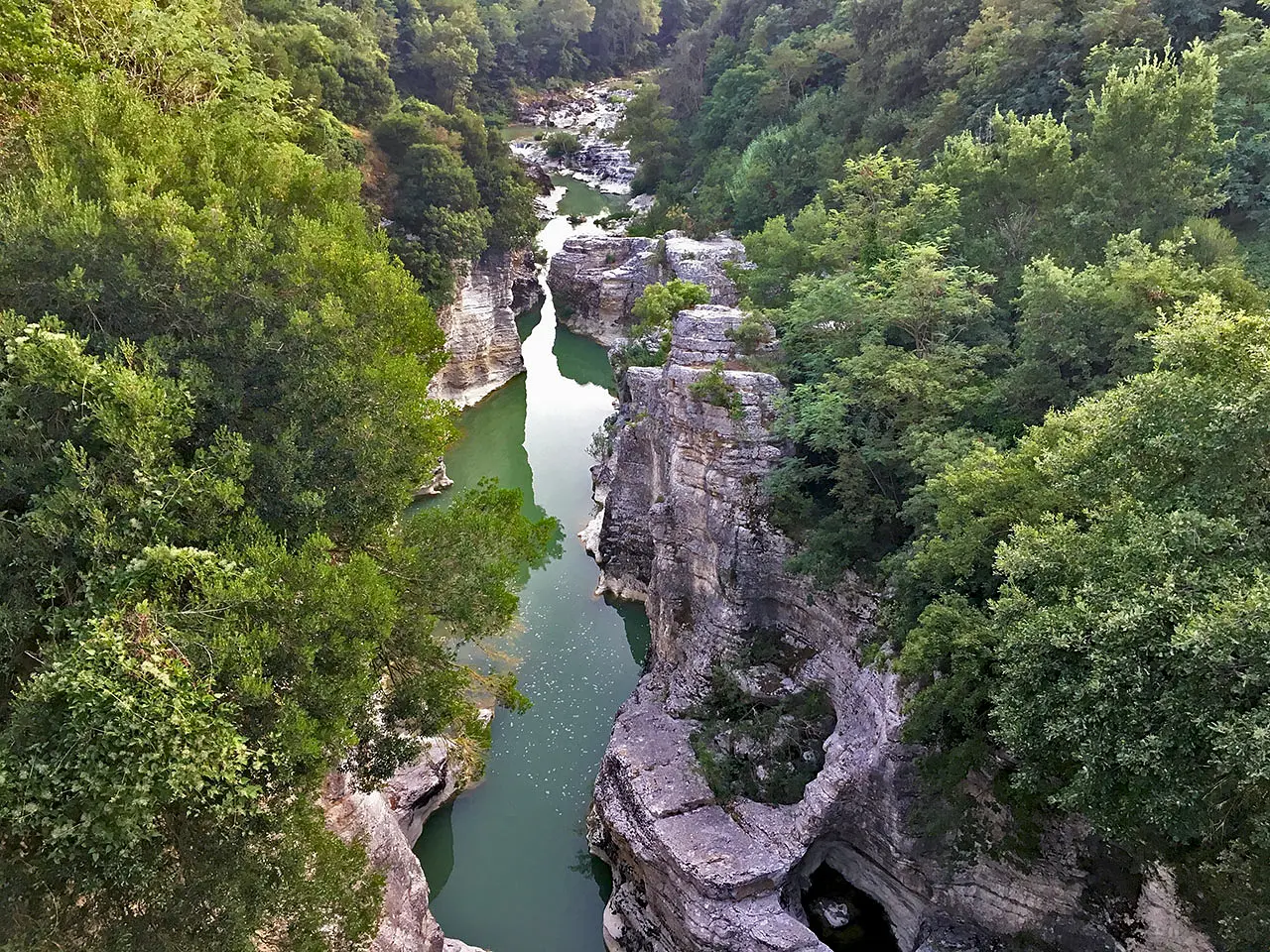 Cauldrons of the Giants
A canyon in the Marche region?


Automatically translated page.
What it is and where it is
Are you ready for wonder? Face the Diocletian Bridge and look down: below you, up to 30 meters below, a spectacular gorge opens up, carved through the rocks by the Metaurus River. Over the centuries and millennia, the swirling current has shaped circular cavities of varying sizes that today form small lakes and pools of water. Precisely because of their rounded shape, they take the name Marmitte dei Giganti.
Why it is special
The Giants' Cauldrons (also known as the Devil's Cauldrons) can be admired from the high Diocletian Bridge, which towers over the canyon and offers a view that leaves anyone breathless. But walking along the banks of the river is the best way to delve into nature and closely contemplate the work that the Metauro River has sculpted. The entrance to the trail is abandoned, and from the elevated provincial road comes the sound of traffic in the distance. Nevertheless, the Marmitte dei Giganti remains a must-see.
Not to be missed
For sports and adventure lovers, it is possible, by contacting the tourist office in Fossombrone or some local tourist board, to travel the gorge by canoe or kayak. By letting the current carry you along, you will fully enjoy, in an exclusive itinerary, the magnificent panorama where only sky and vegetation provide the frame.
A bit of history
The origin of this canyon dates back almost to prehistoric times. It took the river current and its debris, which like chisels shaped the high banks and hollows (the potholes in fact), about 140 million years to give this area the appearance it has today.
Trivia
The canyon is tall and narrow: the maximum width between the banks is just 13.20 meters, but in some places the canyon narrows to just over a meter.
To make travel arrangements
Collections
Discover places and related research
The Map thanks:
Collections
Discover places and related research