442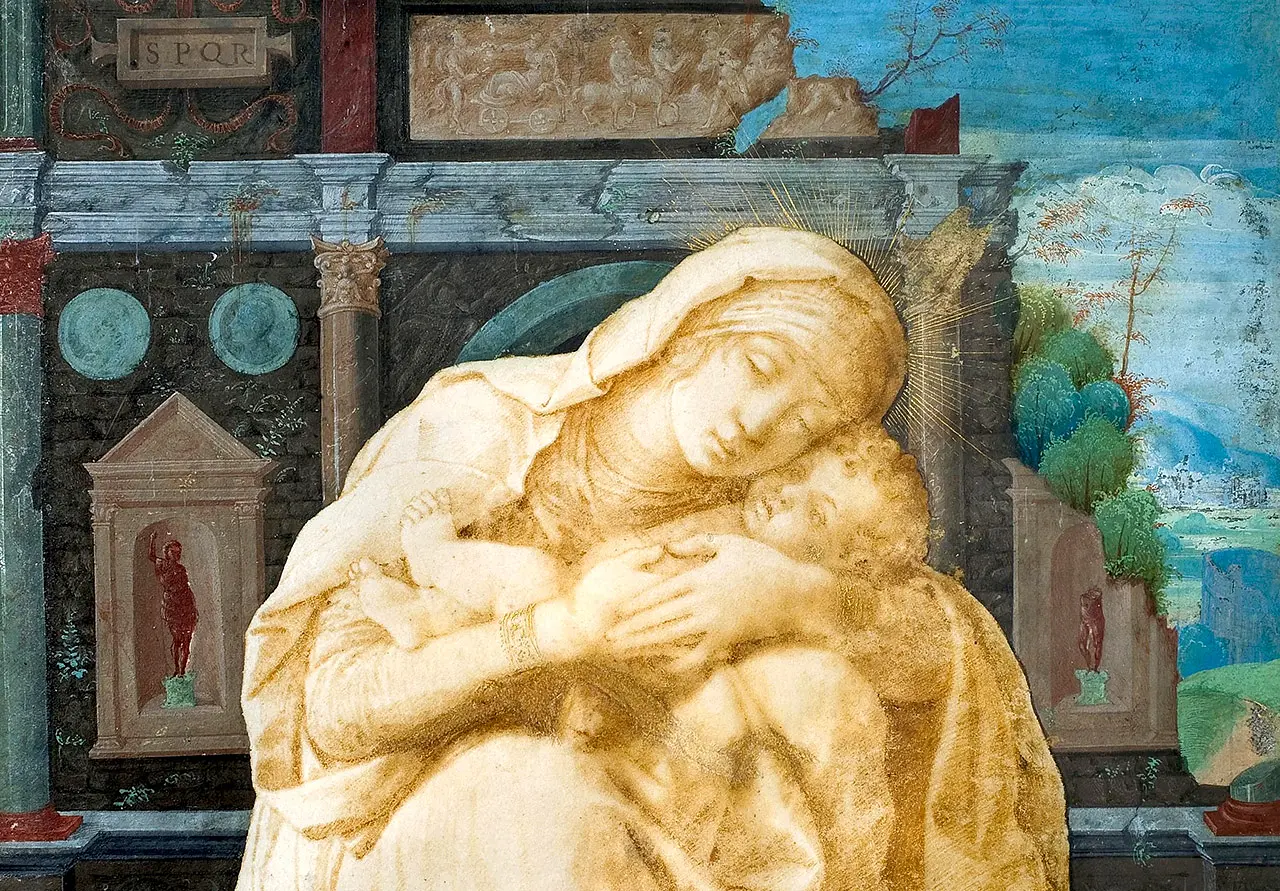 Our Lady of Tenderness
Part sculpture, part drawing for a centuries-long embrace

Automatically translated page.
What it is and where it is
It is incredible how this work manages to condense so much sweetness, grace and intimacy into a small space. Andrea Mantegna's Madonna of Tenderness might at first glance look like a sculpture. You will be surprised to learn that it is actually a drawing on parchment with a tempera-painted background. As if to seal once and for all the Mother-Son bond, Mantegna traces in pen these two figures that, silhouetted against the colors of the ruins in the background, seem to be made of pure marble.
Why it is special
We are accustomed to seeing paintings or sculptures depicting the Madonna and Child, just as we also know how to recognize the architectural trompe-l'oeil we sometimes come across, but I think it is really hard to claim to have seen such artifice anywhere else. There is something magical and unexpected about the naturalness with which the monochrome of the two human figures breaks away from the background. The background, notable as it is, only acts as an outline, and almost fades from our view, all focused on that drawing that has the strength and presence of a statue, but a statue so beautiful and realistic, that you would sit and stare at it for hours, convinced that sooner or later you would catch a movement of it.
A bit of history
It is said to be rude to give away something that we ourselves have given away. Francesco Gonzaga, on the other hand, thought it appropriate to pay homage to the Milanese court with a small picture depicting a Madonna and Child executed by Andrea Mantegna. Having heard this from Francesco himself, Andrea Mantegna decided to make a second one that could this time remain in Mantua. He then took back the most superficial layer of his engraving Madonna and Child, and made from it the magnificent drawing that we know today. This Madonna, too, left Mantua in time, however, and traveled extensively to reach the various collectors who gradually owned it. In 2006 it was displayed in Padua for an exhibition on Mantegna. The following year the work was given into storage at the Musei Civici Eremitani, also in Padua, and it has been on display ever since, to arouse the admiration of those who pause to look at it.
To make travel arrangements
The Map thanks: