3360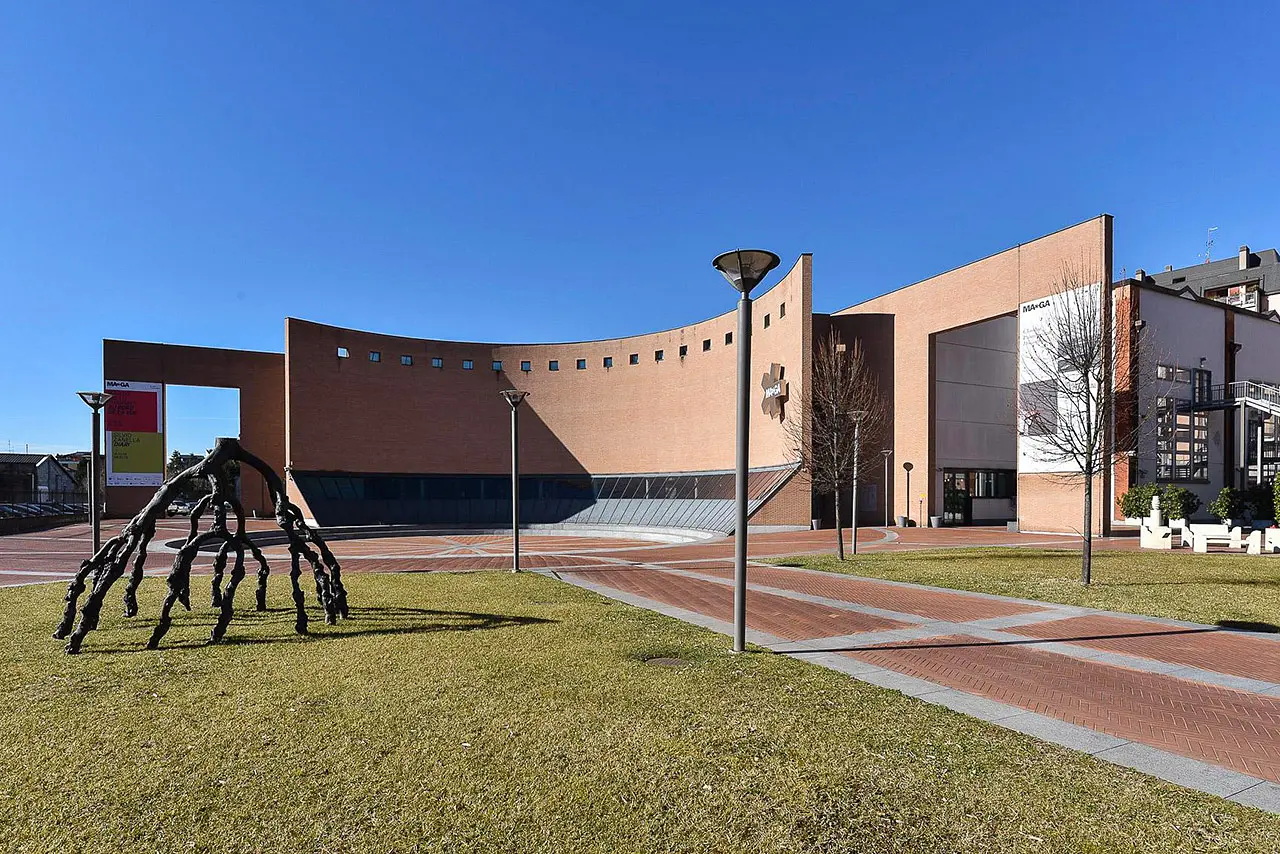 MA*GA Museum of Contemporary Art
Art, in all its forms


Automatically translated page.
What it is and where it is
An imposing space, 5,000 square meters introduced by a curved red brick surface, inviting and welcoming. This is how MA*GA, an important museum of contemporary art in the Milanese hinterland, presents itself, with a vast collection of works by major Italian and foreign artists from the 1950s onward. A real temple that celebrates and makes known the art of those years, or rather, the arts, since we are not limited to painting: in the collection archive, take a look at the list of materials used to compose the works, you will find grass stalks, electromagnetic field, textiles, and much more!
Why it's special
What's fascinating about MA*GA is that it is much more than a museum: aware of the importance of the variety of offerings in helping visitors feel at home, the Gallarate museum from 2021 will complement its collections with part of the Majno municipal library with the opening of prestigious study and reading rooms in the renovated spaces inaugurated with the birth of HIC - Hub Istituti Culturali, a cultural and intellectual dissemination hub of MAGA and the City of Gallarate, to which it will add educational activities for children, teens, adults and families. In short, this is truly a place to be inspired, learn and have fun.
Not to be missed
To always seek new perspectives, MA*GA prepares many temporary exhibitions. One example is "Impressionists," which can be visited from May 29, 2021 to January 9, 2022 to investigate the origins of modernity. Paintings, drawings, watercolors, engravings and sculptures lead the public along a path of discovery of Impressionism from the major exhibitions between 1874 and 1886, in dialogue with applied arts, fashion, music and literature. Among the works on display are masterpieces by Claude Monet, Edouard Manet, Paul Cézanne, Vincent Van Gogh, Toulouse-Lautrec, and Giovanni Boldini.
A bit of history
The National Visual Arts Prize City of Gallarate was founded in 1949 by the Gallarate University Association, with the primary purpose of establishing the Civic Gallery of Modern Art through the works acquired in the various editions of the Prize itself. In 1966, the Civic Gallery of Modern Art was inaugurated. In December 2009, the Municipality of Gallarate established the "Silvio Zanella Gallery of Modern and Contemporary Art" Foundation, and in March 2010, the Museum acquired the name MAGA - Gallarate Museum of Art and inaugurated its new museum location in Via De Magri. In 2021, MA*GA becomes part of HIC - Hub Cultural Institutes of Gallarate City, becoming a cultural hub of territorial importance.
Trivia
MA*GA is also an open-air museum! Four works by artists Bruno Munari, Ugo La Pietra, Mirella Bentivoglio and Massimo Bartolini are preserved and exhibited in the outdoor garden.
To make travel arrangements
Collections
Discover places and related research
The Map thanks:
Collections
Discover places and related research