7403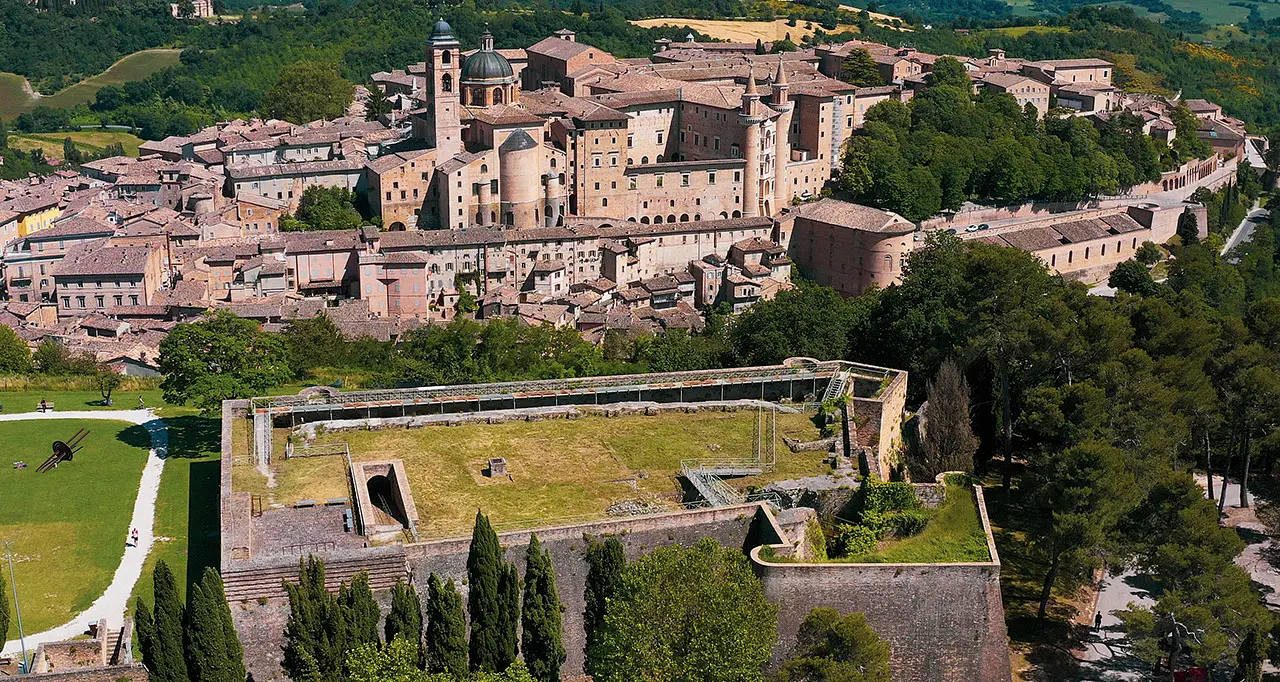 Leonardo in the Fortress: The Mystery of the First Sketches
The incredible defensive structures of the Albornoz Fortress



Automatically translated page.
What it is and where it is
If you have decided to wander along the alleys that encircle Via Raffaello, or to stroll along Viale Buozzi, know that an evocative spectacle is nearby, ready to lay a fatal ambush for you: it will open wide your eyes before the vision that only the Albornoz Fortress grants. In this Fortress, history coincides with the drawn panorama: time becomes an hourglass that turns upside down, moments pass fleetingly now as they did in Leonardo's time. Today, the highest point of Mount St. Sergius offers ancient reminiscences, under the colors of a painted sky or overhung by constellations.
Why it is special
"Manuscript L" suggests Leonardo's awe of Urbino: the Architecto et Ingegnero Generale had a specific task, which became a passion for the city that would ideally belong forever to Duke Frederick: to survey, measure, and report what his eyes embraced in order to modernize the defenses. The arched entrance in the Northwest Bastion, the pentagonal keep with external retaining arches, and much more. All these references to Urbino live forever in Leonardo's drawings. Parts of the Rocca are under restoration, yet the suggestion perseveres, heedless of what can no longer be seen except through early sketches.
Not to be missed
The lines on the notebook bring back into vogue an ingenious system that impressed even Leonardo: the so-called salvatic, developed spiral, secret staircases, which represented a unique form of security. Indeed, if necessary, it was possible to deliberately get them out of the way, isolating the central part of the Fortress and thus preventing anyone from accessing it. Also called "the stairs of the Count of Urbino," they remain imprinted through ink in their imperishable function, evoked especially during special exhibitions at the Fortress.
A bit of history
Leonardo's first sketch of Urbino comes to life: he was defending, protecting his city from the heights of a commanding position. Not content, he observed it throughout the day and at night, knowing that he could also delight people with the picturesque glimpse he gave them of the essence of the Renaissance. By the time Da Vinci entered the city with Borgia, the ancient Rocca became a prison for those closest to Guidubaldo, who had been betrayed by Valentino. Destroyed and rebuilt over the centuries, it was connected to the city walls.
Curiosity
Had Leonardo lived beyond all expectation, his notes might have continued to illustrate what was blossoming at the Fortress during the first half of the twentieth century: plants, fruit trees, terraced crops. All nurtured and cared for during the so-called "air hour" by juvenile prison youth, who worked the grounds of the Resistance Park, a further tangible sign of the continuing renaissance of that place.
To make travel arrangements
The Map thanks: