1163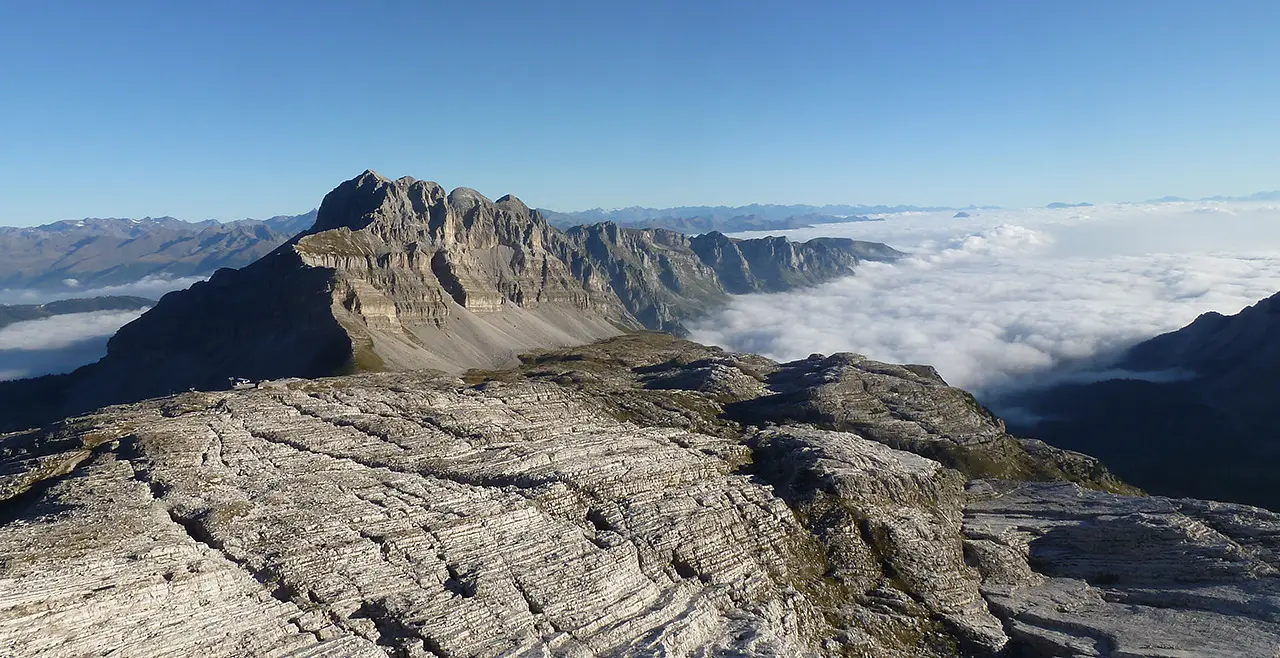 The Brenta Dolomites
Like spirits in love with the peaks, the mountain guides take us there, where the rocks touch the sky


Automatically translated page.
What it is and where it is
The Brenta Dolomites are located in western Trentino. Because of their location west of the Adige valley, they remain geographically still included in the Rhaetian Alps, although the rocks that compose them definitely differentiate them from the crystalline massifs of the central Alps, effectively assimilating them to the Dolomite mountains. These, before being uplifted during the orogeny of the Alps, were formed in a marine environment and are largely main Dolomite. This dolomite group remained for a long time one of the lesser-known corners of the Alps; today it is very popular, thanks in part to the presence of numerous cozy Alpine refuges.
Why it is special
Among mountain groups with a dolomite character, the Brenta Dolomites appear particularly grand and severe. Their bold and mighty architecture is made up of peaks and valleys shaped over time by the work of weather, the flow of water and the glaciers in them. They dominate the landscape with such unique beauty, and such great naturalistic environmental value, that the Brenta Dolomites have been recognized by UNESCO as a World Heritage Site.
Not to be missed
There are more than 90 trails in the Brenta Dolomites, covering about 600 km. in length. The 18 equipped trails/ferratas, whose length reaches 100 km, give rise to the Via delle Bocchette. This is certainly one of the most famous high-altitude rock routes in the Dolomites. A grandiose route that, thanks to the long exposed sections that are always well equipped, offers a unique setting and unforgettable views.
A bit of history
In the Brenta Dolomites, since time immemorial, connections between the valley floor and the Malghe, Refuges and Bivouacs, were only guaranteed by the classic paths traveled by shepherds and hunters while only mountaineers were allowed to fully enjoy the beauty of the heart of this Dolomite group. From 1932, thanks to the intuition of Giovanni Strobele and Arturo Castelli, work began to prepare a series of equipped itineraries that would allow hikers to cross from vent to vent following the natural ledges and enjoying the whole wonderful world of the Brenta Dolomites.
Trivia
The word "Brenta" is an interesting one. The most convincing etymology is traced back to a very ancient root "brent." The curious aspect lies in the meaning, which is at the same time, that of "horn" and "basin, tub, basin." A nonsense, which fits well with this territory, made up of valleys that reminded the valley dwellers of cattle troughs carved out of a hollowed-out log, but also of bell towers, towers, pinnacles, peaks, spires in which the rock is molded. An antithesis, harmonized by the beauty of the Brenta Dolomites.
To make travel arrangements
Collections
Discover places and related research
The Map thanks:
Collections
Discover places and related research