1761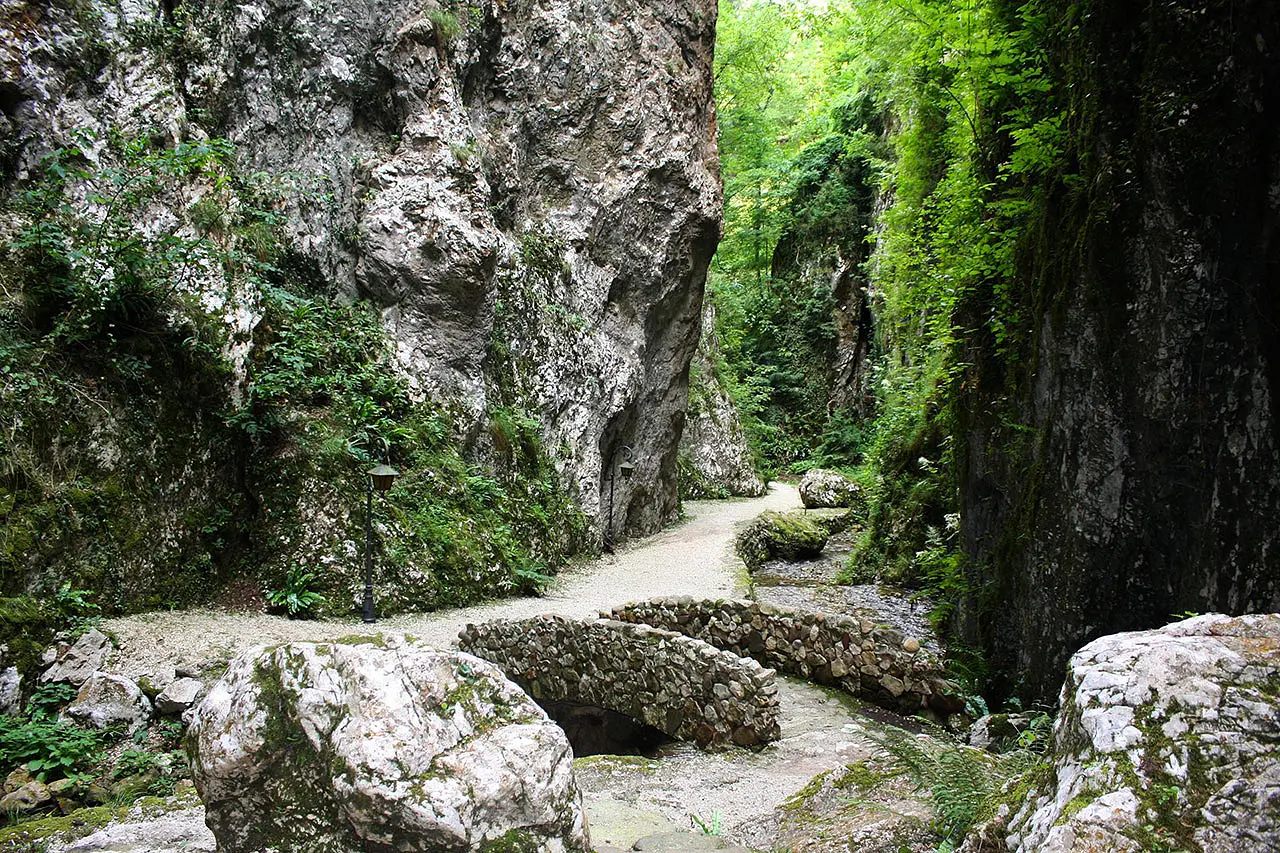 The Split Mountain
In the upper Agno Valley, a mysterious waterfall accompanied by a legend

Automatically translated page.
What it is and where it is
Split Mountain is a 92-meter-high fissure carved into the rock by the Torrazzo stream. A cascade of water flows down the fissure, an engaging and evocative place. The jets of water cascade down from the top of the mountain overbearingly, generating a rushing, almost deafening noise.
Why it is special
A hidden and secluded place in the pre-Alps of Vicenza where the symbiotic relationship between water and stone arouses enchantment and wonder. A system of acrobatic footbridges and metal ladders (200 steps in all) allows you to participate in the spectacle inside the fissure: maples, ash trees and ferns cover the gorge and color the rocks while tumultuous waterfalls and small ponds generate light effects and water games. A short but very impressive route.
Trivia
The legend of the split mountain tells of Etele and Jordan and their enchanted love. Etele, daughter of the Woodland Sorceress, was an "anguana," a fairy creature who appeared on full moon nights and with her beauty, song and dance bewitched men. When young Jordan saw her one night, he fell madly in love with her and wanted to make her his bride. But a spell hung over her: upon the death of the Sorceress, Ethel would also disappear. And so she did. On the night the Sorceress died, Ethele fled to meet her fate. Suddenly he found his way barred by a very high cliff. The cliff split in two with a deep roar and Ethel disappeared within it. Jordan, who chased after him in despair, threw himself into the cleft, but was repelled by a rushing waterfall, perhaps created by Aethele's long hair...
To make travel arrangements
Collections
Discover places and related research
The Map thanks:
Collections
Discover places and related research