1743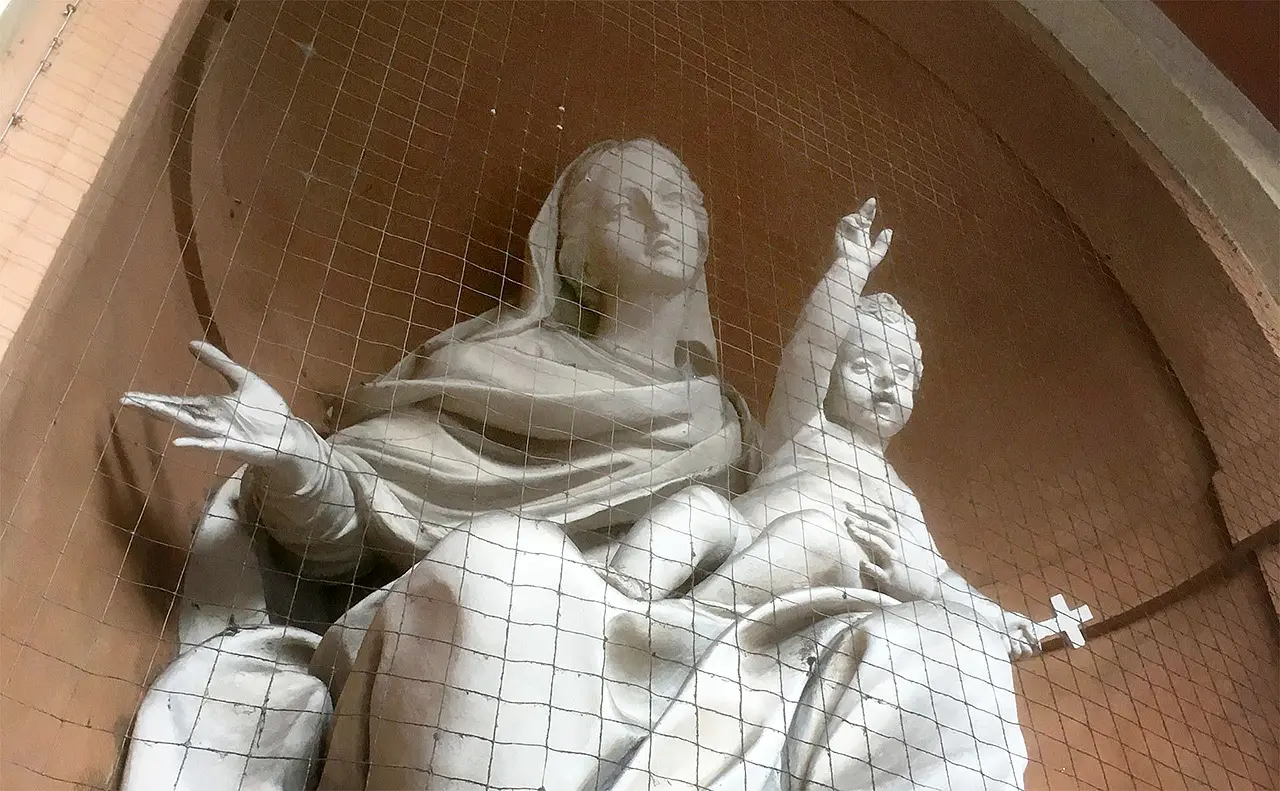 The "Fat Madonna," in the portico of St. Luke's
An imposing sacred statue in the collective imagination of the city of Bologna

Automatically translated page.
What it is and where it is
The portico of San Luca, which leads to the shrine of Our Lady of San Luca, is one of those paths that any Bolognese, natural or naturalized, will have trodden at least once, perhaps after an unexpected success in life... It is not uncommon to propitiate the success of a seemingly arduous undertaking with a "it doesn't happen, but if it does I'll walk to San Luca." Protecting the path on the way to the shrine is the unique statue of the "Fat Madonna." From the top of her niche the Virgin contemplates the pilgrim's transit while lovingly supporting her son. On the pedestal stands an inscription, Tu nos ab hoste protege ("protect us from the enemy"), the invocation to guide our steps toward the goal. But why the appellation "fat," so unusual for a sacred figure?
Because it is special
The answer is simple: the "Fat Madonna" is an imposing statue, towering imperiously and composed on the portico, with the vaporous drapery descending toward the pilgrim, as well as the hand, outstretched almost as a sign of welcome. It is impossible not to perceive the sweet gaze of the Virgin as she passes by. The appellation contains no negative overtones: the exuberance of the Bolognese religious and cultic tradition helped create the image of a protective and loving figure. A mother, in short, as is evident from the naturalness with which she carries the baby Jesus on her lap. And if St. Luke, for a Bolognese, is synonymous with home, the "Fat Madonna" is there to check that the road to "home" is safe.
A bit of history
An early 18th-century work, probably 1706, by architect and sculptor Andrea Ferri. It was commissioned by the Monti Bendini family, prominent in the development of the entire portico of San Luca.
Trivia
The name by which the statue is recognized has undergone several changes over time. The sculptural group has as its proper name "Seated Virgin Mary with Child," which immediately passed in popular culture to "Madonna Grande." More recent is the designation "Fat Madonna," at least from the 19th century.
To make travel arrangements
Collections
Discover places and related research
The Map thanks:
Collections
Discover places and related research