3037

The Albornoz Fortress of Orvieto
An enchanting garden wrapped in ancient memories

Automatically translated page.
What it is and where it is
Theremains of the imposing Albornoz Fortress stand on the eastern end of the tufa cliff, accessible from Piazza Cahen and leaning against the Porta Rocca or Soliana gate. All that remains today is part of the perimeter walls, the tower and the patrol path, but we must imagine it with a massive quadrangular building with defensive towers on either side and protected by a moat with no less than two drawbridges: a true giant controlling the valley of the Paglia River.
Why it is special
The name Fortress of Albornoz is probably not entirely unfamiliar to you: there are several located in Umbria, Marche, Romagna and Lazio, some well preserved, others, like the one in Orvieto, now decommissioned and transformed to reintegrate into the life of their host city. It was a kind of cordon of defense and garrison of the territories annexed to the Papal State. Today, here in the fortress of Orvieto you can sense this strength from the mighty structure of the perimeter walls, and, once you climb to the top of them, your gaze wanders to the horizon, just like that of the papal sentries stationed here centuries ago.
Not to be missed
The echo of this turbulent past today is muted by the greenery of Orvieto's Public Garden Park, which was created within the remains of the structure. The happy combination of history and nature creates a place where time is as if suspended, and the visitor is left with nothing to do but relax in the shade of the trees and enjoy the wonderful view of the boundless panorama of the valley below.
A bit of history
It was built in the 14th century on the commission of Cardinal Egidio Albornoz, legate of Pope Innocent VI. Work officially began on September 25, 1364, under the direction of Count Ugolino di Montemarte, at that time a military architect. It was destroyed almost entirely in 1390 and rebuilt on the ancient perimeter by Antonio da Carpi and in 1527, by order of Pope Clement VII. The last interventions were carried out in modern times starting in 1888, with the filling of the moat for the construction of the Funicular and the construction of an Amphitheater for daytime performances.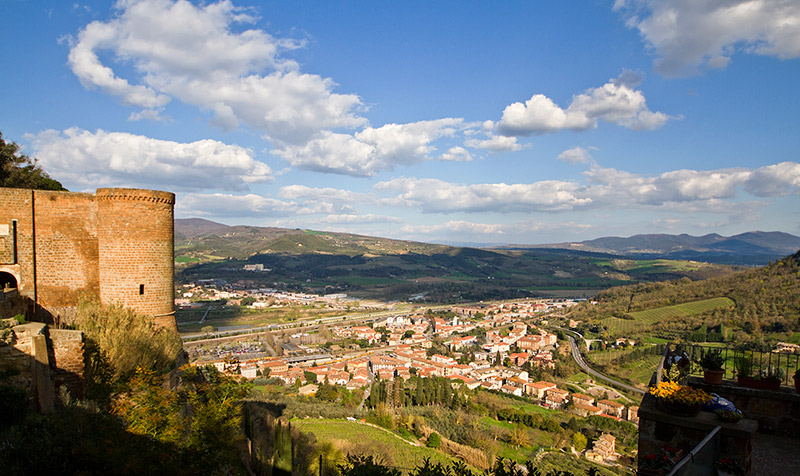 The fortress and the valley
The Map thanks: