6483

The City of Gold
Vicenza and Gold, a perfect pair that since the Middle Ages never ceases to amaze

Automatically translated page.
"The city of gold," is how Vicenza is called, thanks to the richness of its goldsmithing tradition, evidenced by the presence of many workshops in the city center, but not only. Historically, the Vicenza tradition counts among its goldsmithing masterpieces the Reliquary of the Holy Thorn, the diadem and pectoral of the Madonna of Monte Berico, and other valuable pieces created for the aristocratic class and the Church. Valuable works, some of which can be admired at the Museo del Gioiello inside the Basilica, the first in Italy and one of the few in the world to be dedicated exclusively to the art of goldsmithing and jewelry, with 400 pieces including antique and contemporary pieces of high workmanship.
Goldsmithing over the centuries
The great attention that Vicenza shows toward goldsmithing is not the result of a fashion, but a real cultural heritage that has its roots in really ancient times. For example, it is from 1352 "Fratalia Aurificum," the first document that attests to the existence of a conspicuous number of goldsmiths, as many as 150, united in the so-called Fraglia degli Orafi di Vicenza, with the stores mainly concentrated in the heart of the city and in particular under the majestic Basilica Palladiana, in Piazza dei Signori.
A very ancient art that of working with metals and precious stones, which even in the Paleovenetian era (300-400 BC) characterized this area. In spite of this very ancient origin, it has been able to enrich itself with continuous influences and to update itself to fashion trends, welcoming new types of workmanship and becoming an increasingly flourishing business, satisfying the taste of a refined clientele that is gradually becoming more and more broad, reaching today even international markets.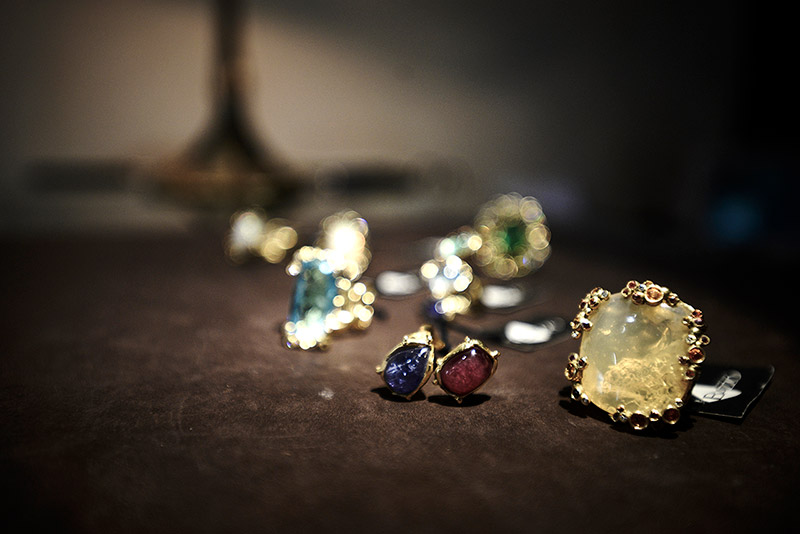 Rings with gems and precious stones by Lorenzo Bazzo
Among those who gave a strong impetus to the development of Vicenza goldsmithing between the 15th and 16th centuries was Valerio Belli of Vicenza, a renowned artist of the caliber of Raphael and Michelangelo; a sculptor of semi-precious stones, medallist and engraver of crystals sought after by popes and nobles, he took the goldsmithing business to the highest levels of quality and creativity.
Goldsmith workshops: forges of tradition and innovation
But those who truly preserve and hand down this long goldsmithing tradition are, above all, the artisan workshops that with great skill conceive and create refined and unique products of jewelry, silverware, pieces of furniture and various smallwares. Various techniques are used, such as hand chain, reed, casting and microcasting, soldering, gem-setting, "stamped" and "sheared" techniques, etc...
Between Corso Fogazzaro, Piazza dei Signori and Piazza Matteotti, artisan goldsmiths embellish the entire city center, and each one with his or her own history, peculiarities and manual skills brings honor and prestige to this art and to the city itself, with a perfect fusion of innovation and tradition. We speak of a craftsmanship that, however, is not limited here, to Vicenza city, but that expands and expresses itself in different areas of the province: Torri di Quartesolo, Bassano del Grappa, Dueville and Schio.
There is a proverb that says , "Gold is neither good nor bad, but such is made by those who make use of it," and it can be said without a doubt that the people of Vicenza have always learned how to get the best out of it!
The Map thanks: