2835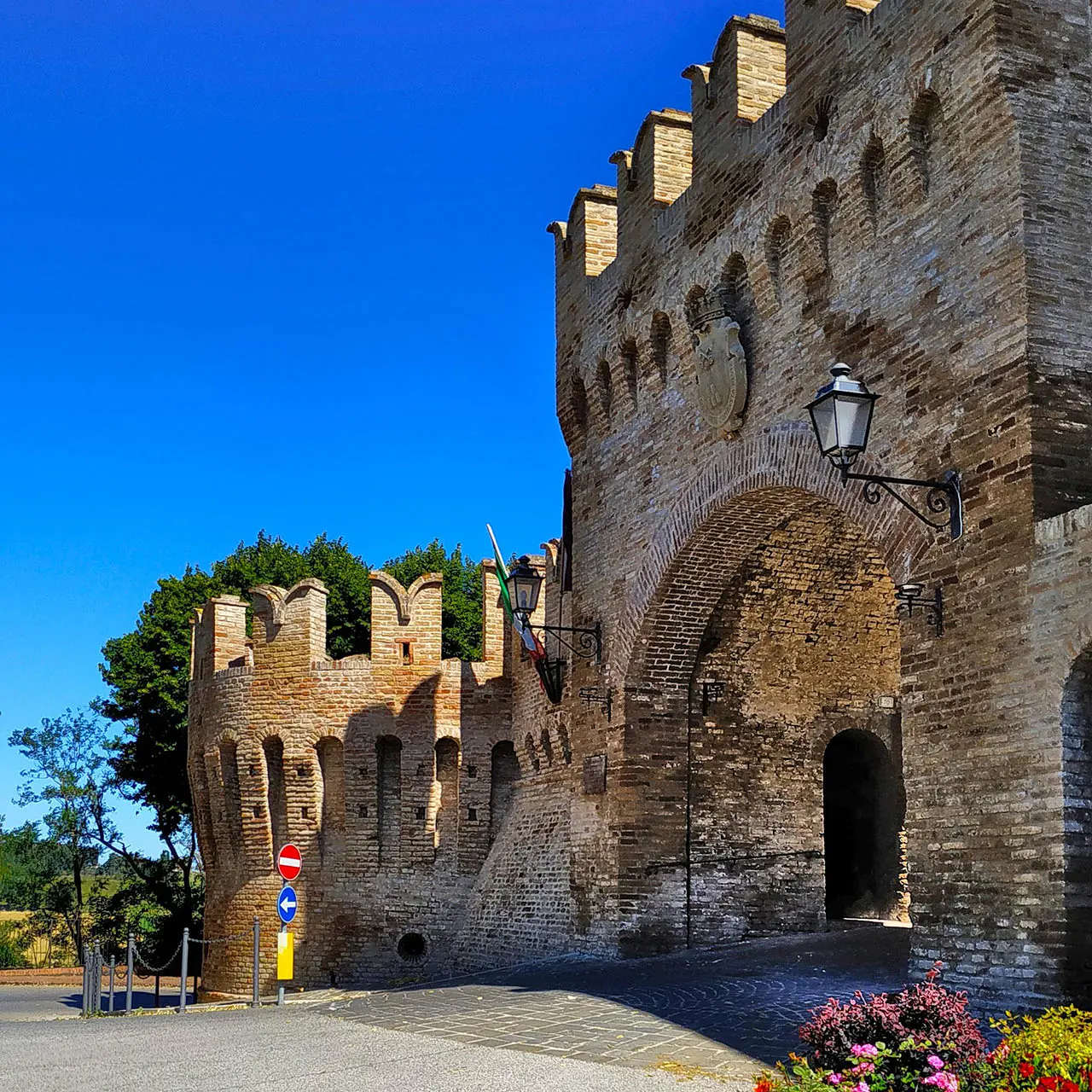 The City Wall of Corinaldo
A compendium of history and architecture wrapped around the hamlet
Automatically translated page.
What it is and where it is
The walls are the symbol of the history experienced by the City, with the first wall built in the 1300s and the extension built in the 1400s. They enclose the entire village and provide a fascinating journey for the visitor who wants to discover its secrets. They are punctuated by ancient gates and towers, each with a special story, but among them all, the pentagonal tower of the Spur reigns supreme. Built in the 15th century, with probable influences from the school of the Sienese architect Francesco di Giorgio Martini, it towers on the northern slope, solid and majestic.
Why it is special
Corinaldo's city walls are one of the most complete in the Marche region. It wraps around the village like a monumental catalog of defensive architecture in which to literally immerse yourself, since it is possible to visit it. Scenic and awe-inspiring, it allows you to touch on the events experienced by the town over the centuries. For example, almost all the defensive artifacts that enrich the walls are linked to a particular history, such as the Mangano Tower, the Calcinaro Tower and the Scorticatore Tower.
Not to be missed
The three ancient gates are fascinating to say the least. Porta San Giovanni (14th/15th cent.), still sports the "bianchetta," a small door beside the main entrance that allowed access to the village at night or during sieges. Porta Santa Maria del Mercato (14th/15th cent.) stands as a singular defensive complex composed of a 14th-century ogival arch to which, in the 1400s, a polygonal rampart with a second gateway was attached. Porta Nova (15th) is the last access built during the Renaissance addition and underwent other interventions in the late 1800s and early 1900s.
A bit of history
The mighty walls, built in the 14th century and extended in the late 15th, make Corinaldo an example of a fortified town. Their construction is linked to a tragic event: in 1360 the army of Galeotto Malatesta, on behalf of Pope Innocent VI, expelled and razed the town after a long siege and bitter fighting. A few years later reconstruction began with the building of the first 14th-century city wall.
Curiosities
The Skinner's Tower, built in the 1300s, with its terrible name suggests violence and torture. It actually owes its appellation to the fact that it was the lodging for long years of the "flayer" of sheep. Porta San Giovanni is also the site of a curious episode: in 1987 on its terrace Prince Charles of England stopped for a long time to paint a glimpse of the Old Town.
To make travel arrangements
Collections
Discover places and related research
The Map thanks:
Collections
Discover places and related research