1176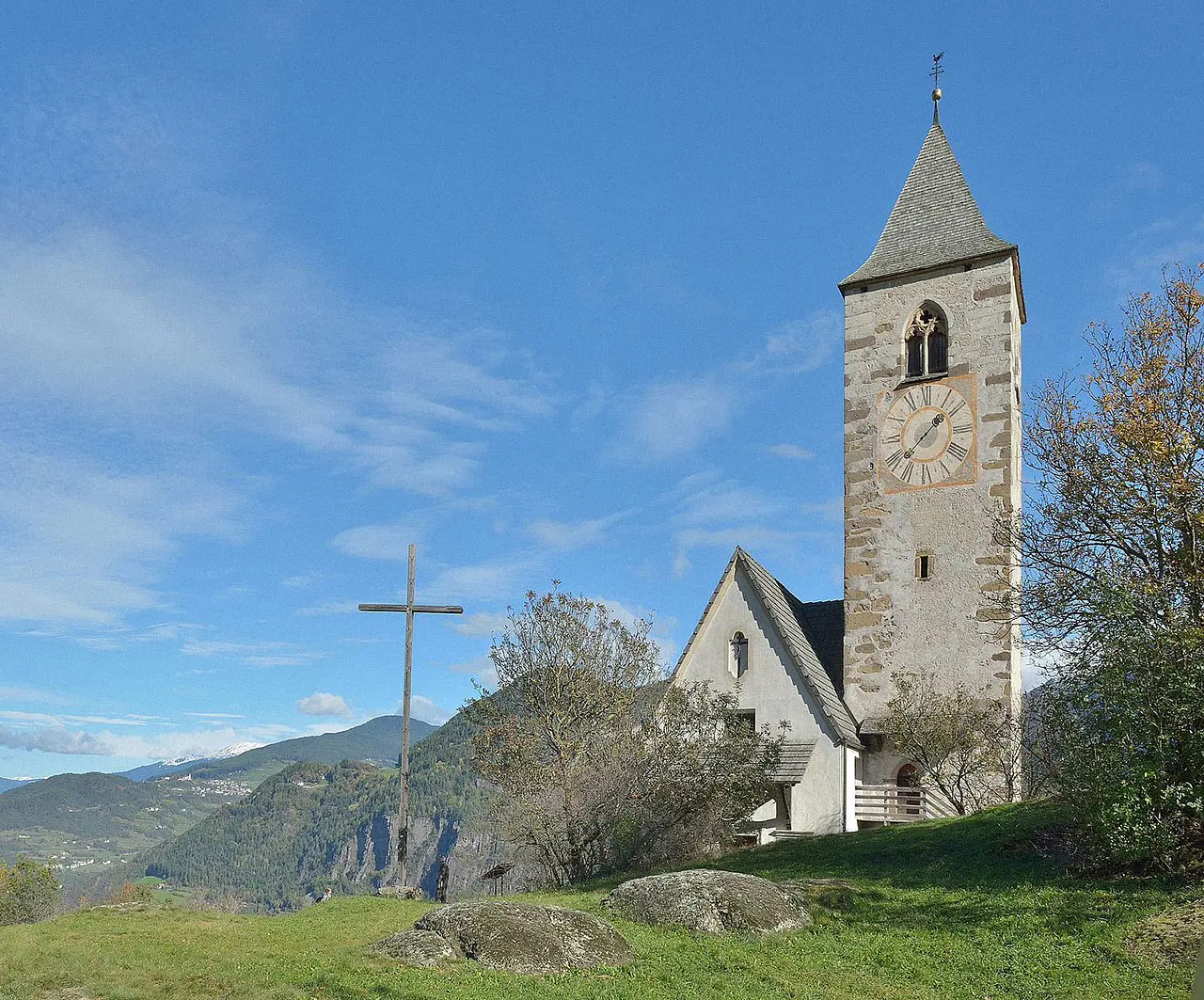 The little church of St. Verena in Rotwand on the Renon - Ritten
It is a stubby bell tower, the one that channels the mystical energy of this mountain and spreads it over the valley and to the sky.



Automatically translated page.
What it is and where it is
It is a white parenthesis amid the serene green of mountain meadows and forests. The small church of St. Verena stands on a rocky rise, smoothed by the action of ancient glaciers, in a beautifully panoramic position, overlooking the eastern rampart of the Renon - Ritten massif. At its foot, the Eisack Valley opens up. The shrine is simple in its architecture: a bare Romanesque style contrasts the tiny church, with its unadorned facade redone in the 12th century, with a massive, squat bell tower towering above it.
Why it is special
Leaning against the side of the building one rests in contemplation of the spectacle offered by the surrounding landscape, yet this absolute peace is not the same as we might enjoy on any other summit. There is a special, ancient vibration that seems to rise up from the ground, pass through our bodies, the bell tower, and then spread through the air. Not surprisingly, the place is imbued with the mystery of its prehistoric origins and the magical value attributed to it by folk legends.
Not to be missed
From the top of St. Verena Hill, there is an unparalleled view of the Dolomite world that crowns the eastern edge of the Eisack Valley. From here, on beautiful spring or October days, you can admire the majesty of the looming Dolomite massif of the Sciliar or, to the north, the gracefulness of the spires of the Odle di Funes - Geislerspitzen group.
A bit of history
As mentioned, the place has its roots in the mists of prehistoric times, when it must have been a highland site, perhaps even a sacrificial area, as evidenced by some cup-marked stones scattered all along the hillside. The small church, on the other hand, dates back to the 13th century. Because of its location, it is easy to guess that it has always been more of a pilgrimage destination. In time, to preserve it from the fury of the weather and destructive lightning, it was decided to install a Wetterkreuz, a storm cross, next to it.
Trivia
Cupmarks are hollow carvings that were made in the rock by Neolithic peoples. Those at St. Verena may date back about 4,000 years, but they are not the only ones in the area. Although their significance remains unknown to this day, it is exciting to think that this mountain has been important to humans since the earliest times. Looking at these traces makes one feel at one with the past, the present, and the nature around us.
To make travel arrangements
Collections
Discover places and related research
The Map thanks:
Collections
Discover places and related research