2406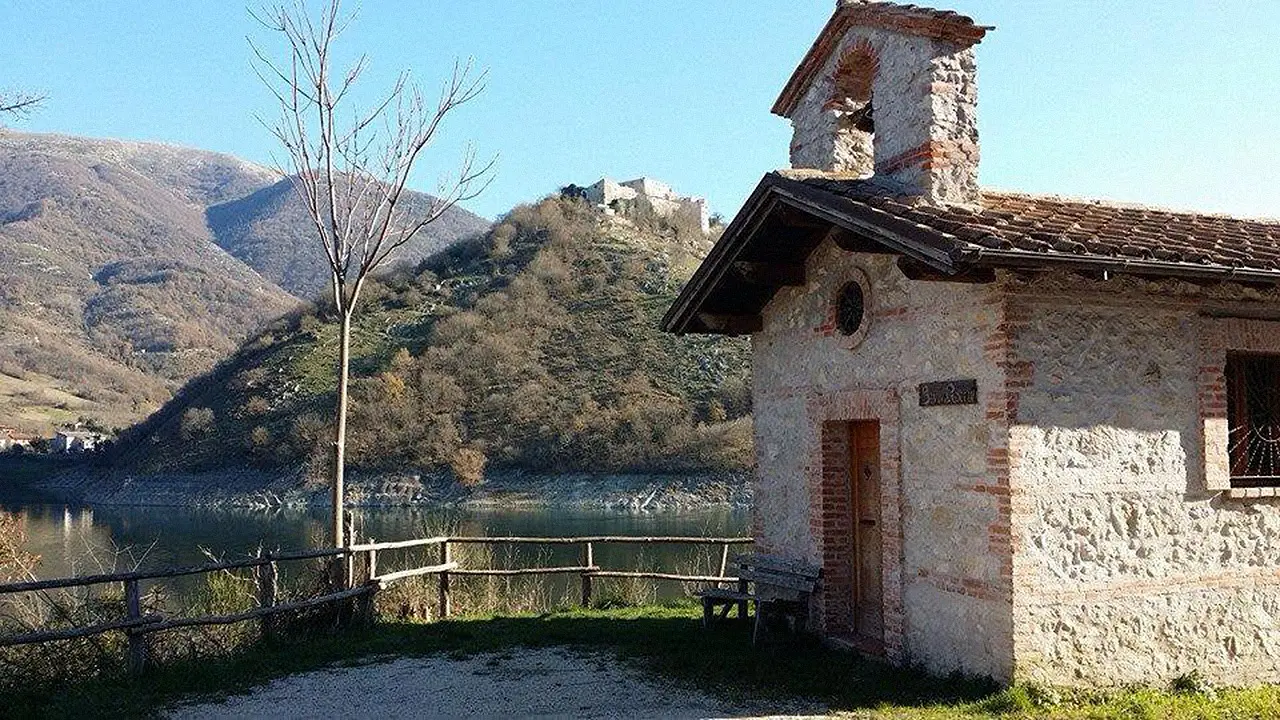 The small church of San Rocco of Castel di Tora
An existence somewhere between the waters and Mt.


Automatically translated page.
What it is and where it is
The little church of St. Rocco stands where one of the abutments of the Castel di Tora bridge rests, at the foot of Coenuccio, along the St. Benedict Trail and the Natural Parks Trail. It is a small and spartan building. The walls made of stones and bricks have been left bare. The facade has a small circular window above the door, and culminates in a small bell gable. Inside we find a simple altar. The real spectacle is the overall view: the little church stands out against one of the most beautiful panoramas in Lazio with a view toward the Borgo di Monte Antuni and the Borgo di Castel di Tora overlooked by Monte Navegna.
Why it is special
Despite its simplicity, there is one element that makes the little church of San Rocco truly striking. The building you see here, in fact, is but a reminder, a shadow. Built at the same time as the construction of the dam (1936-38) that gave shape to Lake Turano, it represents, on a smaller scale, the oldest church that stood in the valley and is now submerged by the waters of the lake. I don't know about you, but I had never yet seen a ghost made of stones, and yet...here it is.
Not to be missed
The feast of St. Roch is celebrated on August 16. In the village, on this day, there is a procession from the parish church to the little church, then mass is celebrated. The most intense moment comes in the evening, when, in honor of St. Rocco, the bridge of Castel di Tora is illuminated along the parapets, for its entire length of 350 meters, by a dense array of oil lamps, creating a rather impressive spectacle.
A bit of history
The original church was sacrificed in the name of the Turano Lake hydraulic project, but not forgotten, so that, along with the dam, a scaled-down version of it was built at the foot of Coenuccio. The little church was not left in peace either: in 1979 unknown thieves violated it by devastating it and stealing, door, windows, a painting on canvas depicting St. Rocco and the small bronze bell, the last vestige of the ancient place of worship. The small church, now in a state of neglect, was restored in 1996 and inaugurated on August 16 of the same year. From 2018, however, is the interior decoration, created by Roman artist Elisabetta Catamo.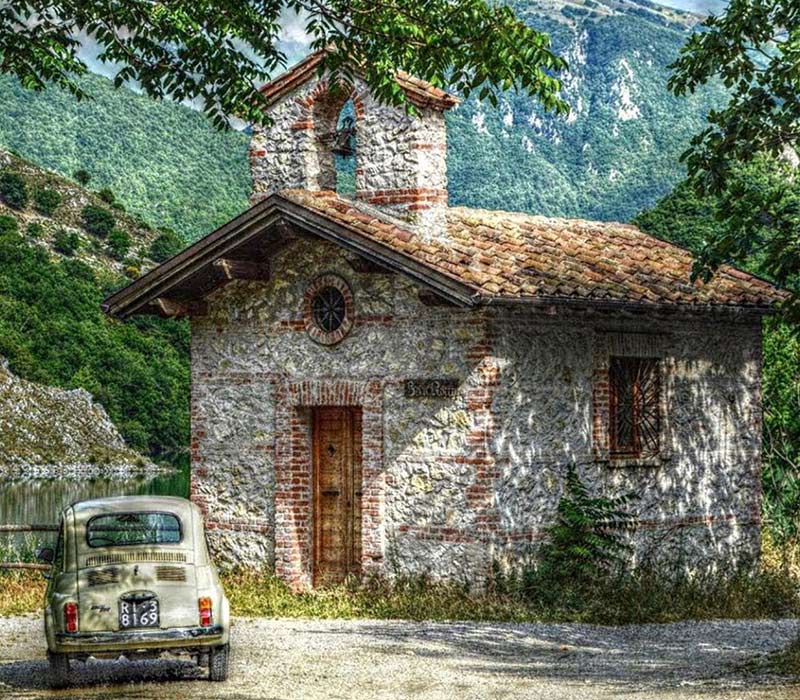 The little church of San Rocco of Castel di Tora
To make travel arrangements
Collections
Discover places and related research
The Map thanks:
Collections
Discover places and related research