1699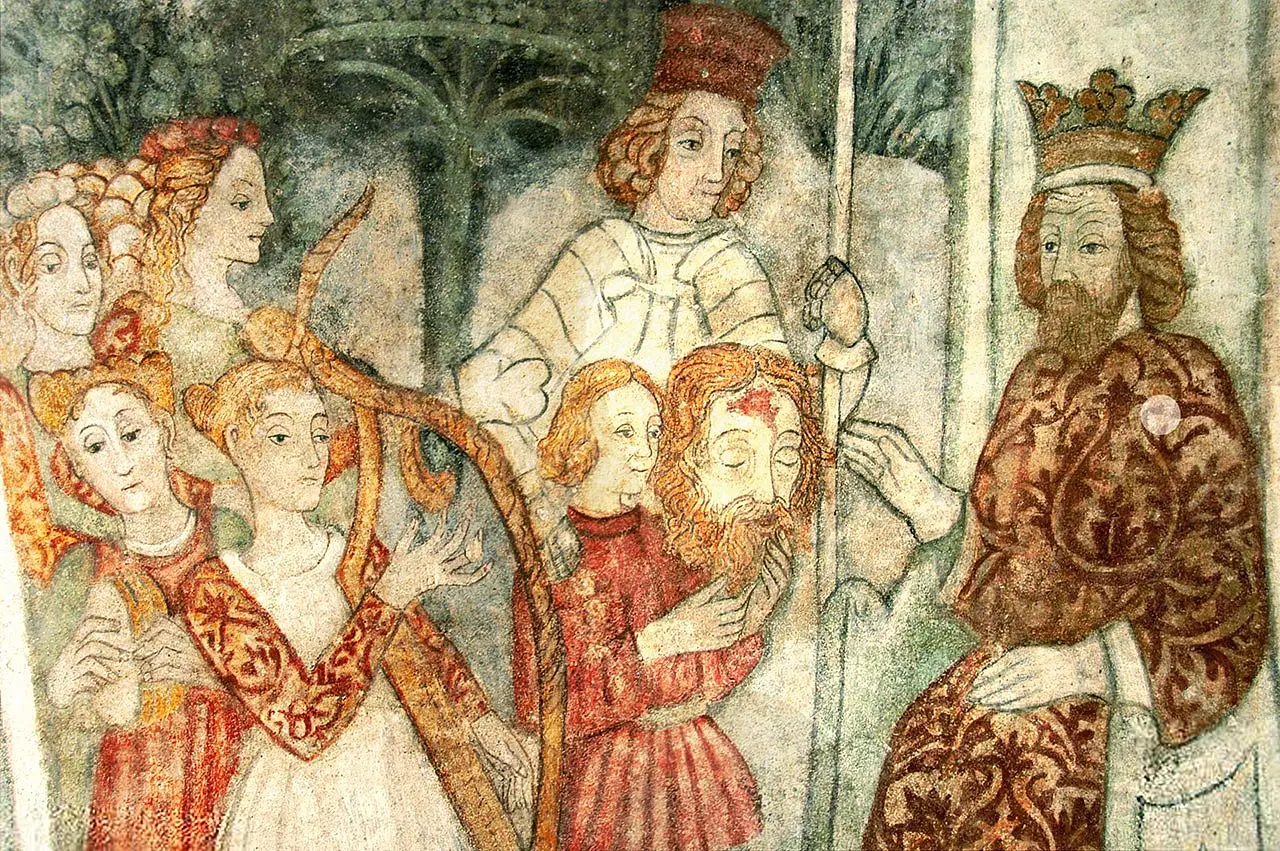 The Cellar of the Saints of Romagnano Sesia
A King David hidden among saints and wine



Automatically translated page.
What it is and where it is
The complex consists of a basement building, abutting other dwellings and buildings constructed in more recent times. A double porch, part medieval, part 18th-century, introduces a very impressive room: walls made of river pebbles arranged in a herringbone pattern and bound with mortar, rise up to a brick barrel vault. This beautiful structure was, and in part still is, covered with a real treasure: a cycle of frescoes recounting the biblical events of King David, dating from the mid-15th century.
Why it is special
It is a mysterious place, a treasure hidden among the dwellings that holds important and fascinating one-of-a-kind frescoes. The events of King David, taken from the biblical text of the 1st and 2nd books of Samuel, are narrated here in 28 panels. The protagonist and the story acquire the features of a chivalrous affair, ranging from his childhood years to his proclamation as the sole leader of Israel, through exploits that make him popular and beloved, so much so that he becomes a true hero and peacemaker and unifier of his scattered and divided people.
A bit of history
These rooms are the last survivors of the Abbey of St. Silvanus, dismantled centuries ago. The name we know comes from its long-standing use: a wine cellar for winemaking. The placement of the barrels, and the effects of processing ruined the frescoes, so much so that the figures, no longer recognizable, were interpreted as the life of a saint. Hence, Cantina dei Santi. Only thanks to the 1975 restoration, which made the captions placed above the panels understandable, was it possible to give the frescoes a correct reading.
Curiosities
Among the recognizable figures are several heraldic coats of arms of prominent elements of the monastic community of the abbey: one coat of arms with a white band on a blue field can be traced back to Benedetto Caimo, commendatory abbot in 1513; another with an eagle and burning tizzoni, can be traced back to the family of Abbot Pietro Tizzoni (mid-15th century).
To make travel arrangements
Collections
Discover places and related research
The Map thanks:
Collections
Discover places and related research