2750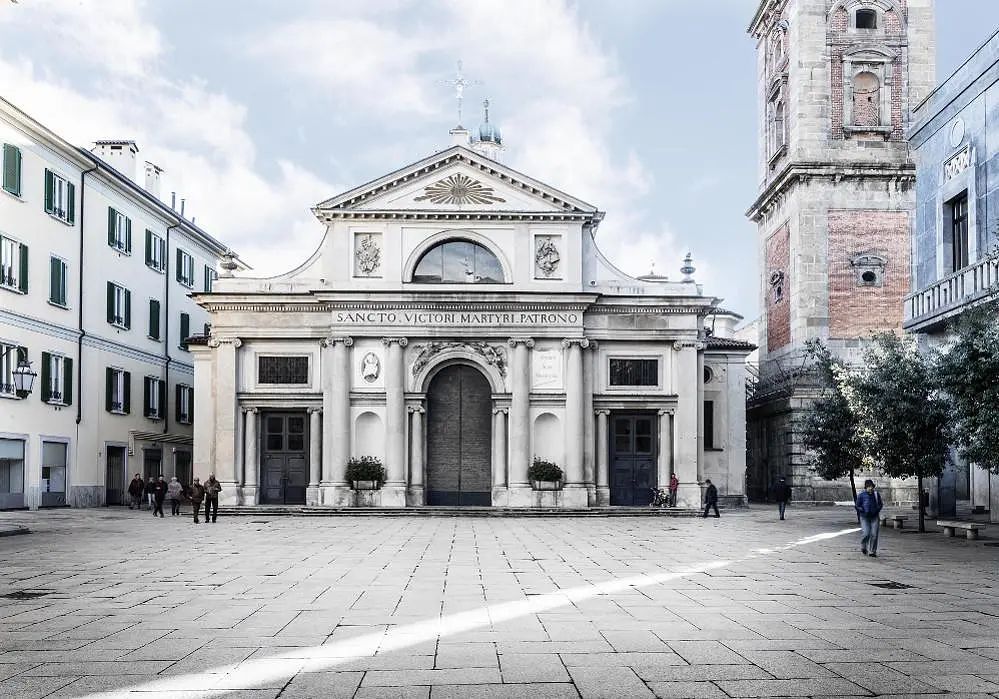 The Basilica of St. Victor Martyr
The spiritual heart of Varese


Automatically translated page.
What it is and where it is
Here it is: imposing and majestic dominating one of the most beautiful squares in the city center, with its sober neoclassical facade and baroque interior, it stands surrounded by buildings from different eras. Together with the imposing Bell Tower and the Baptistery of St. John, it represents the religious heart of Varese. The three large wooden gates invite visitors to visit its interior, which is rich in valuable works, paintings and statues, and the presence of masterpieces of the Lombard 17th century together with works by Pogliaghi and the altar by Bodini, artists of the early and late 20th century, make the place even more interesting.
Why it is special
The grandeur of the style together with the wealth of fine works make the Basilica unique and special. The location, dominating the square but set in it as if it were a precious stone, also enhances the importance of the place. Its proximity to the Torre Campanaria, a late Mannerist work by architect Bernasconi, and the Baptistery allows the visitor to find in a triangle of a few square meters three pearls of rare beauty that, together, create the city's main religious center, a careful witness to the taste and flow of the history of the ancient village.
Not to be missed
The colors and transcendent light that reign inside give emotions that become more vivid in the sacred images and majestic statues with which the Basilica is rich. Upon entering, the visitor's eye is lost only to find itself lingering on the white marble high altar that dominates the chancel area. The scent of incense envelops everything and everything contributes to making this place of faith evocative. Not to be missed is the Baptistery with its precious frescoes, a National Monument and the oldest structure in Varese located next to the Basilica and at the foot of the Bernascone.
A bit of history
Built between the 16th and 17th centuries on an earlier church, it is the result of different interventions in three successive moments: first the Mannerist-Renaissance presbytery, then the three-aisled hall with the splendid tiburium, and finally the neoclassical facade by Pollack. It is dedicated to St. Victor Martyr, a soldier in the Roman militia who abandoned the army and was arrested, condemned and beheaded for it in 304 AD. From the 9th century it was head of pieve, i.e., matrix church with baptistery and parish church on which all others depended, while since 1925 it has been Basilica Minor.
Trivia
In May 1859, along with the bell tower, affectionately called Bernascone, the Basilica was the target of cannon fire from Field Marshal Urban's Austro-Hungarian army as punishment for the city's refusal to pay compensation for the Battle of Varese. A bullet remains embedded on the outside of the tiburium , now flanked by an inscription and elevated as a Risorgimento historical memorial.
To make travel arrangements
Collections
Discover places and related research
The Map thanks:
Collections
Discover places and related research