2700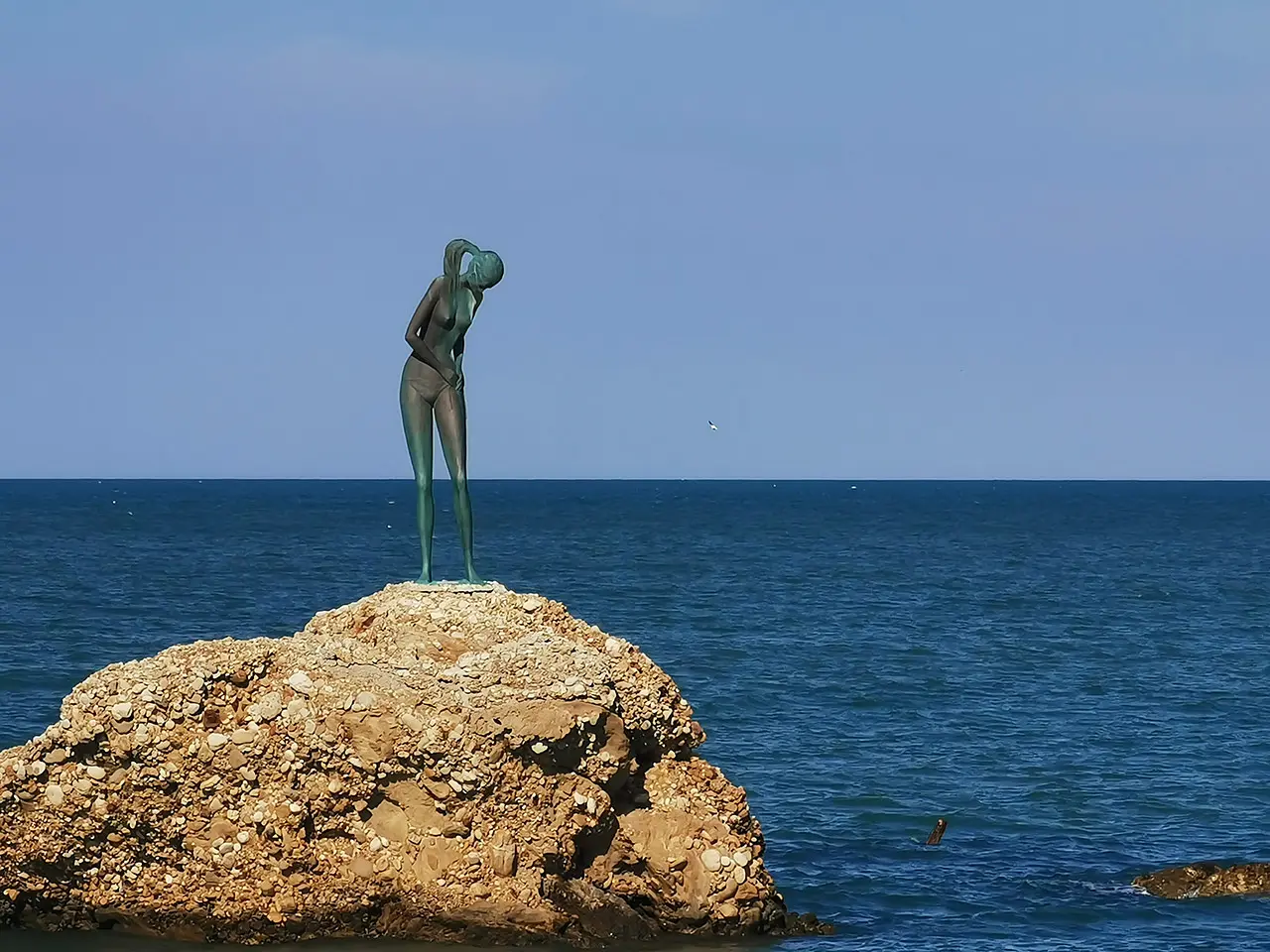 The Bather of Vasto
The "Little Mermaid" of the Trabocchi Coast

Automatically translated page.
What it is and where it is
The Bather or, as many Vasto residents mistakenly call her, "the little mermaid," is a monument dedicated to feminine beauty that stands elegant and imposing on a cliff overlooking the Gulf of Vasto, a short distance from the Roman ruins of ancient Histonium.
Why it is special
The beautiful bronze statue recently turned quant years old and over time has become a symbol of the city and the entire gulf of Abruzzo. Standing 10 feet tall and weighing half a ton, the bather is a ponytailed, topless woman portrayed in the act of adjusting her bikini. The statue, which has exerted its fascination on tourists for decades, has been reproduced in silver statuettes that the city of Vasto is wont to give to its most important guests.
Not to be missed
The moments of the day when the Bather is expressed in all her splendor are sunset and even more so sunrise, when her profile is enveloped in the first rays of the sun and all around the rock on which she stands, the clear, calm sea reflects the morning light.
A bit of history
The Bather was the brainchild of the city's then mayor, Nicola Notaro, who worked to ensure that the work would be completed quickly. The project was commissioned from Orton sculptor Aldo D'Adamo (1928 - 1990). The life-size plaster model can still be found today in the "D'Adamo Space" in Ortona. The statue was laid on the Scaramuzza cliff in the summer of 1979; the cost of the work was 17 million liras.
Trivia
Legend has it that this statue was inspired by a charming lady, a regular tourist on the beaches of Vasto. Beautiful, with long hair pulled back in a ponytail and a statuesque physique, she is said to have been so unconventional that she sunbathed topless, in certainly not liberal times. If this mysterious lady had never existed, the Bather would be completely different today.
To make travel arrangements
Collections
Discover places and related research
The Map thanks:
Collections
Discover places and related research