1398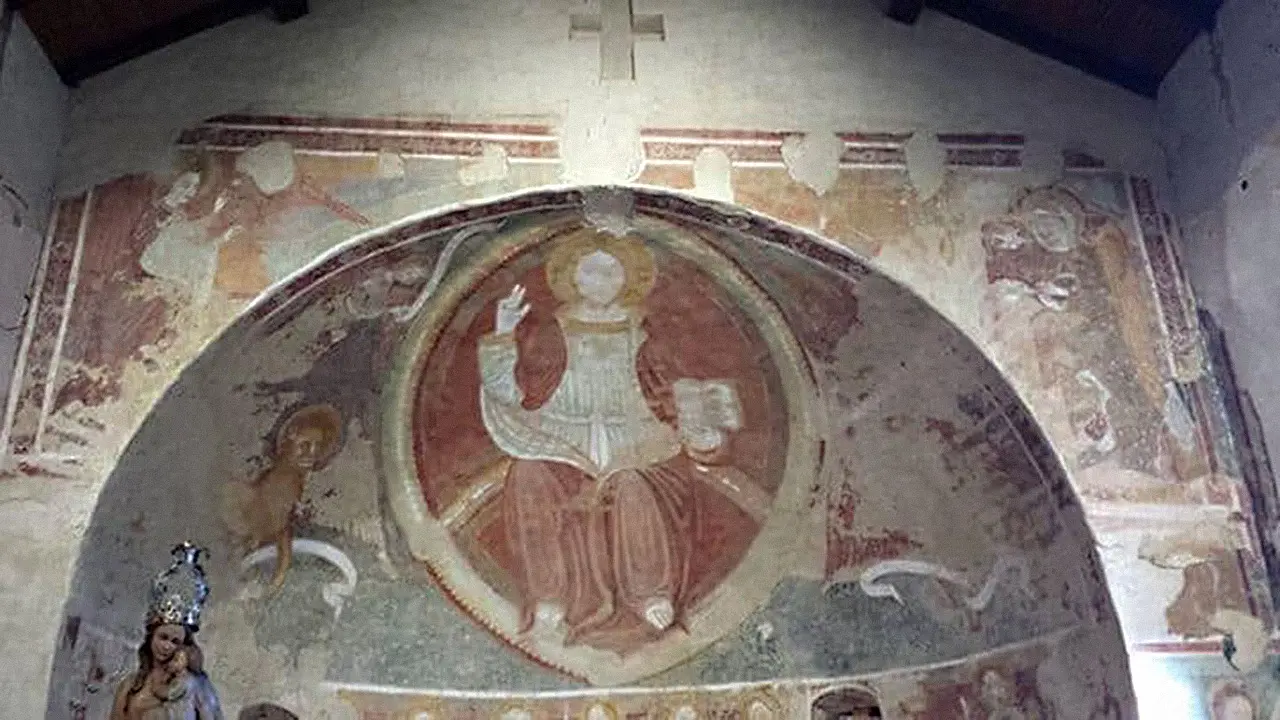 The oratory of Santa Maria in the locality of Galnago
Cultures in transit along the street meet and embrace here to celebrate Our Lady.
Automatically translated page.
What it is and where it is
The Oratory of Santa Maria in Galnago is located along Simplon Street, north of Oleggio's historic center. It presents itself to passersby as a small and modest building, with an eye-catching gabled facade, despite its simplicity. There is something about that wall studded with traces of the past, with its understated door and small rose window, that makes it hard to look away.
Why it is special
Those lucky enough to be able to enter it are greeted by a surprise: though worn in places, the interior is decorated with frescoes from different eras. They are mostly sweet images that welcomed the faithful and reassured them, making them feel as if cradled in this small, protected environment. In particular, the refinement of the frescoes in the apse confirm a prestigious patronage.
Not to be missed
The rich apsidal decoration and the facade are 15th-century, while on the side walls and on the impost of the archway there are a number of late 15th- and mid-16th-century panels, the latter to be attributed to the De Rumo family , painters of Polish origin who had lived in Oleggio since at least 1540. It is to one of them that the Madonna del Latte is attributed, one of the representations in this oratory that best depicts the intimacy between Mother and Child.
A bit of history
The road on which the oratory is located was very important: it connected the Novara plain to Lake Maggiore and, further on, to the Alpine transits, then to Switzerland and Germany. The building is of medieval origin; in fact, it is mentioned in the Consignationes of 1347. The semicircular apse and the first section of the nave belong to the early Romanesque structure, and some fragments of frescoes found during restoration also date to the same period. The enlargement in the western part with the extension of the nave dates from 1585, as attested by the date graffitied on the northern wall.
Curiosities
Among the furnishings commissioned for this small church was an elegant carved, painted and gilded wooden sculpture of a Madonna and Child, attributed to a Swiss sculptor and datable to the early 15th century. The Virgin of Oleggio, not coincidentally, bears definite similarities to a group of Gothic-Courtesque sculptures widespread in the transalpine area. Now the wooden statue is kept at the Museum of Religious Art "Fr. A. Mozzetti" in Oleggio.
To make travel arrangements
Collections
Discover places and related research
The Map thanks:
Collections
Discover places and related research